Get A Terrifying First Look At Michael Myers In Halloween Kills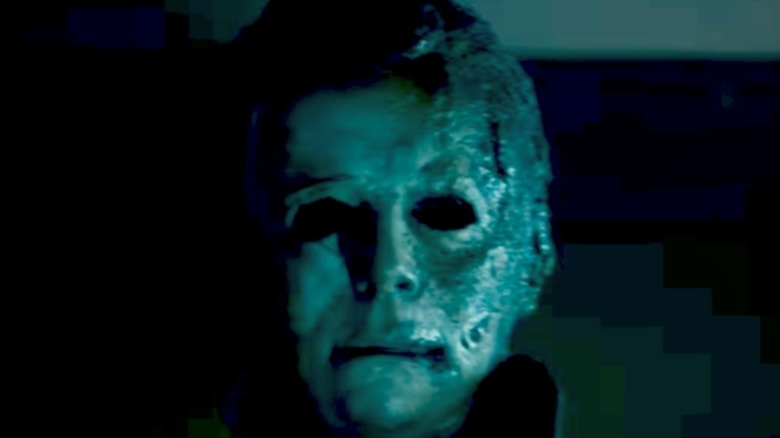 Universal Pictures
Michael Myers will return yet again this fall with "Halloween Kills," the 12th installment in the "Halloween" horror franchise created by legendary director John Carpenter. "Halloween Kills" is a direct sequel to 2018's "Halloween," which was itself a sequel to the original 1978 slasher classic. "Kills" will be released in October and it's time to start building anticipation for the next chapter of the story of survivor Laurie Strode (Jamie Lee Curtis) and relentless masked killer Michael Myers (Nick Castle/James Jude Courtney).
"Kills" brings back much of the creative team of the 2018 "Halloween," a franchise-rejuvenating critical and box-office hit. It's directed by remarkably versatile filmmaker David Gordon Green and written by Green, Scott Teems, and Danny McBride. "Halloween Kills" is being produced by horror masters Blumhouse Productions and stars Curtis; Judy Greer as Laurie's daughter, Karen Nelson; and Andi Matichak as Karen's daughter, Allyson. The film will also feature some returning characters from the original "Halloween": Anthony Michael Hall and Kyle Richards as Tommy Doyle and Lindsey Wallace, the now-grown-up kids Laurie was babysitting when Michael Myers first began his killing spree on Halloween in 1978. The sequel will pick up right where "Halloween" left off in 2018, with Myers somehow surviving a house fire and continuing to pursue Laurie. Now, instead of fighting Myers alone, the Strode women are banding together with other residents of Haddonfield, Illinois, to try to stop him. 
The promotional cycle for the film is picking up and Empire Magazine just released a frightening new photo from "Halloween Kills" on Twitter.
Michael Myers is back for more 'Kills'
The new "Halloween Kills" photo is a low-angle shot of Michael Myers holding up his bloody knife (via Empire Magazine on Twitter). His mask looks burnt, the background is not visible, and he looks very menacing, with that classic blank expression in which you can't see his eyes at all. Fans are loving it; @JakeHardwick replied to the tweet with "Let's gooooo" and a gif of Michael Myers doing the BlocboyJB "Shoot" dance. "Yessss!! Seriously cannot wait to see this," @RomanDavenport3 tweeted. "I hope its gonna be as amazing as I anticipate."
Previously, David Gordon Green told Empire that "Halloween Kills" will be different from his previous "Halloween" in how it expands beyond Laurie Strode into the community at large. "This first one was more about Laurie's life of isolation after Michael and her attempts at revenge. It was personal," Green said. "This is more about the unravelling of a community into chaos. It's about how fear spreads virally."
"Halloween Kills" will hit theaters on October 15, after being postponed from last fall due to the COVID-19 pandemic. It will be followed by a third and final Green-directed film, "Halloween Ends," in October 2022.