Here's Where You Can Watch My Teacher, My Obsession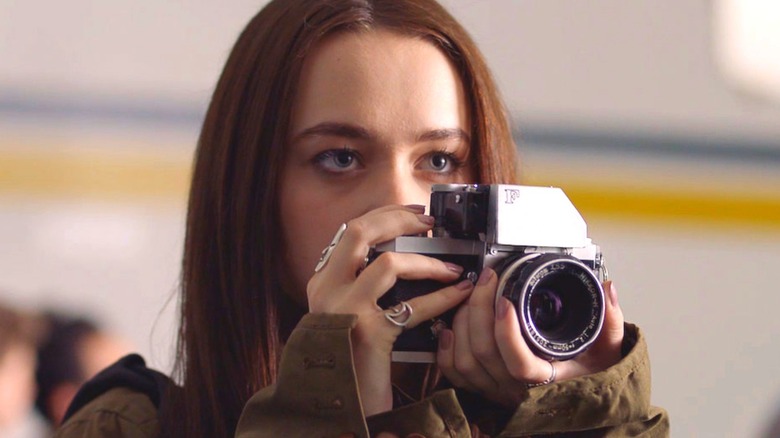 Netflix
There's something undeniably appealing about a twisted domestic thriller. And while the genre is without a doubt the Lifetime channel's domain, the popular cable network isn't the only place where you can find movies about sociopaths whose obsessions go too far. One such movie that will satisfy your need for a thriller that's so bad it swings back around to being good again is "My Teacher, My Obsession."
Released in 2018, the creepy film features a cast of mostly unknowns with former underwear model Rusty Joiner taking on the lead role of Chris, a high school English teacher who becomes involved with his 19-year-old student Kyla (Lucy Loken). The plot is truly a tale as old as Lifetime: A teacher's inappropriate relationship with his student turns deadly when the student ends up being unhinged. However, "My Teacher, My Obsession" does deserve props for addressing the problematic plot at its center in a way that similar films, like the 1993 film "The Crush" starring Alicia Silverstone, failed to do.
Unlike most movies featuring student-teacher relationships, "My Teacher, My Obsession" emphasizes that Kyla isn't underage (she was held back a year, so she's a 19-year-old senior), and for his part, Chris acknowledges the wrongness of his behavior. None of this makes his actions okay, but it is interesting to see the movie lean into the fact that his relationship with Kyla is inappropriate from the jump, rather than use her obsession with him as a cautionary tale.
And wow is she ever obsessed. While her infatuation starts out slow, the movie builds to a jaw-dropping finale where blood is definitely shed. Ready to watch this dark and twisty thriller? Thankfully, it's incredibly easy to stream.
My Teacher, My Obsession is part of Netflix's growing lineup of TV movie style thrillers
Netflix
There's been a lot of talk about Netflix moving in on Hallmark's territory with its original Christmas movies and cutesy rom-coms like "Falling Inn Love," but the streamer is going after Lifetime's audience, too. "My Teacher, My Obsession" is one of several original TV movie-esque domestic thrillers currently streaming on Netflix.
If you find yourself in the middle of an obsession-centric movie night then you can go straight from watching "Secret Obsession" to "My Teacher, My Obsession" without ever navigating out of Netflix. That's especially good news for cord-cutters who miss watching Lifetime originals on Saturday nights. It's clear Netflix wants to make sure you can turn to its library for all of your movie needs — even when those needs are super specific.
Fans of TV movies with super twisted storylines rejoice, because "My Teacher, My Obsession" is just one of many movies about dangerous love stories streaming on Netflix.