The Prophetic Thing Paul Walker Told Vin Diesel Before Fast And Furious Came Out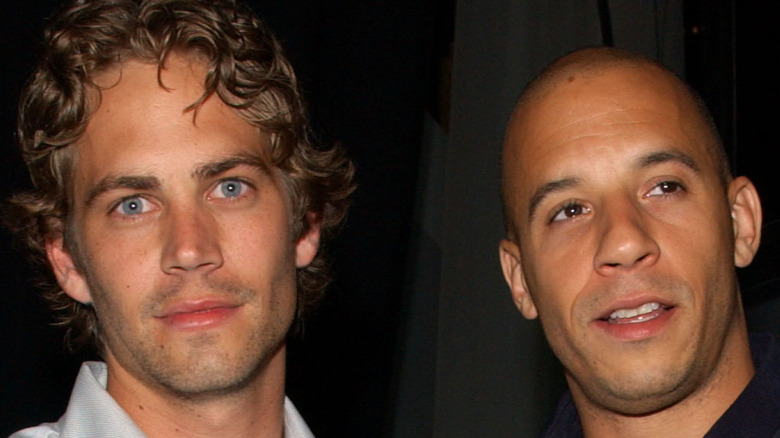 Frank Micelotta Archive/Getty Images
From a 2021 perspective, the "Fast and Furious" saga is one of the most recognizable and bankable franchises to ever grace the silver screen. To date, the first eight installments, as well as the spin-off, "Hobbs & Shaw," have taken in nearly $6 billion at the worldwide box office and have accumulated legions of fans across the globe. However, it wasn't always considered among Hollywood's premiere action series and certainly wasn't thought of as containing much star power. It was an uphill battle for both the "Fast and Furious" name and its cast to reach the status they enjoy today.
As the June 25 release of "Fast and Furious 9" – typically referred to simply as "F9" — approaches, it's worth looking back at the franchise's humble beginnings to fully appreciate where it is today. It all began in 2001 with director Rob Cohen's "The Fast and the Furious," a simple street racing flick with hints of action and heist movie hallmarks. Relative unknowns at the time, Vin Diesel and the late Paul Walker were brought in to fill the lead roles of Dominic Toretto and Brian O'Conner, respectively — totally unaware of the major boosts their careers were about to receive.
Although, one of them had much higher confidence in the production's level of success. Walker voiced some prophetic knowledge of the impact the "Fast" series would go on to have on their lives before the first film was released, according to Vin Diesel.
Paul Walker knew The Fast and the Furious was something special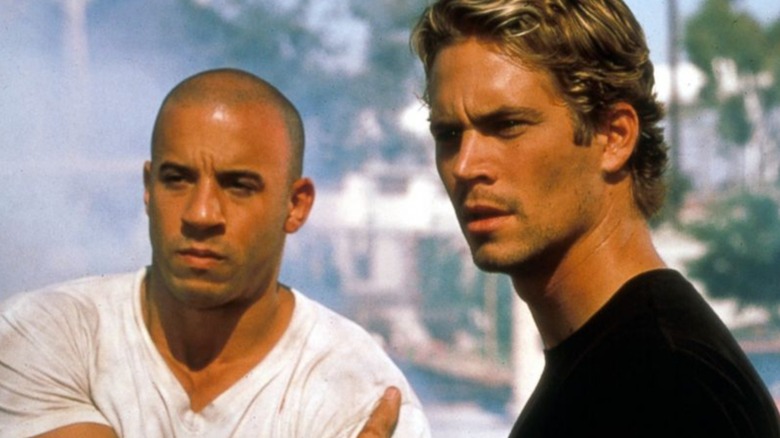 Universal Pictures
As noted previously, both Paul Walker and Vin Diesel were far from household names when the first "Fast and Furious" feature hit the big screen. Walker had enjoyed small parts on TV shows like "Touched by an Angel" and supporting roles in "Pleasantville" and "Varsity Blues," but nothing that put him on the fast track to superstardom. Diesel was in the same boat, recognized best for "Saving Private Ryan" and "Pitch Black." But, as expressed by Walker, their fortunes would change dramatically once "The Fast and the Furious" made its debut.
During an "F9" presser, at which Looper was present, Diesel recalled a conversation he had with Walker in April of 2001. The two were at an airport in Mexico before the release of "The Fast and the Furious," sitting on the floor and waiting for their flight. Walker leaned over to tell his friend and co-star, "Take all of this in, the fact that people are walking over our legs and not paying any attention to us." Diesel asked him, "Why?" and Walker answered with, "Because after this film comes out, there too will go our anonymity."
Sure enough, both men's presence in the first "Fast and Furious" production made them cinematic icons in no time at all. Call it intuition or a lucky guess, but either way, somehow Walker was onto something in April of 2001, and his confidence in their project certainly paid off.