The Most Cringeworthy Scene In Demon Slayer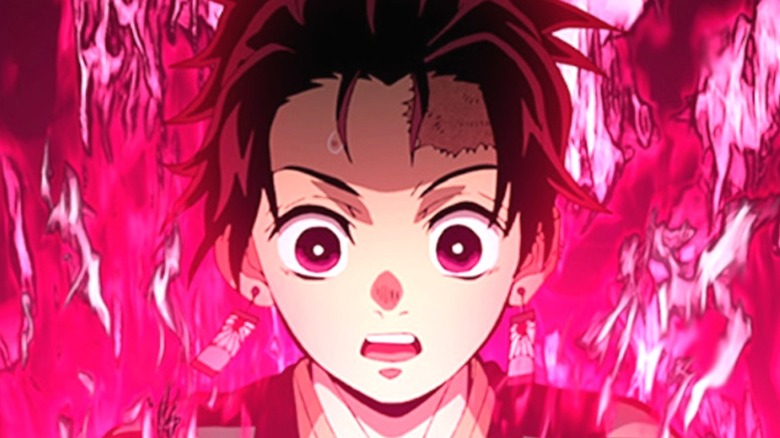 Aniplex
"Demon Slayer," which premiered in Japan in 2019, has become an anime juggernaut. The present-day popularity of the series, which is based on the manga of the same name by Koyoharu Gotouge, is largely thanks to its 2020 movie, "Demon Slayer the Movie: Mugen Train." 
"Mugen Train" shattered multiple box office records, ultimately becoming the biggest release in the history of the Japanese film industry (via The Hollywood Reporter). In the United States, "Mugen Train" made more money during its opening weekend than any other non-English film ever released. Since the release of "Mugen Train," according to data aggregated by Parrot Analytics, demand for "Demon Slayer" ranks in the top 2.7% of all TV series in the United States. 
In spite of its massive success, "Demon Slayer" isn't a flawless series. In fact, its lowest-rated episode, "Tsuzumi Mansion," includes a moment that is not only the most cringeworthy in the series thus far, but has also soured some viewers to a major side character.
Getting off on the wrong foot
Aniplex
When "Demon Slayer" introduces Zenitsu, one of its primary side characters, he's begging an unwilling woman to become his bride. Series protagonist Tanjiro quickly pulls Zenitsu away from the object of his unreciprocated advances. She explains that she approached him after finding him looking unwell in the middle of the road. He apparently mistook her base-level human kindness for romantic interest, which led him to ask for her hand in marriage.
The combination of Zenitu's entirely unwelcome proposal and his decidedly whiny attitude makes the moment the most cringeworthy in all of "Demon Slayer." One poster on the Character Rant subreddit argued that the moment even "completely ruins the tone of the show." In the official "Demon Slayer" subreddit, another poster asked fellow fans if Zenitsu's characterization ever improves, describing him as "the most annoying anime character I've ever had to endure."
For what it's worth, Zenitsu is something of a fan favorite, due to the significant character development he gains after his introduction. In fact, the contrast between the strength he develops and his early cowardice is part of what makes the character so beloved. Nevertheless, his very first scene in the series remains a "Demon Slayer" low point.