Who Is The Villain In Masters Of The Universe: Revelation?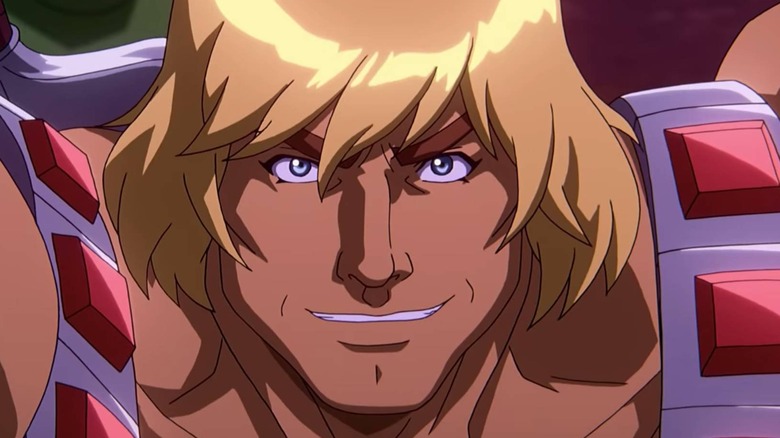 Netflix
Prince Adam is about to have the power once again!
Back in 2019, Netflix announced a new series based on the iconic "He-Man" TV show and line of toys would come to the streaming service courtesy of Kevin Smith. This isn't the first time Netflix has dipped its toes into adapting a property straight out of Castle Grayskull, seeing how the streaming service saw a great deal of success with its "She-Ra and the Princesses of Power" series. Based on the trailer and everything we know about the upcoming show so far, it certainly seems like lightning can strike twice and deliver a thrilling, action-packed adventure. 
A ton of fan-favorite characters from the original series will make appearances, including He-Man (Chris Wood), Teela (Sarah Michelle Gellar), and Cringer (Stephen Root). However, fans may naturally wonder whom these heroes will face off against once the story debuts on July 23, 2021. It appears as though the creators have taken the approach of "if it's not broke, don't fix it."
Classic He-Man villains will cause trouble in the upcoming series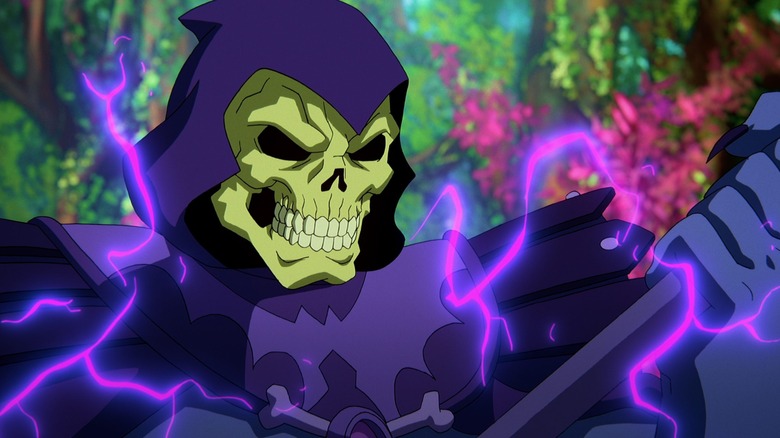 Netflix
He-Man is nothing without his arch-nemesis, and rest assured, Skeletor (Mark Hamill) will be around for "Masters of the Universe: Revelation." The most recent trailer puts the villain front and center, and it looks like he's up to his old tricks once again. Staying true to the original stories is very much intentional as Kevin Smith has explained the inspiration behind his series: "Narratively, our show is set up as the next episode in the legacy '80s animated series. This is a continuation of that story. We're playing with the original mythology and characters, and revisiting and digging deeper into some of the unresolved storylines" (via Den of Geek). 
The show feels right at home within the original series, and the trailer also gives the audience a glimpse at some of Skeletor's henchmen, including Evil-Lyn (Lena Headey), Mer-Man (Kevin Conroy), and Beast Man (Kevin Michael Richardson). While we haven't seen their designs yet, IMDb has confirmed several other villainous characters, namely Trap Jaw (Diedrich Bader) and Tri-Klops (Henry Rollins), will pop up at some point.
Seeing all these familiar names and the legendary actors voicing them is bound to delight fans of the original "He-Man and the Masters of the Universe." If that sounds like a lot for He-Man to tackle on his own, he has plenty of aid on his side as he relies on Man-at-Arms (Liam Cunningham), Orko (Griffin Newman), and the Sorceress of Castle Grayskull (Susan Eisenberg) to help him protect his home. With an '80s aesthetic combined with modern sensibilities, this update of the He-Man mythos will undoubtedly be a hit with fans who played with the action figures when they were kids.