The Ending Of She-Ra And The Princesses Of Power Season 5 Explained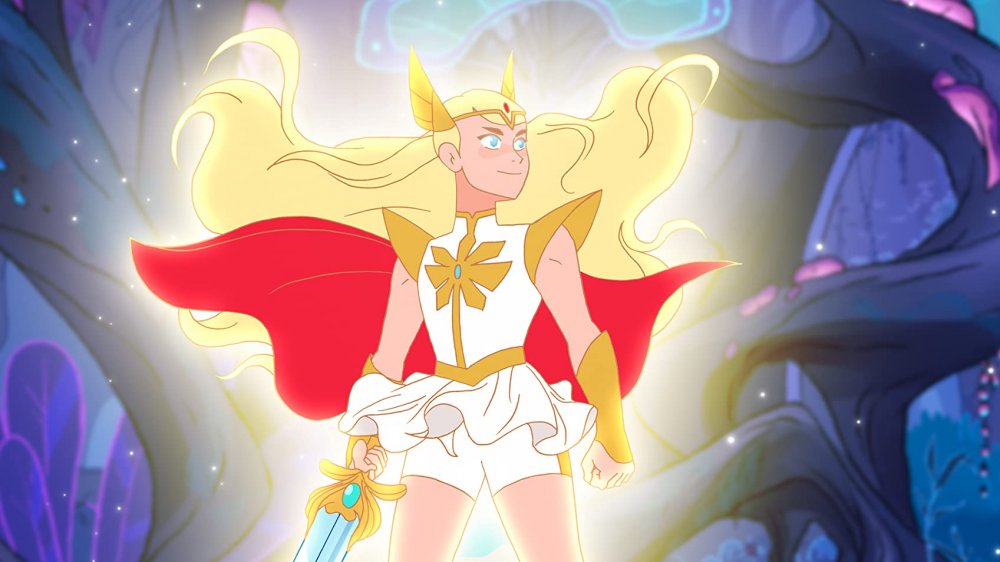 Dreamworks TV/Netflix
Contains major spoilers for She-Ra and the Princesses of Power 
Over five seasons, Netflix's must-watch animated series was She-Ra and the Princesses of Power, the reboot series that transformed the legacy of one of animation's most iconic female leads and dramatically expanded the very definition of inclusivity in kid's animation.
Debuting in late 2018 on the heels of Voltron: Legendary Defender — another '80s classic reboot from Dreamworks Animation TV and Netflix — She-Ra and the Princesses of Power was initially a source of controversy for older He-Man era animation fans. Showrunner Noelle Stevenson had turned a groundbreaking character that had been hyper-sexualized for years into a vibrant feminist heroine designed explicitly for kids. Adora had still found a magical sword that transformed her into the powerful She-Ra. Still, everything from the outfits and interests to the body types and partners of those who surrounded Adora on her planet-saving mission seemed noticeably different and more diverse.
Still significant were Adora's clashes with the ruthless and tyrannical antagonists Horde Prime, Lord Hodak, and their evil minions bent on conquering the planet Etheria and eventually the universe. But Stevenson seemed to hone in more on the coming-of-age dynamics and conflicts within Adora and among her friends, fellow heroes, and enemy Catra. Much of that foundational season 1 storyline was spent exploring how Adora and Catra — once tethered by friendship and a shared identity as members of the Horde — could quickly become mortal enemies.
Despite its differences to the original, the canonical extension of the 1985 series She-Ra: The Secret Sword quickly won over viewers with its heartfelt themes about friendship, forgiveness, bravery, and kindness. And by the season 5 finale, which marks the end of the series, it had gone full circle. Catra and She-Ra had found their way back to one another, but would it last? And was their relationship — which could be the difference between saving or ending the galaxy — the same?
Here's the ending of She-Ra and the Princesses of Power series finale explained. Spoilers ahead!
She-Ra and the best friend squad must stop Prime from destroying Etheria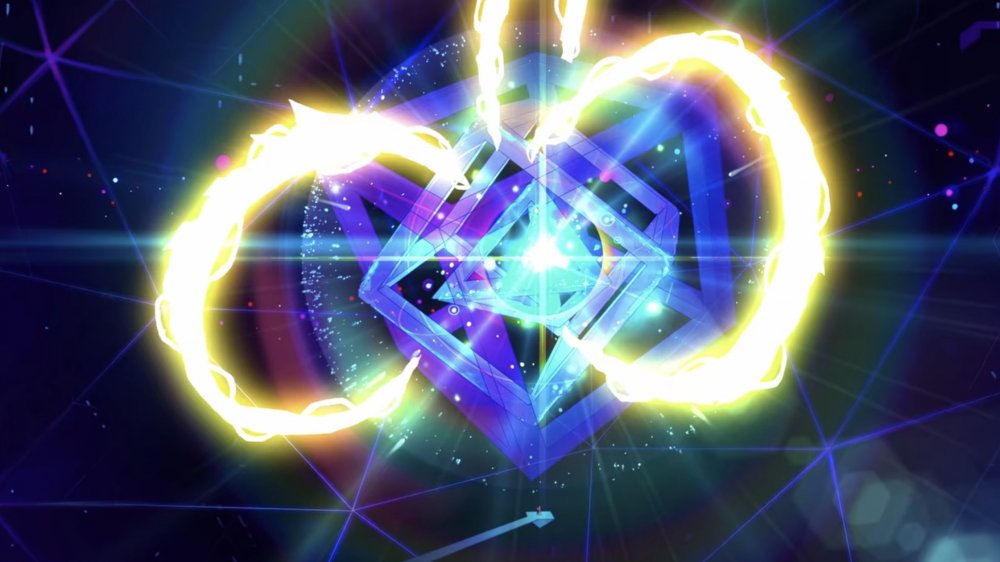 Dreamworks TV/Netflix
The season 5 finale of She-Ra and the Princesses of Power was a two-parter, which saw Adora, the best friend squad, and the rest of the Princesses gearing up to deploy a failsafe code and stop Prime from destroying the universe. He planned to do that using the Heart, a weapon created long ago by the First Ones and contained in the core of planet Etheria. This intelligent and technologically innovative race of Etherians visited their sister planet and stored immense magic inside the Heart, essentially turning it and all of Etheria into a giant weapon. The Heart was so dangerous that Mara — the She-Ra before Adora — sacrificed herself to move the planet to a starless dimension.
But that failsafe code, which would burn up any mortal's body once activated, had been taken on by Adora. In her She-Ra form, Adora had the best shot at withstanding the full magic of the Heart upon its destruction. And if she couldn't, Adora's perpetual selflessness would ensure the job still got done, even if she didn't survive. This caused a rift between her and Catra, who wanted Adora to be a little more selfish for once. But when Adora "chose" the mission over her, Catra abandoned the group and then had to march on to stop Prime from activating the Heart without her.
With Adora and her friends Glimmer and Bo heading towards the Heart, and the rest of the Princesses heading towards the Spire to stop Prime's minions, the final episode of the series was set up.
Catra, Adora, and more make important decisions to stop the Heart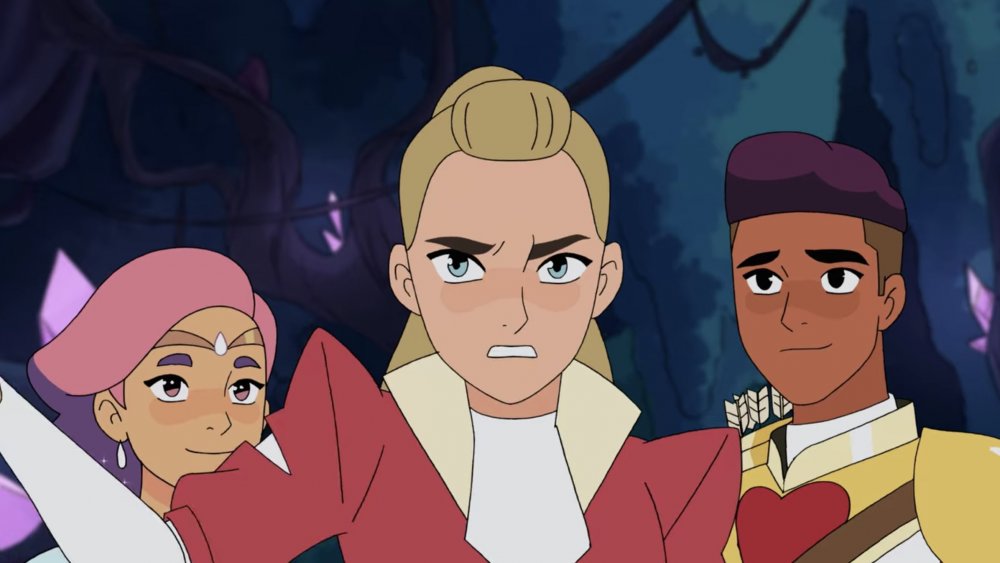 Dreamworks Animation TV/Netflix
As Bo, Glimmer, and Adora get close to the Heart, Adora decides that the dangerous journey ahead is one she must face alone. Bo and Glimmer reluctantly return to the Spire and minion fight to help their friends, as well as free the other Princesses and even a few family members under Prime's control. They appear to be losing until Bo disables and hacks Prime's Spire using Princess Entrapa's technology. This is when he sends out a message, encouraging the people of Etheria to band together to find love and fight Prime.
Elsewhere, Adora marches on towards the Heart, and soon after runs into Mara, who reminds the new She-Ra that she died long ago so Adora could live. But the touching conversation is just a figment of the Heart and one that Prime takes advantage of. As Prime distracts Adora with a villainous monologue about her predecessor, Adora is attacked by the First Ones' technology and essentially rendered unable to transform into She-Ra. Left alone to fight off a beast, Adora's fate looks grim — until Catra and Shadowweaver, a powerful sorceress and member of the Horde, appear to help ensure Adora makes it to the Heart.
Catra appears ready to sacrifice herself to the monster so Adora can complete her mission, and Shadowweaver seems okay with letting it happen until Adora turns back. But it's not She-Ra who saves her once again friend. Despite all the hurt and trauma Shadowweaver caused Catra and Adora — not to mention all the conflict Shadowweaver stirred between the two — the sorceress sacrifices herself to make sure they get to the Heart.
On the She-Ra series finale, love is Adora's true power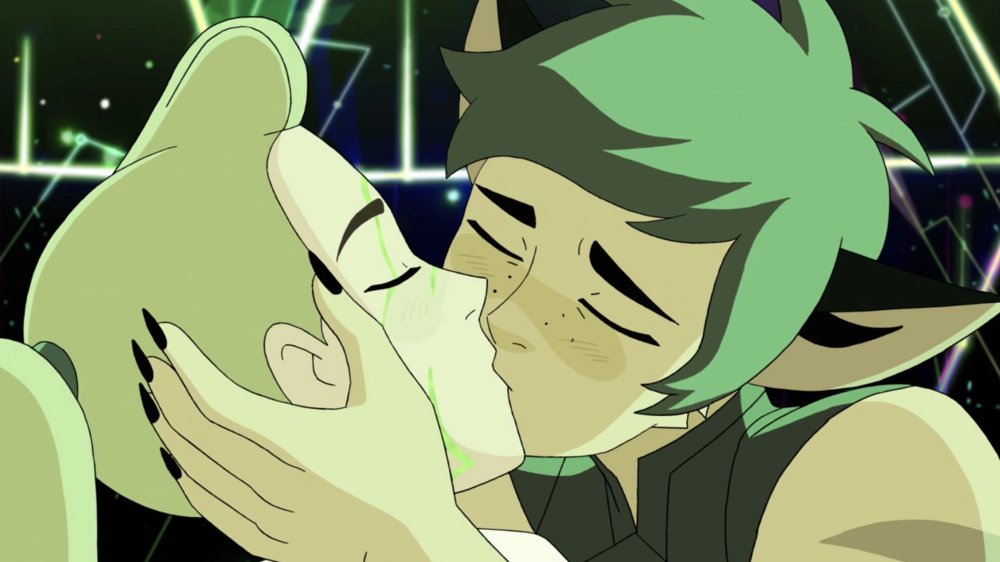 Dreamworks TV/Netflix
While Hordak and Prime are duking it out on a platform, Adora's body is slowly succumbing to the Heart. It's preventing her from turning into She-Ra, which means that she will have to use the failsafe code in her mortal form. She tells Catra to leave and get as far away as possible, but her friend-turned-enemy-turned-friend refuses to leave her side. And that's good for both Adora and Etheria because it's Catra honesty about her feelings for Adora that ultimately brings She-Ra forth. As Adora sees a future vision with her friends, Prime comes in to mock her, claiming that she's finally lost. But Catra's voice cuts through the dream and begs Adora to come back and fight. Not just because the world needs She-Ra, but also because Catra loves Adora.
The confession reveals that Adora and Catra's bitter rivalry wasn't just about feeling abandoned by a friend but betrayed by the one you love. This is how She-Ra and the Princesses of Power comes full circle. Adora, finally able to understand why she's felt so confused and torn over Catra, kisses her before finally being able to connect with She-Ra again. Adora's long been unlike most of her fellow Princesses, who garner their power from the elements, but that's because hers is a power derived from love. And now that Adora understands and no longer denies her love for Catra, she can successfully use the failsafe code and stop both Prime and the Heart.
As Adora restores magic and peace to Etheria, the best friend squad makes plans for one last road trip to bring magic back to the universe.
Taking She-Ra and the Princesses of Power full circle wasn't easy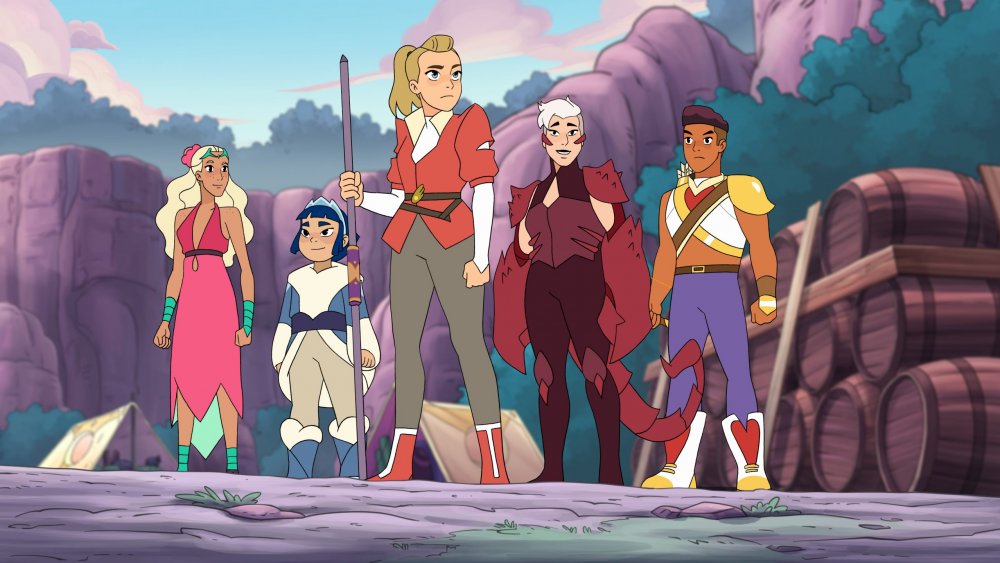 Dreamworks TV/Netflix
Whether She-Ra and the Princesses of Power was referring to relationships among friends, family, or bitter enemies, it was always clear that Noelle Stevenson had something to say about the power of love. Yet, the She-Ra showrunner revealed to The Los Angeles Times that ensuring Catra and Adora were able to get their ending meant her plans "had to be so secret." 
Fear that the creative team wouldn't be able to end the series in the way Stevenson organically saw forced everything before it to be laid out in a kind of perfect, indisputable groundwork. 
"When we reached that final season, I showed my cards to the people who had the right of refusal for that, and it was like, 'Look, this is what we've been building to this whole time. This needs to happen for both of these characters,'" Stevenson told Digital Spy in a separate interview. "I wanted to make it so integral to the story in a way that one, they wouldn't be able to take it out, and two, to give it a moment... It's the climax. It needs to be there. It needs to happen the way it does."
The final kiss may be what most fans remember of Catra and Adora's romance. However, it's the themes of all the ways loving — from others to ourselves — play out in both characters' arcs that made it all possible.
"I do think that [Adora's] impulse to try and save everybody is a very, very good thing," Stevenson told The Los Angeles Times. "But it's not just the act of saving somebody, it's choosing to stay in their lives, and it's choosing to be the person for them that they need you to be. And it's not a story that I've actually seen explored very often."