What The Cast Of Ace Ventura: Pet Detective Is Doing Today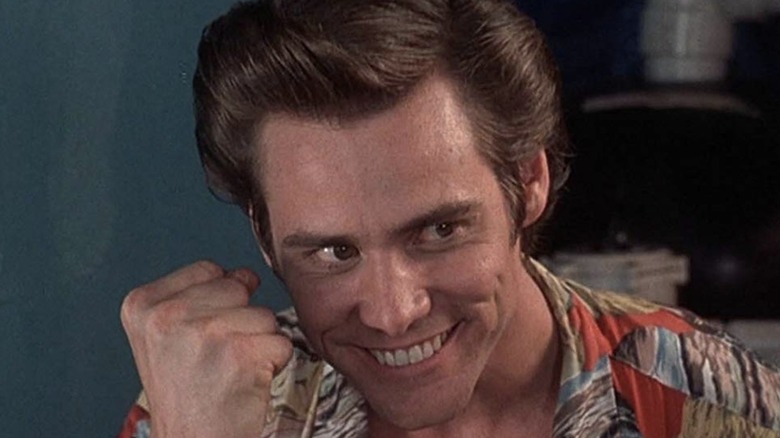 In 1994, America was introduced to a detective who literally talks out of his butt. Jim Carrey starred in "Ace Ventura: Pet Detective" as the titular sleuth who specializes in recovering missing and stolen animals. While the bizarre Ventura's work doesn't often pay very well, he gets the chance at a bigger paycheck when the Miami Dolphins' mascot Snowflake goes missing. Catching details the inept police overlook — and never missing an opportunity to rub their faces in it — Ace eventually uncovers a conspiracy involving a crooked police officer and a disturbed criminal's obsession with Dolphins quarterback Dan Marino. 
While Carrey already had home audiences in stitches since 1990 with his characters on the sketch show "In Living Color" — particularly as the hideously scarred Fire Marshall Bill — "Ace Ventura: Pet Detective" was his first shot at a high-profile comedy leading role. The film led to the 1995 sequel "Ace Ventura: When Nature Calls," an "Ace Venture: Pet Detective" animated series, and a successful acting career for Carrey. 
But while just about everyone in the film plays straight man to Carrey, he didn't carry the movie all by his lonesome. He was joined in the comedy by accomplished character actors, football stars, a rapper, and even a death metal band. Here's the lowdown on what the cast of "Ace Ventura: Pet Detective" is doing today.
Jim Carrey's career evolved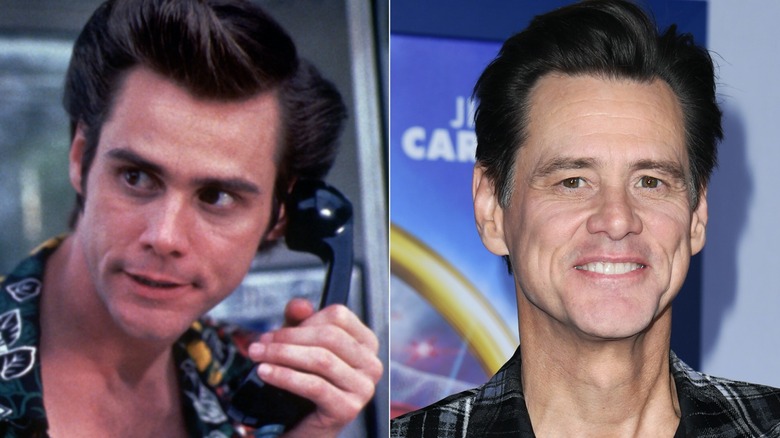 Jon Kopaloff/Getty Images
It didn't take long after the release of 1994's "Ace Ventura: Pet Detective" for Jim Carrey to become one of Hollywood's biggest stars. That same year he played the part crimefighter/part living cartoon hero "The Mask," and he was one of a pair of low-IQ friends in "Dumb and Dumber." Along with the sequel "Ace Ventura: When Nature Calls," 1995 saw Carrey steal the show as the Riddler in "Batman Forever." 
As the millennium approached it became clear Carrey was interested in dipping his toe in more serious acting. In 1998's "The Truman Show," Carrey played a man who is beginning to realize his entire life has been part of a choreographed reality show. Two years later he starred in one of his most memorable roles; as the late comedian Andy Kaufman in "Man on the Moon." 
In more recent years, Carrey's film career seems to be less of a priority for the actor, but he's never left the spotlight completely. In 2020 he starred as Dr. Robotnik in the video game-inspired "Sonic the Hedgehog," and on Showtime he leads the comedy drama series "Kidding" as kids' show presenter Mr. Pickles. He's also gained notoriety for his art — particularly his more politically-minded work like the pieces he showed on "Jimmy Kimmel Live" in 2018.    
Courteney Cox went to Friends and Cougar Town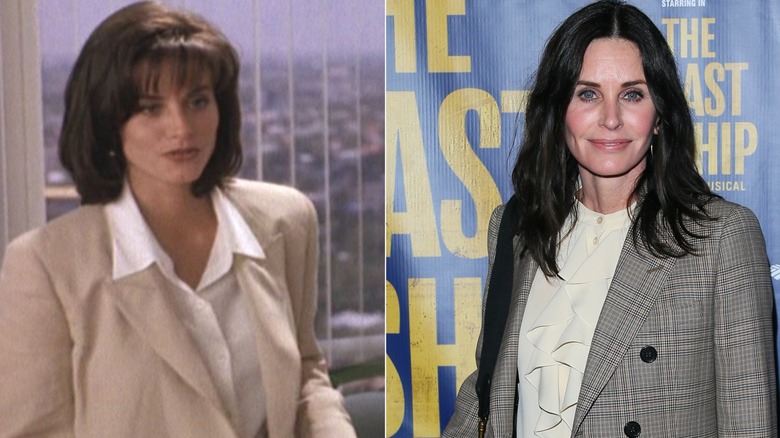 Jean Baptiste Lacroix/Getty Images
In "Pet Detective" Courteney Cox plays Melissa Robinson — the Dolphins' publicist who hires Ace on the advice of her receptionist and inexplicably falls for the sleuth. The same year she starred in the Ace Ventura flick, Cox became part of the ensemble cast of one of television's most successful sitcoms, NBC's "Friends." Cox played Monica Geller — later Monica Geller-Bing, after marrying her longtime neighbor Chandler Bing (Matthew Perry) — for all ten seasons of the beloved sitcom. 
In 2009 Cox was cast in the lead role of ABC's "Cougar Town." Cox brought to life the self-centered Jules Cobb, a woman struggling to find her way through early middle age after her marriage collapses. "Cougar Town" was an early commercial and critical hit, though eventually ratings dropped and ABC canceled the series with its third season. In 2013, TBS picked up the sitcom and it ran for three more seasons. 
Cox is set to star in a scripted drama based on the Netflix docuseries "Last Chance U," about the football program of East Mississippi Community College.
Sean Young's had a rocky road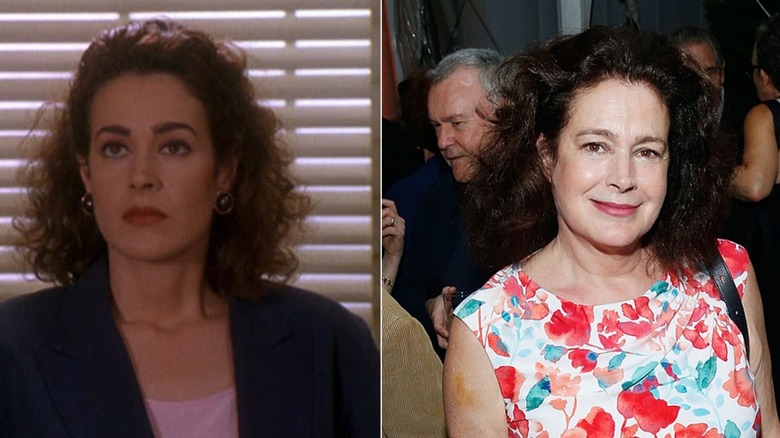 Lars Niki/Getty Images
Sean Young plays the villain of "Pet Detective." For most of the film you know her only as Lieutenant Lois Einhorn, a stern cop who doesn't want Ventura anywhere near her investigation. But by the end of the film Ace discovers that Einhorn, before transitioning, was disgraced Dolphins kicker Ray Finkle. Finkle missed the final field goal at Super Bowl XIX, losing the game for the Dolphins. In the intervening years Finkle becomes obsessed with blaming quarterback Dan Marino, who she claims didn't place the football correctly; she assumes the identity of Einhorn to get revenge. 
Young's career was already on a down slope when she appeared in Ace Ventura and it didn't get much better afterward. In a 2008 interview with Entertainment Weekly, Young said she didn't deserve her reputation as a difficult actor to work with, but Hollywood would seem to disagree. She was fired from the production of 1990's "Dick Tracy" and reportedly bothered Oliver Stone so much on the set of "Wall Street" that he "wrapped her scene early and had her dropped off at the bus station." 
In 2006, after years of mostly TV movie and B movie roles, she was bounced from a Vanity Fair Oscar party after crashing it by hiding behind Jennifer Aniston. Six years later she was arrested after allegedly slapping a security guard at the 84th annual Academy Awards when she showed up without an invitation. If nothing else, she seems to take networking seriously.
You may have heard Tone Loc more than you've seen him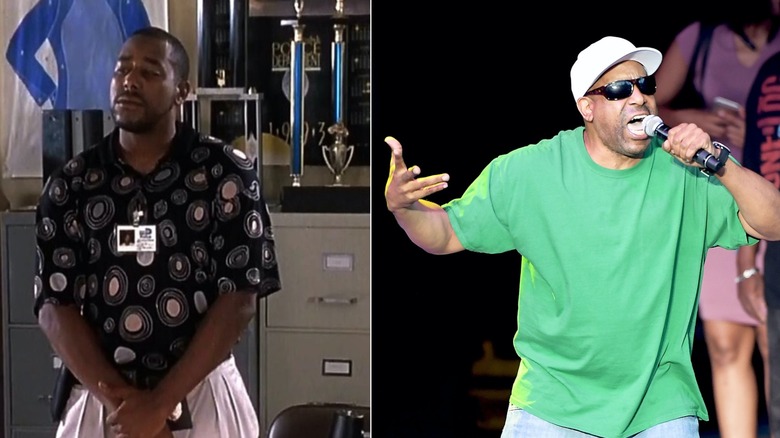 Matt Winkelmeyer/Getty Images
Rapper Tone Lōc first entered the spotlight with his debut 1989 album "Lōc-ed After Dark" and its two hit singles "Wild Thing" and "Funky Cold Medina." In "Ace Ventura," the rapper plays Emilio, Ventura's only sympathetic ear in the Miami PD. It's Emilio who Ace famously questions by acting as if he's literally talking out of his butt. 
Tone Lōc has continued to act since his days listening to Ace Ventura's wrong end. When it comes to live-action work, most of his roles have been relatively minor, though his signature raspy voice has helped him score a lot of voice work on animated series and features. He was the lizard Goanna in 1992's "Ferngully: The Last Rainforest," the infant Pee Wee in that year's "Bébé's Kids," and the lead in the 1996-'97 animated musical comedy series "C Bear and Jamal." He's also done one-off voice work for "King of the Hill" and "Uncle Grandpa," among others. 
Tone Lōc hasn't permanently set aside his musical career either. While he hasn't released a solo studio album since his second — 1991's "Cool Hand Lōc" — he's continued to tour as recently as 2018.
Mark Margolis has been Breaking Bad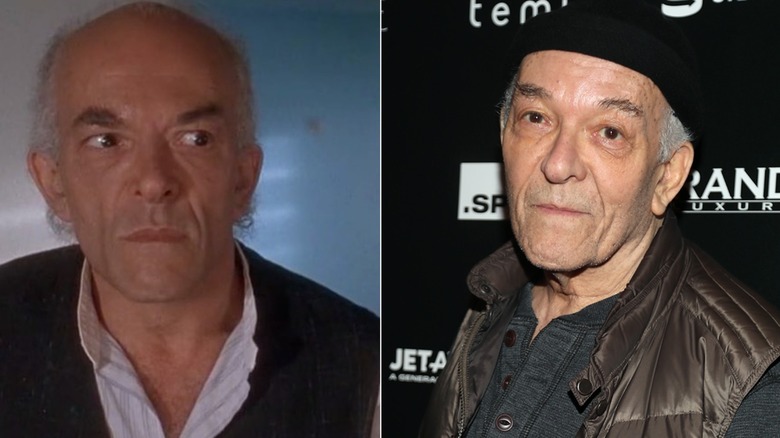 Cassidy Sparrow/Getty Images
Mark Margolis doesn't have a lot of screen time in "Pet Detective." He plays Ace's landlord, Mr. Shickadance. Early in the movie Ace tries to duck him by walking across his apartment complex's courtyard with a palm frond covering his face, and judging by the pile of fronds near his stoop, it's a tactic he's used for months.  
While Margolis isn't that visible in the Ace Ventura film, he's an amazing character actor with a long and distinguished career. Many TV viewers remember him best as Hector Salamanca of "Breaking Bad" — a former drug runner who, now confined to a wheelchair and unable to speak, has a bell on the chair's arm which he rings once for yes, twice for no. When Margolis reprised the role for the spinoff "Better Call Saul," he told Vulture "I'm the second-most famous bell ringer after Quasimodo." 
Other memorable Margolis roles include mob boss Antonio Nappa in HBO's prison drama "Oz" and the intimidating bodyguard Alberto "The Shadow" in the 1983 crime drama "Scarface." Arguably one of his biggest fans is director Darren Aronofsky ("Black Swan," "The Wrestler"), who has cast Margolis in every one of his films.
Udo Kier gives good bad guy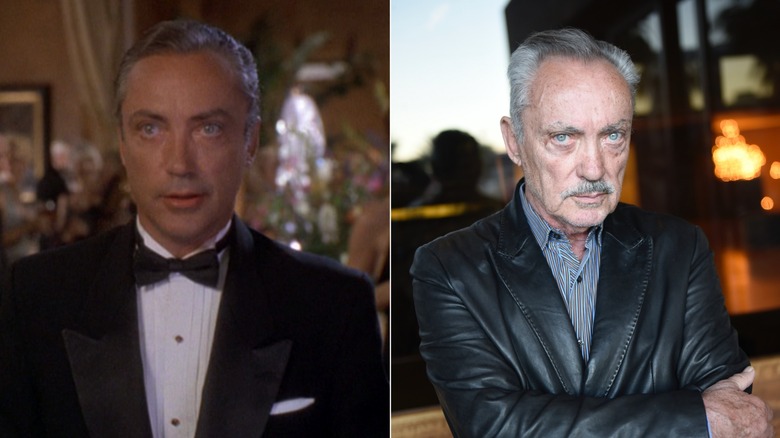 Vivien Killilea/Getty Images
In "Pet Detective," Udo Kier plays the wealthy rare fish collector Ronald Camp. Ace gets Melissa to sneak him into one of Camp's fancy parties. Early in the film, Camp is Ace's prime suspect and he hopes the party will give him a chance to snoop around the collector's mansion. Ultimately, we learn Camp has nothing to do with the missing Snowflake. Ace thinks he's found the tank where the dolphin is being kept, only to be thrashed around by the tank's true occupant — a hungry shark. 
Ace can be forgiven for his suspicions, though, because actor Udo Kier is known for playing bad guys. The character actor's German accent and piercing eyes make him perfect for villains in American films. In particular, he tends to appear in vampire movies. He played the titular Transylvanian count in 1974's "Count Dracula," he's the vampire lord Dragonetti in 1998's "Blade," occult expert Albin Grau in 2000's "Shadow of the Vampire," and the doomed Captain Varna in 2004's "Dracula 3000." He's also the fictional Nazi leader Wolfgang Kortzfleisch in the ridiculously comic sci-fi "Iron Sky" films. 
Kier has also made a name for himself in the voice acting world. He's had regular and recurring roles on animated series like "Scooby-Doo! Mystery Incorporated" and "Beware the Batman," while also playing the live-action Yuri in the 2000 video game "Command & Conquer: Red Alert 2" and doing voice work for the character in 2001's "Command & Conquer: Yuri's Revenge."
Dan Marino went from quarterback to commentator to adviser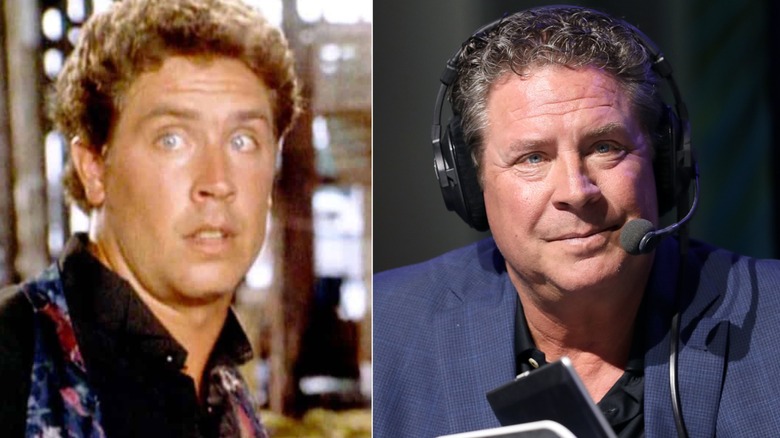 Cindy Ord/Getty Images
Former Miami Dolphins quarterback Dan Marino doesn't have a lot of acting credits under his belt, but in "Pet Detective" he plays the same character he's played most often: himself. It's Dan Marino who Ray Finkle blames for his years of obscurity and shame, and by the end of Ace Ventura we learn the kidnapping of the dolphin Snowflake was all part of a plan to get vengeance on Marino. 
Marino was still with the Dolphins in real life when he starred in the Ace Ventura film, and he would remain with the team until his retirement from football in 2000. Before leaving, Marino left a deep mark not only in the Dolphins' legacy but in the very sport of football. Among other honors and accomplishments, Marino was the first NFL player to throw for 60,000 career passing yards, the first quarterback in the NFL to reach 400 career touchdown passes, and the first Dolphins player to have his jersey number (13) retired after his departure.
Even in retirement, Marino didn't leave the football world behind for good. For over ten years, between 2002 and 2013, Marino worked as an analyst for "The NFL Today." A year after leaving the CBS pregame show, he returned to the Miami Dolphins as a special adviser. 
Troy Evans is barreling onward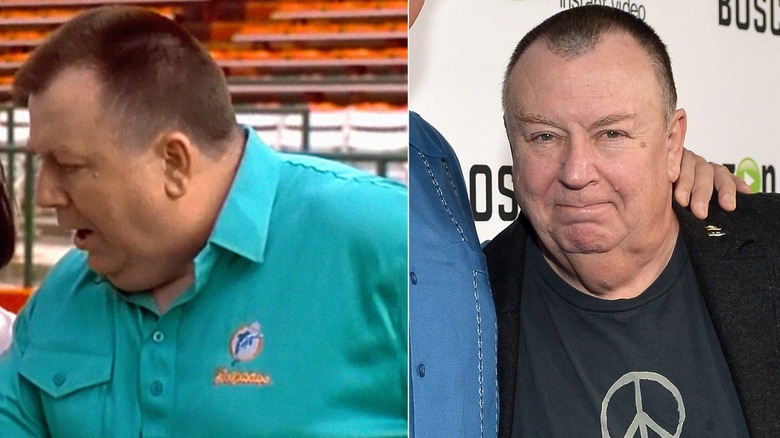 Charley Gallay/Getty Images
Roger Podacter, the Miami Dolphins' head of operations, doesn't survive for much of "Ace Ventura: Pet Detective." His body is found after he's believed to have fallen from his apartment balcony. But with a keen eye for detail and his cartoonishly obnoxious style, Ace proves to the gathered Miami PD officers that someone else must have been in the apartment with Podacter, someone who pushed him. We eventually learn it's Ray Finkle who murders Podacter, after the latter discovers Finkle has assumed the identity of Lois Einhorn.
Evans is an experienced character actor still working today. While most of his acting credits come from TV one-offs and brief film roles, any ER fans should recognize him as Frank Martin — the retired police officer who works as a desk clerk at the County General Hospital. More recently he's had a recurring role on the Amazon Prime original police procedural "Bosch," playing LAPD's Detective Barrel Johnson of the Hollywood division.
Cannibal Corpse is still louder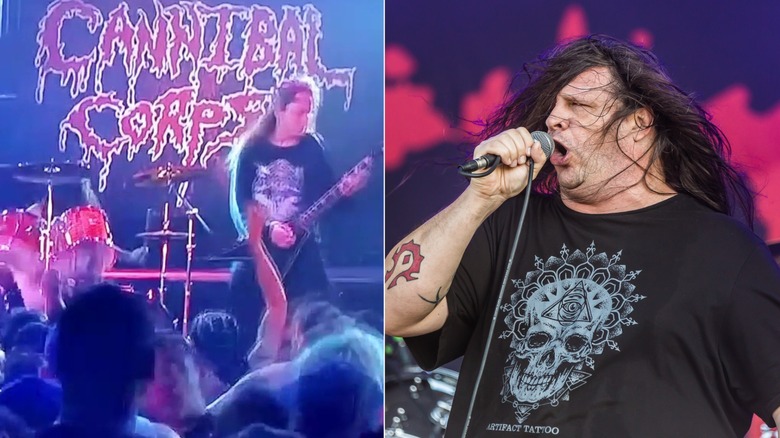 Stefan Bollmann
"Ace Ventura: Pet Detective" doesn't seem like the sort of movie where you'd find a cameo from a death metal band known for the brutally violent imagery in their lyrics, but Jim Carrey personally asked for Cannibal Corpse to appear in the film. Ace has to navigate the crowd at one of the band's shows in order to get to Woodstock (Raynor Scheine), an environmental hacktivist who helps the detective track down possible dolphin-nappers. While it isn't in the theatrical release, when the film showed up on network TV, it included an extra scene in which Ace was chased by crooks through the band's show.
Not long after appearing in the Ace Ventura film, Cannibal Corpse found themselves targets of political hopefuls. In 1995, during his presidential bid, Senator Bob Dole singled out Cannibal Corpse along with 2 Live Crew and films like "True Romance" and "Natural Born Killers" as popular culture that was threatening "to undermine our character as a nation." Responding to the objections to the band's material in a 2004 interview, Cannibal Corpse frontman George "Corpsegrinder" Fisher said, "All our songs are short stories that, if anyone would so choose they could convert it into a horror movie. Really, that's all it is. We like gruesome, scary movies, and we want the lyrics to be like that."
Regardless of Bob Dole or anyone else, the band doesn't seem ready to lighten up or fold any time soon. In 2017 they released their 14th studio album "Red Before Black," and as of 2019 they were still regularly touring.

Randall Tex Cobb played tough dudes and bad guys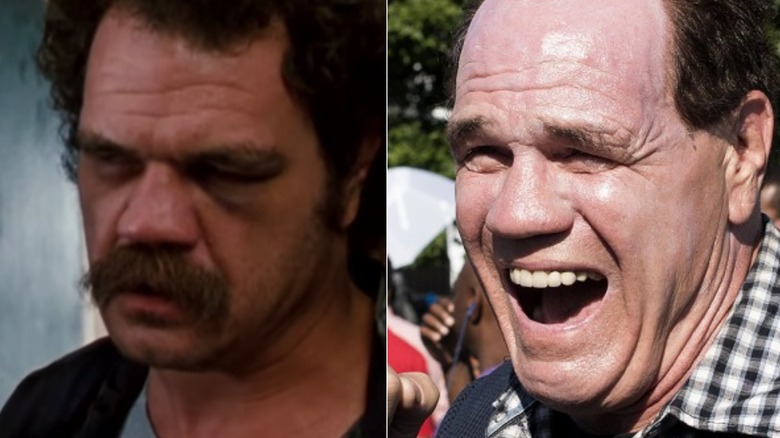 Warner Bros., Ty Wright/Getty
The opening scene of "Ace Ventura: Pet Detective" explains exactly what it is, as the title character poses as a parcel deliveryman in order to gain access to the apartment of a gruff man long enough so he can cause a distraction and make off with the guy's little fluffy dog, as he's been hired to recover it by the man's ex-partner. The individual listed in the credits as "Gruff Man" goes from sloppy and foul-mouthed to enraged and violent when he realizes he's been tricked, but Ace is already gone.
Producers needed an intimidating presence to play Gruff Man, and they found one in Randall "Tex" Cobb. A former pro boxer (42-7-1, with 35 knockouts) and kickboxer, he acted occasionally in the '80s and '90s — notably as terrifying bounty hunter Leonard Smalls in the cult classic "Raising Arizona" — concurrent to his sports careers before focusing entirely on movies and TV after his retirement in 1993, just before "Ace Ventura" hit theaters. Cobb would reunite with Carrey, playing a defendant named Skull in "Liar Liar," and also appear in "The Naked Gun 33 1/3," an episode of "The X-Files" and as a tough guy in a handful of "Walker, Texas Ranger" installments before walking away from show business in 2001.