Gossip Girl Reboot Trailer Is Taking Everyone By Surprise
The trailer for HBO Max's highly anticipated reboot of the classic teen drama "Gossip Girl" is out, and it makes the show look like exactly what a 2021 edition of "Gossip Girl" should be. The cast is much more diverse, the song on the soundtrack is Frank Ocean's "Super Rich Kids," and Gossip Girl is spreading their info from an anonymous Instagram account, not a website (websites are so 2000s). 
Here's HBO Max's official description of the show: "Nine years ago, the original Gossip Girl website shut down. But after a new generation of New York's young elite takes control of private school Constance Billard, the notorious blogger remerges as the number one source into their scandalous lives."
Fans of the original were surprised by how into the reboot trailer they were. The comments on YouTube are mostly all hyped about how good and dark the new "Gossip Girl" looks. "It's giving what the pilot of OG GG was going for," wrote YouTube user Rochelle Wilson. "Dark."
"This looks nothing like the original Gossip Girl," wrote nocchi. "And that's f***ing amazing! I'm so hyped oh my god."
"The vibe does seem completely different and darker, and while I am a bit worried about a show like this taking itself too seriously it might be very good," wrote shanouboubou. "I'll definitely check it out!"
Judging by the trailer, the reboot seems to be a little less over the top, and a little more like a paranoid thriller, but we'll find out for certain when the show comes out on July 8. After all, there has to be some insanely over the top stuff in it. It wouldn't be "Gossip Girl" otherwise!
The trailer has fans saying XOXO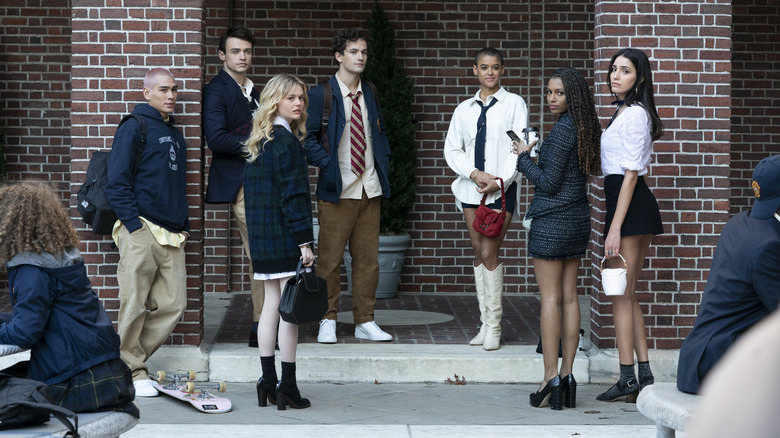 HBO Max
Fans are really into the cast, which features up-and-coming young actors including Emily Alyn Lind, Eli Brown, Whitney Peak, Thomas Doherty, Jordan Alexander, and Tavi Gevinson. "I love that they are trying to shy away from the original and give their own take PLUS this entire cast is SO HOT," wrote YouTuber Regan Nye. Other fans loved that these characters are way less heteronormative than the original. "THE WAY NO ONE IS STRAIGHT LMAO," wrote Santiago Giraldo. "Love the fact there are no straight males HAHAHAH yaaaas," wrote Allan Largiovisol.
The fact that the new "Gossip Girl" is on HBO Max and not on a broadcast network like the original means that the budget is higher and the content can be edgier, which did not go unnoticed by fans. "Oooh this looks high budget," wrote IT. "Good bye CW lol."
Many fans noticed a similarity of tone and style to "Elite," Netflix's sleek Spanish teen soap, which is itself a descendant of the original "Gossip Girl." And fans were absolutely losing it over the return of Kristen Bell as the voice of Gossip Girl, who narrates the series. "The SCREECH I let out when I heard Kristen Bell's voice," Sergio Vela wrote. "Not me crying of the fact that we will be listening Kristen Bell every episode saying,' XOXO Gossip Girl... You know you love me,'" wrote Yatziri Gonzalez. "It's just – adghjskjdhl – Chef's Kiss."
All in all, fans were excited that the reboot, which was met with skepticism when it was announced, looks like it will live up to the original without imitating it. "It gave everything the haters said it wouldn't," wrote Lillian Josephine.