The Surprising Asking Price For These Baywatch Props On Pawn Stars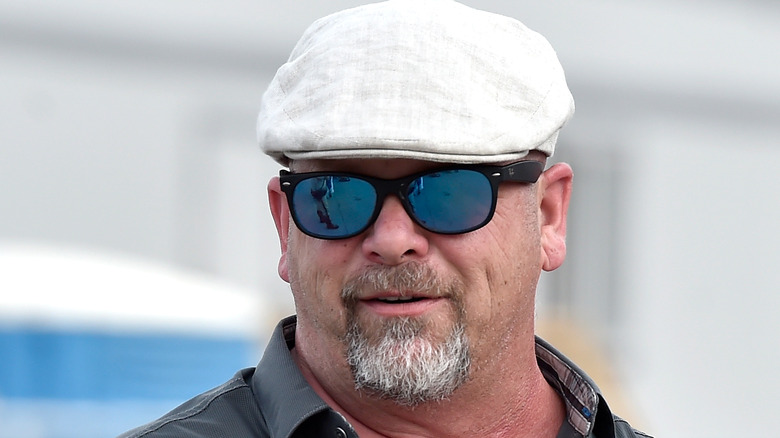 David Becker/Getty Images
When Rick Harrison wants to score some genuine movie props for the Gold & Silver Pawn Shop, he knows exactly where to go. First, he checks in with his "Hollywood guy," Rob Klein, an archivist and pop culture historian. Rob recently led him to a house in California dubbed "the motherlode" of memorabilia.
In this episode, Rick hits the road with Chumlee to check out seller William's treasure trove. The minute they meet, it's clear something incredible is about to go down. "I have probably three million pieces inside the house," William promises, from his jam-packed garage. "There's some really nice stuff in there."
A collector from the age of five, William isn't kidding. He has signed pictures, clothing, comic books, paintings, posters, furniture, and mannequins. He has worked as a bodyguard for nearly 40 years, and instead of taking money for his services, he prefers to be paid in stuff.
Rick tells him he is looking for props and other recognizable items from films. "They're everywhere in the house. Every corner. Every nook and cranny. They're everywhere you can look," William replies.
And thus, the search begins. "If you find something, let me know," Chumlee tells Rick as they set off. They have no idea what's in store for them.
An awesome find is in this collection
When Chumlee spots two red, one-piece bathing suits with high-cut thighs, he knows exactly what he's discovered. "'Baywatch,' ooh," he says, moving through a sea of items to get a closer look.
Soon after, he finds Klein, who is there to help determine the value of anything Rick wants to buy. When Chumlee quickly directs Rick's attention to the 'Baywatch' bathing suits, it's easy to see that in his mind, they are priceless. While it's impossible to get a camera lens into his head, he's probably reminiscing about scenes featuring rescues in the water, Pamela Anderson and Yasmine Bleeth, and some trademark slo-mo running on the beach.
"I'm a 'Baywatch' fan, you know, that opening sequence is a teenager's dream," Chumlee said. There is no question he wants those suits. But it all comes down to price for Rick. How much is teenage nostalgia worth to the owner?
A high price comes with a lowball offer
William has four "Baywatch" bathing suits, two in red and two in yellow. Klein takes one look and knows they are the real deal. "The indicator for me right off the bat would be the patch. If you fake a patch outside of the studio system, they're never quite as nice," he said. "And also they're signed."
Soon, William joins them to get down to business, and Rick asks Klein the big question. How much were the suits worth? "Because they're signed and they're coming from the man here, I think maybe about $1,000 I'd value each of them at," he said.
William takes that figure and runs with it. "I got it right from the horse's mouth," he says. "They're signed, $1,000 a piece."
Chumlee, probably would've taken the deal right then and left with the suits. But who could expect Rick to pay full price? Willing to bargain –  and less emotionally attached than his coworker — he makes his own surprising move, asking William to take the lowball offer of $600 each. "I mean, I've gotta resell them," he explains.
William is willing to go down to $800, but when Rick offers only $650, he refuses to budge. He's just learned the value of what he had. The deal falls apart in an instant, and Rick moves on to the next item.
The camera flashes briefly to Chumlee, with disappointment written all over his face. He'll just have to keep dreaming.