Will There Be A Boo 3! A Madea Halloween?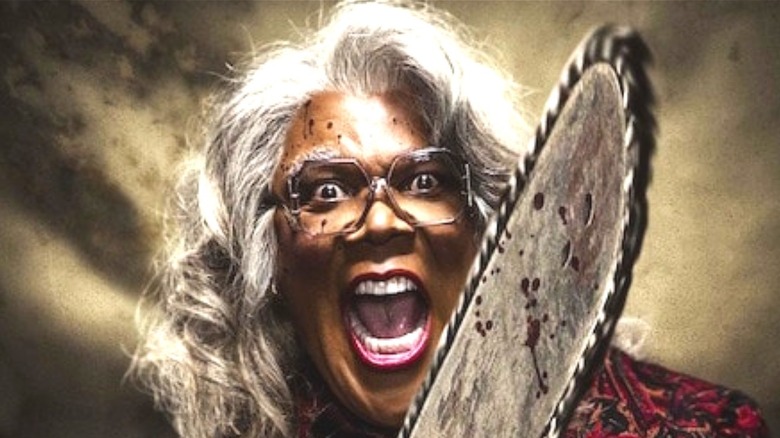 Lionsgate
Tyler Perry is by now a mainstay of American pop culture — and his Madea films helped get him there. The actor, playwright, and producer parlayed a theater career to one on the silver screen thanks to his first movie, 2005's "Diary of a Mad Black Woman," where he played the tough-as-nails mother figure Madea, a character he created first for stage plays. She's now been featured in 11 movies, which include the two "Boo! A Madea Halloween" installments from 2016 and 2017. 
Perry retired Madea in 2019, telling Bevy Smith on her SiriusXM show "Bevelations" in October 2018, "I'm doing one last tour in 2019, the farewell tour, and the last movie is 'Madea's [Family] Funeral' that I shot two years ago. So we're gonna say goodbye to her. Don't tell her." He added that he doesn't "want to be her age playing her." Yet it looks like, when Smith told Perry that Madea's "like a gremlin, she's always gonna be around," she was more on the mark. Madea's retirement didn't take, so the question now is, will there be a "Boo 3! A Madea Halloween"?
Madea is coming out of retirement, but a new Boo 3! hasn't been announced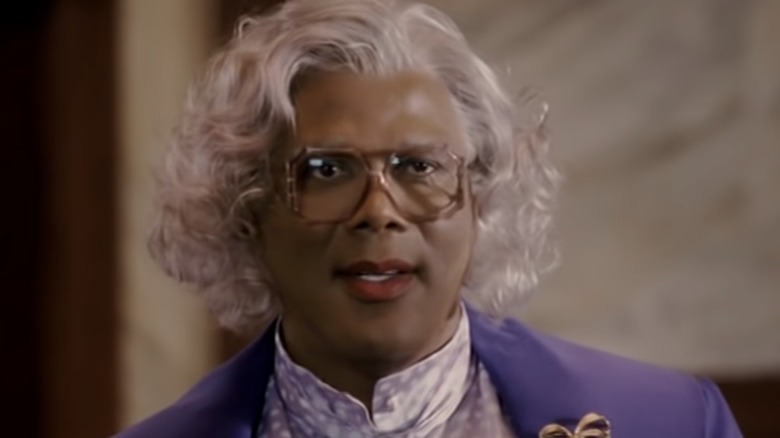 Lionsgate
On Tuesday, June 8, Perry announced Madea's return in a social media post. Slipping in and out of the voice he uses for the character, Perry said, "Madea's coming to Netflix. We need to laugh, man. Too much is going on in the country, and we need to laugh, so I was done, but ... she's coming back. Madea on Netflix. I can't wait." The upcoming project is called "Madea's Homecoming," reports Variety, and it's part of the media mogul's continuing work with the streaming giant. 
In fact, "Madea's Homecoming" is the second upcoming Madea-related project that was announced this year. In April, Deadline reported that Perry and Showtime were going to be creating a drama series called "Mabel," which is a Madea origin story about a 20-something woman named Mabel Simmons moving to Atlanta in 1972. Madea is 65 when viewers first meet her in the films.
Naturally, the return of Madea means that speculation is in order about future projects, but there hasn't been any talk about a new "Boo 3! A Madea Halloween" just yet. However, Perry is working on "Madea's Homecoming" for 2022, and he's also creating the film "A Jazzman's Blues" for a 2022 Netflix release. Given his full slate, even if he is willing to make more Madea movies, it may be a little while before he can turn his attention to what comes next in Madea's filmography. Fans may have to wait a bit to find out if a new Halloween-themed movie is in the works for their favorite sassy and irresistible grandma. But at least now there's the possibility, which didn't exist just a few short days ago.