A Madea Homecoming - What We Know So Far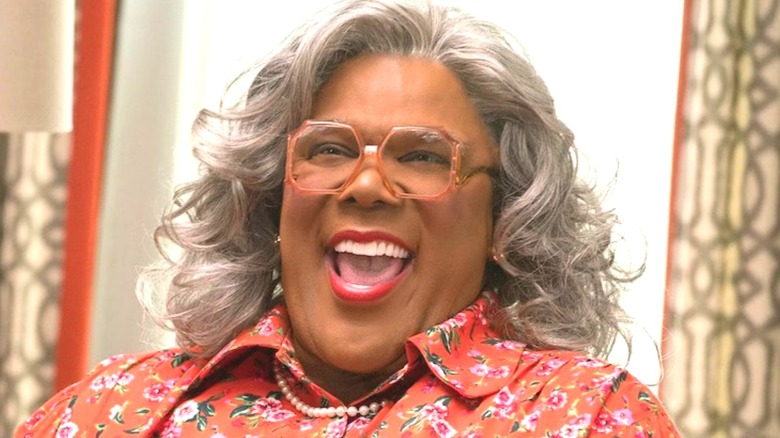 Lionsgate
Tyler Perry's most popular character is set to make a return. It was recently announced that Madea, who has already been the main character in 11 feature films, will appear in a twelfth title, "A Madea Homecoming," which is coming to Netflix. Perry had previously said that Madea's last appearance on screen would be in 2019's "A Madea Family Funeral." 
That film made $75 million at the global box office, and "A Madea Homecoming" will be the first Madea film to be released on Netflix first. Perry has played the character for more than 20 years, starting in 1999 when he introduced the character on stage in "I Can Do Bad All By Myself." Madea made her debut on screen in 2005 in "Diary of a Mad Black Woman." Now that Madea is returning once again, fans are curious about what the character will get up to in her latest feature film. 
What's the release date for A Madea Homecoming?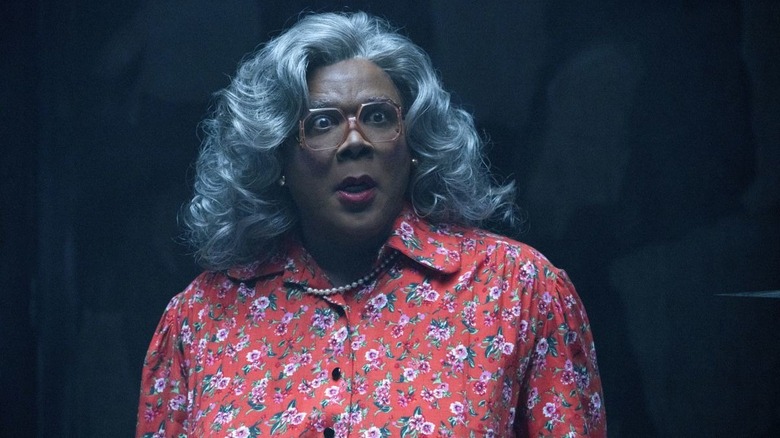 Lionsgate
The exact release date for "A Madea Homecoming" has not been set yet, but Deadline has reported that the film is slated for a 2022 release. The new Madea film is part of Perry's broader partnership with Netflix, which has also included titles from outside of the universe around the character. 
Last year, Netflix released "A Fall From Grace," a thriller that was written and directed by Perry. The film was watched by 39 million households in the first month following its release. Perry is also writing, directing, and producing "A Jazzman's Blues" for Netflix, which has yet to hit the platform. That film stars Joshua Boone and Solea Pfeiffer and tells a story of secrets and family drama set against the backdrop of juke joint blues in the deep South. Madea may be the most high-profile part of Perry's creative output, but it's far from the only thing he's working on. 
Who's in the cast of A Madea Homecoming?
Lionsgate
Other than Perry returning as the titular character, no details around the cast of "A Madea Homecoming" have been released yet. There are certain actors who have appeared in a number of the other Madea films, and given the idea of homecoming that is so prominent in the title of this new installment, it's possible that those familiar faces will return again in the new installment. 
Some of the other regular players in the Madea universe include Cassi Davis, who plays Betty Ann "Aunt Bam" Murphy, and Patrice Lovely, who plays Hattie Mae Love. Perry has a habit of working with many of the same collaborators on multiple projects, and he may do so for "A Madea Homecoming." It's also possible that Perry could go searching for fresh talent, and it's likely that at least some of the cast members in this new Madea film will be actors who weren't in the other installments.
What's the plot for A Madea Homecoming?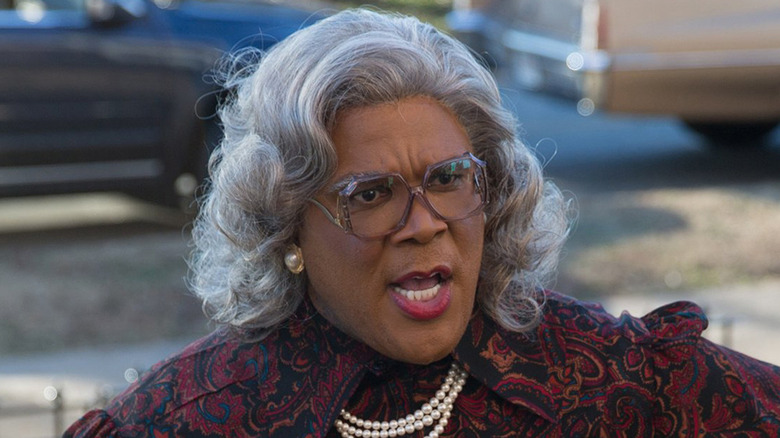 Lionsgate
Details of the plot for "A Madea Homecoming" are being kept under wraps, so it's unclear exactly what this new film will be about. Homecoming is not as easy to decipher as some of the other Madea titles, which have been firmly pegged to holidays or other major life events. 
Perry has called it quits on Madea before, but it's unclear whether he considers "Homecoming" to be a final chapter in the character's on-screen story. Although Perry has become a mega-producer thanks in part to his work on other projects, he regularly returns to Madea in spite of his success in other areas. 
She may not be his most critically adored character (via Rotten Tomatoes), but she's one that has developed a legion of devoted fans over her years of existence. With "A Madea Homecoming," Perry may be attempting to close the book on her once and for all, or simply start a new chapter in the character's story.