The Underrated Val Kilmer Prison Movie That's Killing It On Netflix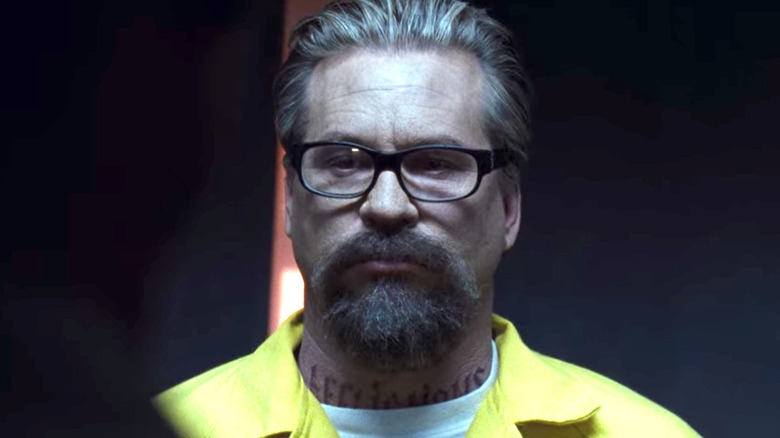 Sony Pictures
Netflix, the streaming platform that continues to put out hit original TV series and movies, is also the place to go for older movies and shows that are getting a second chance and gaining new popularity. While past films that have gotten this treatment include the dance movie "Step Up Revolution" and 2005's underappreciated Nicole Kidman drama "The Interpreter," the newest movie to gain traction on Netflix is a prison crime drama from 2008 called "Felon." 
Starring Stephen Dorff and Val Kilmer, "Felon" is about a man named Wade Porter (Dorff) whose life is turned upside down after an baseball bat swing accidentally kills the burglar he is chasing out of his house. Sent to prison for a three-year sentence, Porter is thrust into the complicated world of the prison system, trying to keep his head above water while maintaining his sanity. 
"Felon" got positive reviews from critics with a 63% on Rotten Tomatoes, and Noel Murray of The AV Club called the film "white-knuckle tense, and held together by dozens of small, well-observed moments." The film had a very limited US release in theaters, with most of the return coming from DVD sales, and that wasn't much. The Numbers reports that the film made an estimated 4.3 million on DVD sales, which isn't great, no matter how low the budget was. Thankfully, Netflix is giving "Felon" another chance, bringing the crime drama to a wide audience on the streaming platform. 
Kilmer stars in 2008's crime drama Felon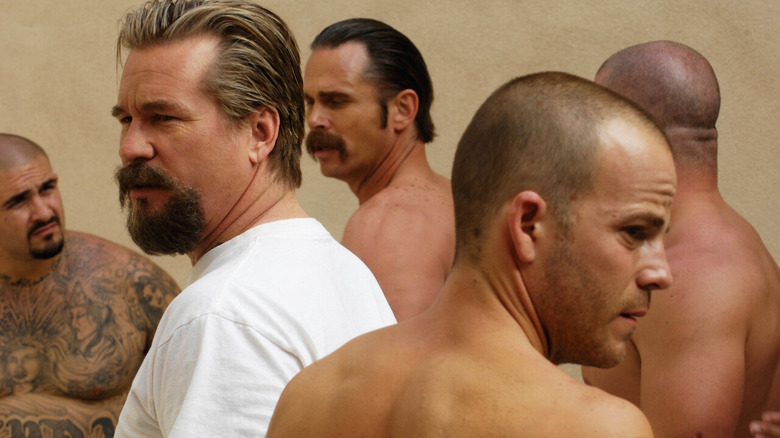 Sony Pictures
With a limited release, "Felon" wasn't too popular or well-known when it first came out, so now that it's on Netflix, a whole new group of people get to check out the film. Considering the movie is currently on Netflix's Top 10 list, you could say that it's going well so far, and with good reason.
"Felon" is a story partly based on the experiences of a man named Richard Caruso, who served as a prison guard at the infamous Corcoran State Prison in California (WMBF News). This specific prison has hosted a number of notorious criminals, including Charles Manson and Juan Corona, a serial killer who murdered at least 25 migrant farm workers before 1971, when the bodies were found (California Department of Corrections and Rehabilitation). Both have since died in custody. 
In the 2008 film, a lot of the politics in the prison center around a fighting ring supported by guards and administrators who bet on life-and-death matches. As Porter's luck starts running out, a lifer named John Smith (Kilmer) is transferred to his prison to be his cellmate. Smith tells Porter that he knows a way to finally reveal the corruption and help Porter get out of prison, and they work together to get the job done.
Thanks to Netflix, the underrated and often overlooked prison drama "Felon" is seeing the light of day once again, and viewers are clearly loving the film. Also starring Marisol Nichols, Harold Perrineau, Greg Serano, and the late Sam Shepherd, you can check out "Felon" on Netflix now.