Jessica Chastain Is Unrecognizable In Her Newest Movie Role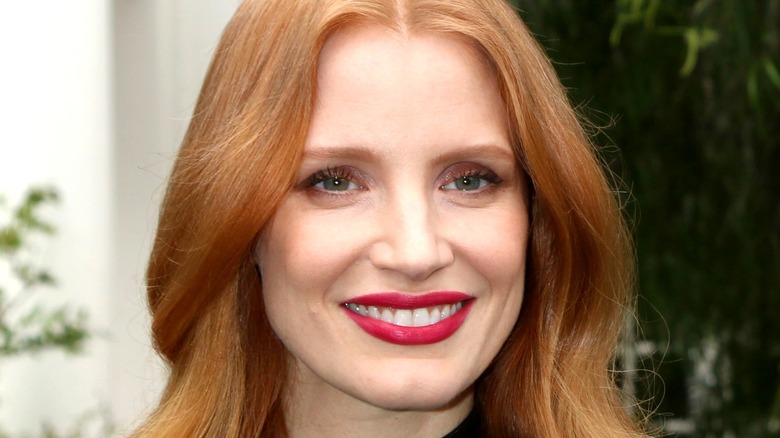 Shutterstock
Academy Award nominee Jessica Chastain has proven her ability time and time again to virtually disappear into a role. Whether it's playing a sweet-natured housewife who just wants to belong ("The Help") or a possessive sister with sinister secrets ("Crimson Peak"), Chastain manages to keep her audience captivated in every moment that she appears on screen. Now, her newest role has her looking more unrecognizable than ever, but no less captivating.
Chastain stars in the new biopic from director Michael Showalter, "The Eyes of Tammy Faye," in which she plays the titular role alongside the former Spider-Man, Andrew Garfield. The film is based on the 2000 documentary by Fenton Bailey and Randy Barbato and tells the story of televangelist couple Jim and Tammy Faye Bakker. The couple were investigated for fraud, and Jim Bakker was sentenced to 45 years in prison. The story was covered by every news outlet in the country, so that even those who had never heard of the Bakkers knew about the controversy. Chastain bought the rights to portray Tammy Faye Bakker in 2012 (via Variety), and now audiences will get to see the mind-blowing results.
Jessica Chastain disappears into her role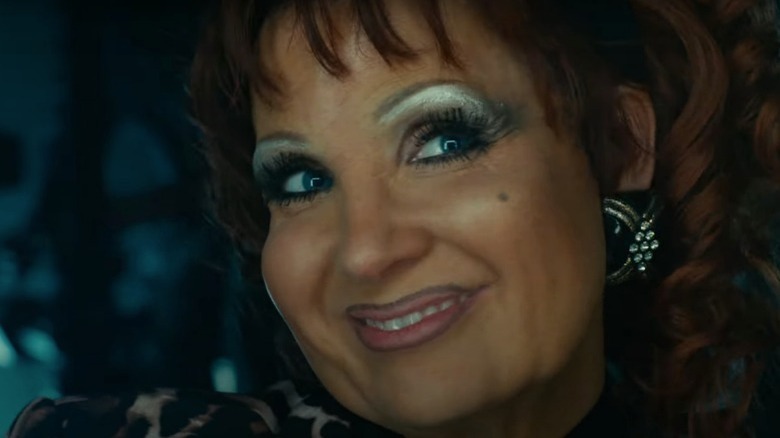 Searchlight Pictures
During the famous Bakker trial in 1989, Tammy Faye's face seemed to be everywhere. The southern-born preacher's wife and singer became notable for wearing outrageous wigs and heavy makeup. She appeared on numerous TV talk shows, pleading for forgiveness for herself and her husband while mascara-stained tears rolled down her cheeks. This image was famously parodied in a Church Lady sketch on "Saturday Night Live," with Jan Hooks parodying the mannerisms of Tammy Faye.
The trailer for "The Eyes of Tammy Faye" — which just landed on YouTube via Searchlight Pictures — gives audiences a first look at Jessica Chastain in the role of the glamorous and misguided televangelist. Chastain's transition throughout the film's trailer is fascinating to watch, beginning with her portrayal of a sweet and young Tammy Faye as a brunette. It ends with the hauntingly familiar image of a middle-aged Tammy Faye with false eyelashes, caked-on mascara, and glaringly mismatched lip liner. In between these shots, Chastain wears various wigs, bright sequins, and multiple shades of eyeshadow. In just a two-minute preview, one could easily forget for a moment that the woman on screen is the gorgeous redhead.
On top of her startlingly different look in the film, Chastain sing, too. Chastain mentioned in the same 2019 Variety interview that she had already recorded the songs in the studio. Movie fans can check out Chastain's vocal talents and shocking transformation on September 17, 2021, when "The Eyes of Tammy Faye" hits theaters.