The Jessica Chastain Drama Hidden Gem You Can Catch On Netflix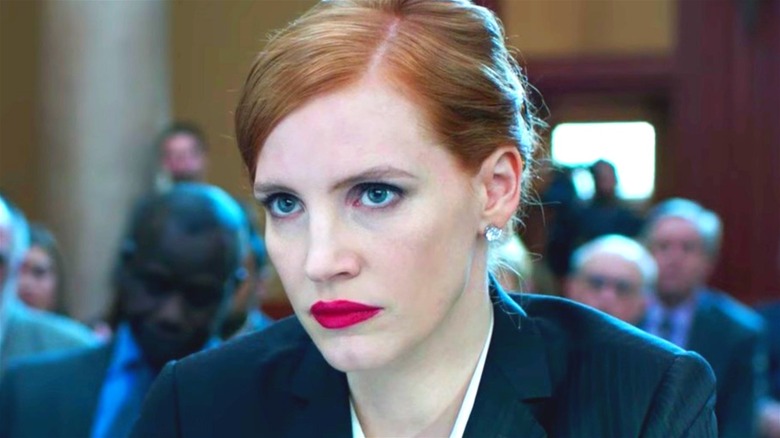 EuropaCorp
Jessica Chastain has twice been nominated for Academy Awards: first for her supporting role in "The Help" in 2012, and then again for her leading role in "Zero Dark Thirty" at the next year's ceremony. In the former film, Chastain portrays an ostracized socialite who must overcome a desperation to fit in with the group excluding her. In the latter, she portrays a CIA agent in charge of locating Osama bin Laden in Pakistan. Not only were these two performances both recognized by the Academy of Motion Picture Arts and Sciences, but the characters embodied by Chastain in the two films couldn't be more unlike one another.
Chastain's range extends further than her portrayals of a housewife and military operative. In the Aaron Sorkin-directed "Molly's Game," for example, Chastain portrays a big-time swindler, based on a real-life Olympic-level skier who pivoted to running underground poker games. In the second "It" film, based on Stephen King's classic novel, Chastain is the grown-up Bev, who acted as an older sister figure to the central group in its prior chapter.
Though much of its personnel might not garner the same recognition as those involved in her more widely-known projects, there's a film now available on Netflix that features Chastain in its lead role. This is another unique character for her, taking on the role of a DC lobbyist.
Miss Sloane is politics as usual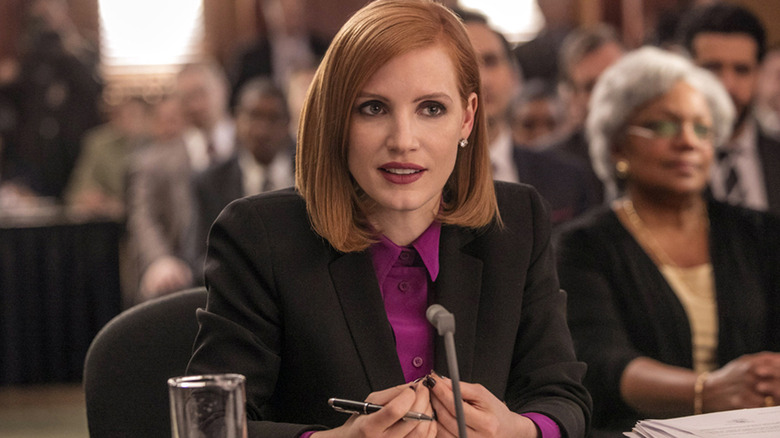 EuropaCorp
Although Aaron Sorkin was uninvolved in the production of "Miss Sloane," he wrote and directed "Molly's Game," which also featured Chastain in a lead role. RogerEbert.com reviewer Sheila O'Malley likens writer Jonathan Perera's screenplay for "Miss Sloane" to work by Sorkin. Characters speak quickly and employ political jargon liberally, like certain types of real-life DC lobbyists.
Chastain stars in "Miss Sloane" as its titular character, Elizabeth Sloane, who works for a politically conservative lobbying firm at the film's opening. However, when her firm is enlisted to oppose a gun control bill, Sloane flips and joins a rival firm employed to aid in the bill's passing.
On Rotten Tomatoes, "Miss Sloane" holds a 76% critical score (from 193 reviewers, earning it a "Certified Fresh" designation) and a 72% audience score. Rotten Tomatoes user Gabriel P argues that "Jessica Chastain delivers one of the strongest performances of her career. A severally [sic] underrated film that delivers drama, thrill and suspense. An absolute must watch." In his review for The Times, meanwhile, Kevin Maher describes the film as "slickly accomplished thriller about the lobbying industry in Washington."
Fans of Chastain, snappy Sorkinesque dialogue, or political thrillers can stream "Miss Sloane" on Netflix.