Here's Who NCIS Star David McCallum Is Married To In Real Life
Shutterstock
The most dedicated fans of "NCIS," the CBS investigative series that has taken the world by storm since it debuted in 2003, have been treated to watching some real-life family members and partners of the cast and crew appear on the show from time to time. We've seen Michael Bellisario, the son of "NCIS" creator Don Bellisario, appear as Charles "Chip" Sterling, who Abby reluctantly works with inside the lab. Bellisario's daughter, Troian, has also popped up as Sarah, Timothy McGee's little sister. These kinds of cameos have kept fans wondering about the family and romantic connections of other cast members. 
One of the show's stars whose personal life should be of particular interest for every fan is one of its most experienced actors, veteran TV star David McCallum. He plays Dr. Donald "Ducky" Mallard, the NCIS lead medical examiner. Ducky has been with the show from the backdoor pilot episode of "JAG" that introduced the "NCIS" crew to the world, and always provided a calm, warming presence to viewers, even as he holds entire conversations with the dead bodies on his table. Ducky retires from the team in 2019, and while he's no longer considered part of the core cast, he still makes an occasional appearance to remind fans of how much he brought to the show.
So, are you dying to know who "NCIS" star David McCallum is married to in real life? No need to scour the web, as we've got the backstory on the lady who is always at his side.
David McCallum is married to a formal model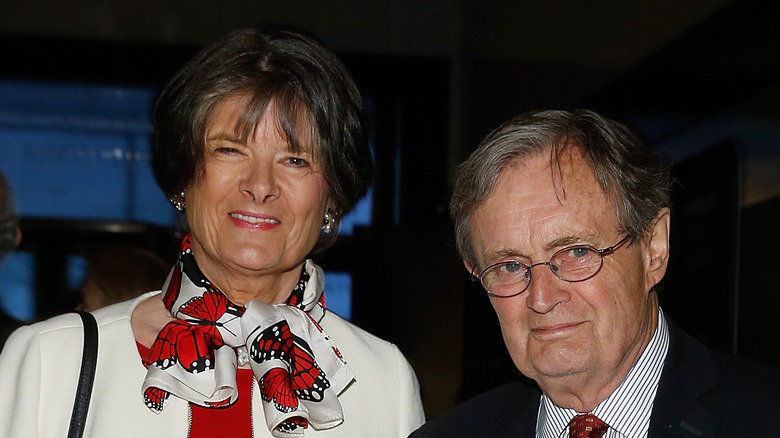 John Lamparski/Getty Images
David McCallum has been married to Katherine Carpenter for over 50 years in real life. According to Married Celeb, Carpenter is a former actress and model, and her father was a World War II veteran who served in the Pacific and the battle of Iwo Jima. He also wrote plays and their lyrics, which could have been the first introduction for Carpenter to the world of show business. Although she is no longer active as an actor, she continues to honor the military history of her father, working with her husband on philanthropic projects, including efforts for the United States Marine Corps. Her mother died after several illnesses in 1971. 
Married Celeb notes that McCallum and Carpenter met in 1965, while he and his "Man from U.N.C.L.E." co-star, Robert Vaughn, were posing for a magazine photo shoot in New York City. Carpenter, who was 21 years old at the time, was part of the ensemble of famous models accompanying them at the time, and their meeting was a complete coincidence that had nothing to do with any film, stage, or TV show that they shared. After this chance encounter, the two became inseparable, and it was obvious that they would be together for a long time. After dating for a couple of years, McCallum popped the question on the Fourth of July in 1967, and the two wed in New York on September 16, 1967. The pair share two children: a son, Peter, and a daughter, Sophie. They also have six grandchildren.
Carpenter isn't McCallum's first wife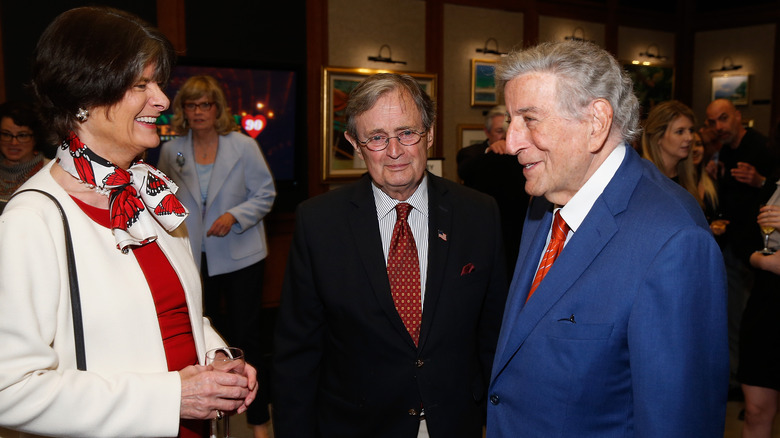 John Lamparski/Getty Images
This wasn't the first the man behind Ducky has walked down the aisle. As the David McCallum fansite and a 2020 piece in Express UK note, Katherine Carpenter is McCallum's second wife. It turns out that McCallum and Carpenter actually started seeing each other while McCallum was still finalizing his divorce from actress Jill Ireland. McCallum and Ireland met on the set of "Hell Drivers" in 1957, and they married in a very small ceremony that same year. They share three children, but during their marriage, Ireland began an affair with another famous movie star, Charles Bronson. 
McCallum was reportedly heartbroken upon learning that his wife had been visiting Bronson regularly, and the couple filed for divorce in February of 1967. Thankfully, it didn't take long before he was revitalized and found happiness again when he just happened to run into Carpenter.
While his divorce with Ireland was still processing, and to the surprise of many, McCallum decided to make his budding romance with the young model public by having her accompany him on a publicity tour for "Man from U.N.C.L.E." through Australia and Asia. This betrayed the image of McCallum's character in U.N.C.L.E., an international spy who was extremely popular with female fans. Studio executives at MGM did not want McCallum, who women adored, to be seen with a single partner, but McCallum was insistent on Carpenter accompanying him.
After that, it seemed obvious to everyone that it was a done deal for both Carpenter and McCallum, and time has proven them right. They're still clearly inseparable, and they both deserve all the happiness they have found.