Who Is The Star In The Mountain Dew 'The Morning Makes You' Commercial?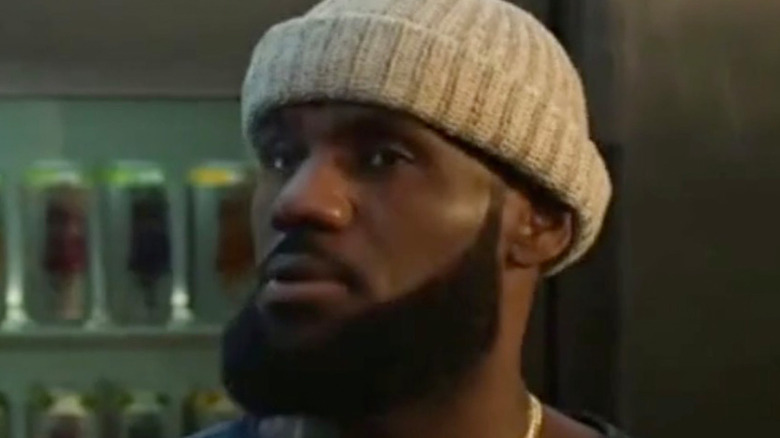 Mountain Dew
Most of us do everything we can to avoid watching TV commercials, but they still have a way of sticking in our brains. When it comes to commercials, nothing is more frustrating than an ad that you can't stop thinking about. This is especially true with ads that have a famous person not everyone can recognize. The latest commercial to have this effect on people is called "The Morning Makes You," and it promotes the Mountain Dew Rise Energy drink.
In the ad, a tall, bearded man gets out of bed and starts his day with Mountain Dew Rise Energy. The man, who identifies himself as LeBron James, then wonders what life would be like if he were less of a go-getter and liked to hit the snooze button more often. The commercial never specifies what he does for a living, but it's implied that he is a very, very successful person. And without his type-A personality, we get a look at an alternate version of him.
Bizarro LeBron James enjoys a life of leisure, preferring to watch cartoons and order pizza instead of whatever it is he actually does. We also see him mowing his lawn and teaching a salsa class. But in the end, LeBron decides to be true to himself and keep pursuing his goals.
But who is this "LeBron James" fellow? In the extremely unlikely event that you don't know the answer to that question, here it is.
LeBron James is one of the most famous athletes of his generation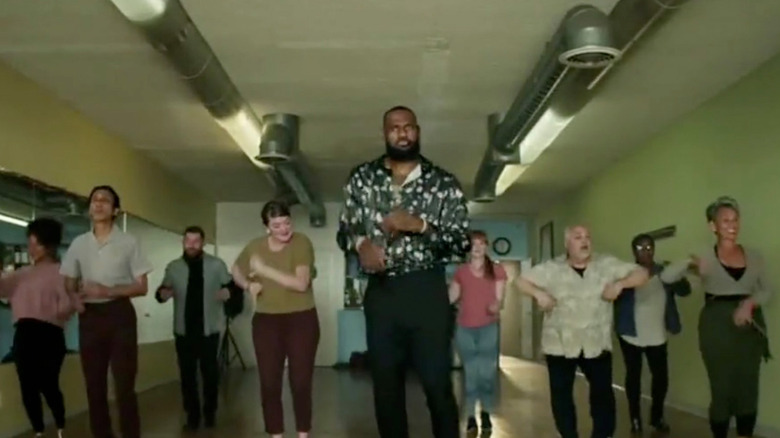 Mountain Dew
Yes, it's the LeBron James, as in the basketball superstar. As the full version of the ad shows, James currently plays for the Los Angeles Lakers, and he's still going strong in an 18-year career that began at the age of 18 when he was picked first overall in the 2003 NBA Draft. Since then, King James has won four NBA championships, four Most Valuable Player awards, four NBA Finals MVP awards, and two Olympic gold medals. He's widely regarded as one of the greatest players of all time, and some think LeBron actually is the best player ever (via Forbes).
But even if you've made every attempt to keep your life free from sports knowledge, James' celebrity status means he's practically inescapable. As the ad mentions, he's also producing projects in the film and television industry. He's starring in "Space Jam 2," which premieres on July 16, 2021. As if that wasn't enough, LeBron James is both a philanthropist and an activist. In 2020, he opened the I Promise School in his hometown of Akron, Ohio, a school that helps underprivileged children excel in academics. 
That should be all the info you need about Mountain Dew's extremely famous pitchman.