The Real Reason LeBron James Opened The I Promise School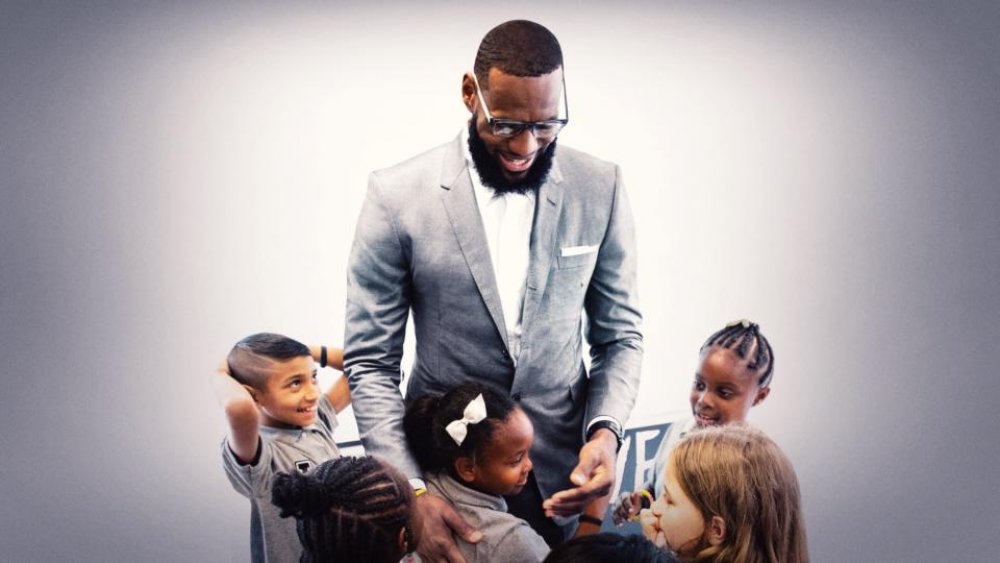 Quibi
This content was paid for by Quibi and created by Looper.
Three-time NBA champion LeBron James is known on the court as one of basketball's greatest players, but his off-court achievements are just as noteworthy. Since joining the league at only 18 years old, the Akron, Ohio native has showcased pride for his hometown, a love that is perhaps best encapsulated through his charity work in the region. That includes one of his latest and largest philanthropic endeavors, I Promise School.
Unlike similar educational efforts from big donors or celebrities, James' school doesn't offer a private or charter education. Instead, I Promise School belongs to Akron Public Schools, meaning any student eligible to enroll in the northeastern Ohio school district can attend. When it opened in 2018, I Promise School officially welcomed 240 third- and fourth-grade students, with the plan to expand into grades one through eight by 2022 (via USA Today). Within its first year, the school saw 90 percent of its inaugural class meet or exceed growth goals in reading and math, ultimately outpacing their same-age peers across the Akron School district, according to The New York Times. 
Their journey, alongside James' vision for a more holistic and equitable form of education, is at the center of one of Quibi's latest shows, I Promise. The 15-episode documentary series from the Space Jam 2 producer follows the lives of several students through the successes and challenges of their first year at the Akron-based school. 
"When we first started, people knew I was opening a school for kids," James told The New York Times in April 2019. "Now, people are going to really understand the lack of education they had before they came to our school. People are going to finally understand what goes on behind our doors."
The I Promise Quibi series shows what LeBron James' vision of education looks like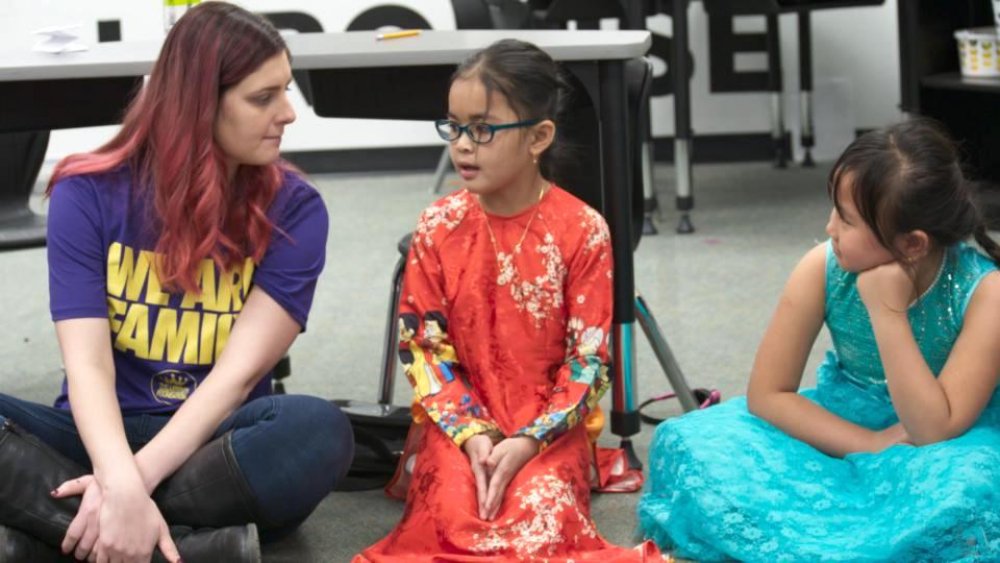 Quibi
Housed under James' I Promise nonprofit, the school focuses on the city's most at-risk youth, working to holistically ensure that they succeed inside the classroom, at home, and in their community. "At the I Promise School, our goal is to let every single kid know they are special," James said in an April 2020 interview with People. "That they can be whatever they want to be. And that starts with addressing everything they're going through before they even step foot in a classroom."
According to the school's master plan, a STEM-based curriculum supported by a $2 million budget allows for "rigorous problem-based, inquiry-oriented learning" (via The Atlantic). Those lessons are then combined with attendance incentives, mentorship programs, after-school tutoring, and encouragement from teachers and from James himself in written and video messages. 
But the curriculum isn't the only hands-on learning element at the school. I Promise's "social-emotional supports and trauma-informed practices" mean the mental and physical health of educators and students also take priority — supported by technology-free zones "for decompression," yoga, a garden, and more. Students' families are also included in this educational vision. They are given access to a resource center, staffed by liaisons who connect them to everything from GED programs to child care, a food pantry, financial-literacy programming, and a barbershop and hair salon. It's a "whole child" approach to learning that recognizes when a child's basic needs are met at home, they can remain entirely focused on their education. 
Michele Campbell, the executive director of the LeBron James Family Foundation, told The New York Times, "We understand that if you send a child home with no dinner or let a child leave school without knowing where they're going to sleep that night, there's no way that child is going to learn."
The stories of I Promise students are a reflection of LeBron James' own educational struggles
Quibi
The school is still in its infancy, but the I Promise Quibi series offers an up-close look at how the first year of I Promise School is impacting both the present and future of its students. Longer school days and an extended school year reimagine how students see and understand classroom time and the lifelong role learning will play in their lives. Meanwhile, mottos like "Family: If you fail, we fail" and "Be Best: Constant pursuit of improvement" reign at I Promise School — reminding students that they should meet challenges head-on, and that they never have to do it alone. 
"With our school, everything is built on giving kids the confidence that they can do anything," James told People. "They know I believe in them, they know their teachers, the whole staff, and everyone we've put around them believes in them. It's incredible what they can do when they feel that support."
Though James is the Quibi series' most prominent name (the sports superstar and blossoming Hollywood producer serves as an EP on I Promise), he mostly takes a back seat to the school's students, families, and educators across the eight-minute episodes. Still, James is reflected throughout the series' various journeys. The sometimes-turbulent home lives of I Promise's students run parallel to James' childhood struggles with homelessness and inconsistent access to education. In that way, the stories of these young people reveal why the NBA icon has made reimagining education one of his biggest philanthropic focuses. 
"It almost seems like when you grow up in the inner city or the projects, no one cares about you," James says in the Quibi series. "So many kids like myself have dreams. The only thing to stop those dreams from becoming a reality is the support around them. For me to be able to use my platform or use my resources, I was passionate about having our kids and hometown living under one roof."
I Promise is streaming on Quibi now.