LeBron James' Space Jam 2 Scores Release Date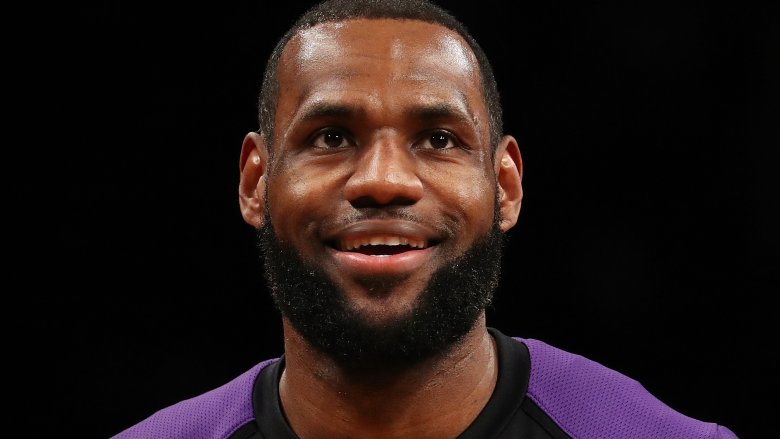 Getty Images
Come on and slam, and welcome (back) to the jam. 
Warner Bros. announced on Thursday an official release date for Space Jam 2, the sequel to the animated-slash-live-action sports comedy from 1996. Starring ex-Cleveland Cavaliers and current Los Angeles Lakers professional basketball player and surprise film producer LeBron James, Space Jam 2 will bounce into theaters on July 16, 2021. 
Shortly after Warner Bros. broke the debut date news, James' SpringHill Entertainment production banner shared to Twitter the first look at the highly anticipated sequel through a piece of key art. Seen in the snap are James, who's rocking a Tune Squad basketball team jersey and a slight smile on his face (we'd like to think he's excited that the Space Jam sequel project is actually getting off the ground after all this time); Bugs Bunny, the anthropomorphic rabbit with a Brooklyn accent who partnered up with Michael Jordan in the first Space Jam movie; and Lola Bunny, the part-femme-fatale, part-tomboy who acted as Bugs' love interest in the 1996 original, in which she made her debut appearance. 
Not only does Space Jam 2 have James on board as its star, stepping into the spot Jordan did over two decades ago, but the sequel also has Black Panther director Ryan Coogler attached as producer. Terence Nance of Random Acts of Flynes fame will direct the film, which marks James' first starring role in a feature film. James previously appeared as himself in 2008's More than a Game and 2009's Square Roots: The Story of SpongeBob SquarePants, then shocked moviegoers around the world when he stole every scene he was in opposite Bill Hader and Amy Schumer in the 2015 romantic comedy Trainwreck. Last year, James lent his voice to the character of Gwangi in Warner Bros.' Smallfoot. 
Warner Bros. hasn't detailed what Space Jam 2 will be about, but it will likely hit the same beats that it predecessor did: James will team up with Bugs, Lola, and other Looney Tunes characters to face off against evil aliens who want to exploit their talents. The only way to beat the nefarious extraterrestrials is to best them in a high-stakes basketball game — because that's the way all ultimatums are settled, right? That James and his business manager Maverick Carter previously stated that Space Jam 2 is more of a reboot than a standard sequel indicates that the new movie's story will likely be similar to that of the original. 
Space Jam 2 is scheduled to begin filming this summer, and while that may come as a bit of a surprise to some, the two-years-in-advance start date is likely required to allow the pic's animation team to add in all the cartoon-y goodness after live-action principal photography wraps. A summer kick-off is also needed because that's the time James is in off-season; the National Basketball Association's 2018-2019 regular season concludes on April 10, with playoffs running from April 13 to sometime in May, and the finals happening from May to June. The 2019-2020 season is expected to commence in October, as that's usually the month a new season starts, so James, Nance, and Coogler have just a few months to capture all the live-action footage for Space Jam 2 before James heads back to the court. 
A July 2021 premiere date positions Space Jam 2 in the same release month as Indiana Jones 5 (which opens on July 9 of that year) and Mission: Impossible 7 (which is slated to launch just a week after Space Jam 2, on July 23). With the star power and name recognition James brings to the film and with the undeniable nostalgia factor the new movie carries, Space Jam 2 should have no problem attracting audiences and raking in beaucoup box office bucks. 
As for whether Jordan could join James for Space Jam 2, perhaps popping up in a cameo that would undoubtedly send moviegoers into a fit of joy, we don't know if that's in the cards. However, James' manager Carter is hoping that Jordan — and other famous NBA players — would be down to appear in Space Jam 2. 
"Hopefully there will be a role for Michael if he wants it. But Michael Jordan is Michael f***in' Jordan. It doesn't matter [if James] calls him, he's gonna do whatever the hell he wants, which he has earned that right to do," Carter told The Hollywood Reporter in September of 2018. He added that "LeBron and Michael are not sitting around talking about Space Jam," and that the main focus of Space Jam 2 isn't to crowd it with well-known figures but to make it as great (or even better) than the original. "There's already been one that was good, we gotta make a film that's great," said Carter.
For James, he's over-the-moon happy that he's even getting the chance to do something like star in a Space Jam sequel, a project he's had his eyes on for 18 years. 
"I've been hearing about Space Jam 2 since I was 16. [Michael Jordan] was the greatest thing I'd ever seen," he said. "I always wanted to be a superhero. Batman was my favorite. But I knew I could never be Bruce Wayne. You've got to understand, for me that was in no way possible."
Sounds like whatever happens in Space Jam 2, James' passion for the project will make it shine. 
Get ready to jam when Space Jam 2 opens wide on July 16, 2021.