Cinematographer Polly Morgan Dishes On Working With John Krasinski And Emily Blunt On A Quiet Place Part II - Exclusive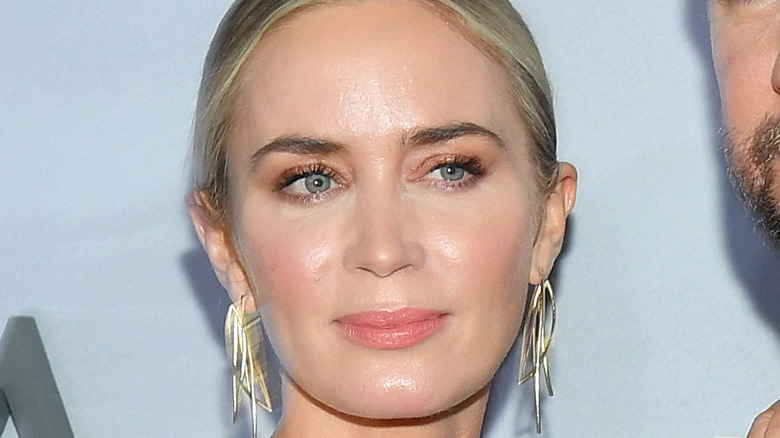 Mike Coppola/Getty Images
"A Quiet Place Part II," which is out now in theaters, picks up where the original 2018 film left off — following the Abbott family as they try to survive in a world where bloodthirsty monsters are ready to pounce at the slightest sound.
The original cast returns — Emily Blunt plays matriarch Evelyn Abbott, Millicent Simmonds is daughter Regan, and Noah Jupe is son Marcus — with the addition of Cillian Murphy ("The Dark Knight" trilogy, "28 Days Later") as a family friend who helps them persevere. And despite patriarch Lee Abbott being killed off in the first film, John Krasinski returns — both as actor and director.
Krasinski worked closely with cinematographer Polly Morgan to achieve the overall look and feel he was going for in "A Quiet Place Part II." British-born Morgan cut her teeth on shows such as "American Horror Story," "Call the Midwife," and "Legion," and took like a duck to water on the highly anticipated film sequel, creating a more sonorous and action-packed movie than the original.
"I was kind of nervous about doing a sequel ... especially because the first film was so well received and such a big hit," Morgan told Looper during an exclusive interview, in which she talked about taking over for previous cinematographer Charlotte Bruus Christensen. "But John's script was so beautifully written. It was very much written how he saw the film. The images just flew off the page, and it really drew me in."
Making Morgan's job even easier was working with such a stellar cast, including real-life couple Krasinski and Blunt, whom Morgan dished about during the interview.
John Krasinski and Emily Blunt were a 'joy' to work with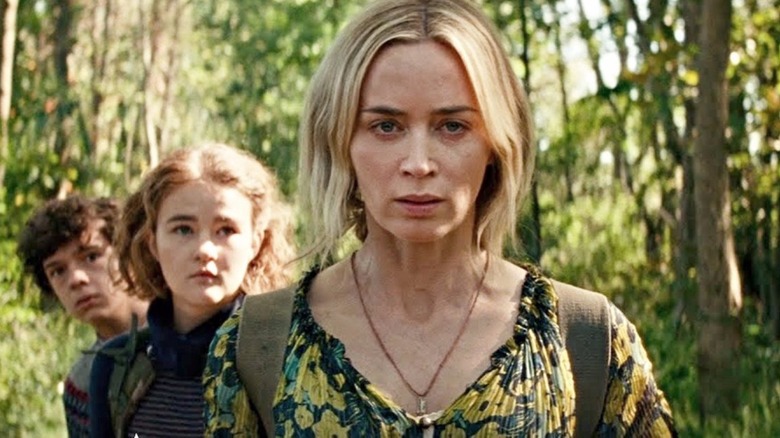 Paramount Pictures
With Krasinski once again taking on a dual role as actor and director for "A Quiet Place Part II," Morgan spent a lot of time with the former "Office" star, who appears in a flashback sequence in the film. She says Krasinski took double duty in stride.
"John had a really strong creative vision," says Morgan. "He was really only involved [as an actor] in the first couple of weeks, because we shot the day one prologue at the top of the schedule. He was very trusting in us in that once he did a take, he would come back and say, 'Did we get it?' If we said, 'Oh, no. We didn't get it. You better go again.' He didn't need to watch playback. He would just trust us. He handled it all really well ... I thought he did a great job. But I think it was a relief for him when he could kind of put his actor hat to bed and just focus on directing."
As for filming, there was one intense scene that choked both Morgan and Krasinski up: when onscreen son Marcus puts his newborn baby brother in a handcrafted wooden box to silence him while hiding in a furnace.
"When the [actor] babies came to set," says Morgan, "and we were putting those babies in the box, I was just like, 'Oh my God, the babies!' And John, like me, he's quite an emotional person too. We would often look at each other, and we'd both be welling up. It was quite nice to sort of share that experience with him."
When it came to working with Krasinski's real-life wife Blunt, Morgan was in awe of the actress' ability to easily step into character.
"She is such a joy to work with," says Morgan. "She's one of those actors who's not method at all. She's sort of laughing and chatting one moment, and then when the cameras are rolling she's really in it and just finds her space ... I'm not quite sure how she was able to sort of switch off and just put herself in Evelyn's mindset so easily. She's a wonderful actor."
"A Quiet Place Part II" is now playing in theaters.