What Theo James Has Been Doing Since Underworld: Awakening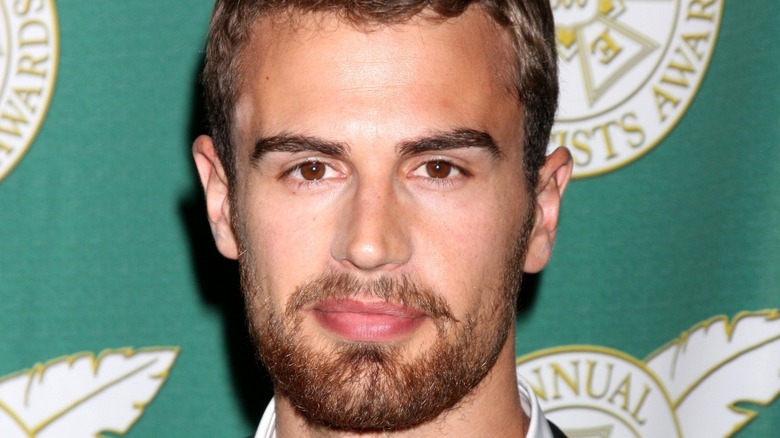 Shutterstock
English actor Theo James has found success starring in horror and science fiction projects throughout the years, and that trend doesn't seem to be ending anytime soon. One of the first roles for James, who was born in London, was the supernatural drama, "Bedlam," which aired on the Sky network in the United Kingdom in 2011 (per IMDb). As a series lead, he played a psychic medium who moved into an old insane asylum that had been converted into apartments, where malevolent events became everyday occurrences. James left the series after one season.
Not long after, he was cast as the new male lead in 2012's "Underworld: Awakening" opposite Kate Beckinsale. As David, he aided Beckinsale's character — vampire death dealer Selene — in protecting her daughter, a new form of vampire-werewolf hybrid, who was being hunted by lycans, vampires, and a secret agency determined to capture or kill her. While it seemed James was poised to take over the franchise, the film series only saw one more sequel, "Underworld: Blood Wars" in 2016 and seems to be stagnant now, with no news about future installments in years.
His breakout role was in Divergent
In 2014, Theo James was cast in what many consider to be his breakout role: playing Four in the "Divergent" movies (alongside a stellar list of cast members). Based on the popular young adult book series by Veronica Roth of the same name, the story followed Tris (played by Shailene Woodley), who was an independent thinker and secret "divergent" in a dystopian Chicago comprised of four factions. James played her mentor and love interest, Four, who was also secretly divergent, meaning they had the ability to reject the government's serums and mind control. While the first movies found success at the box office, their popularity faltered, series star Woodley quit, and the fourth film in the franchise was canceled, according to Cinema Blend. 
James continued acting in small projects, finding some success in voice acting. He is the voice of Hector in the popular "Castlevania" animated series on Netflix and also voiced Rek'yr in 2019's "The Dark Crystal: Age of Resistance." He also starred in the Netflix film "This Is How It Ends." He most recently appeared as Sidney in the British historical drama television series "Sandition," which is based on an unfinished work by Jane Austen. After the PBS Masterpiece show, which was initially canceled, was surprisingly renewed for a second and third season, James announced he wouldn't return, saying on social media, "Although I relished playing Sidney, for me, I've always maintained that his journey concluded as I wanted it to. The broken fairy-tale like ending between Charlotte and Sidney is different, unique and so interesting to me and I wish the cast and crew of 'Sanditon' ever success with future series." 
James's fans — known as Theologians (via Facebook)— shouldn't worry. He's already busy filming his latest role in an HBO series based on another popular book.
He's now filming The Time Travelers Wife for HBO
Even though his announcement he wouldn't return for the second and third seasons of "Sandition" upset many of the show's fans, Theo James seemingly had his reasons — one of them is likely that he'd already been cast in another series while believing "Sandition" was canceled. In May 2021, HBO released a first-look image of James and his co-star Rose Leslie of "Game of Thrones" during filming for the new series "The Time Traveler's Wife." According to the statement from WarnerMedia, the series is now in production in New York.
Based on the best-selling novel by Audrey Niffenegger, the series has a lot of British superpower behind it, with both James and Leslie hailing from the UK, and the story is adapted by former "Doctor Who" showrunner Steven Moffat. A 2009 movie adaptation of the book starred Eric Bana and Rachel McAdams in a story about a time=traveling librarian, Henry, whose relationship with his wife, Claire, is complicated by his frequent absences and dangerous experiences as he unpredictably time travels due to a genetic disorder.
No details have yet been released about the TV series' anticipated release date.