The NCIS: LA Star You Never Realized Starred In Disney's Pocahontas
CBS
For any veteran actor, a wide range of roles across various media is commonplace. The legendary Linda Hunt, who has been in the business since the 1970s, is no exception. 
Hunt started her career on Broadway, performing in "Hamlet" in 1972.  Her performance in 1982 political drama "The Year of Living Dangerously" won her an Oscar for Best Supporting Actress, and she's appeared in other beloved films such as "Popeye," Arnold Schwarzenegger comedy "Kindergarten Cop," and 1984's "Dune."  Since 2009, Hunt has starred as Supervisory Special Agent Henrietta "Hetty" Lange on the enormously popular "NCIS: Los Angeles," bringing her acting talents to a whole new eager audience.
Known for her short stature, standing at just 4-foot-9, Hunt has surely made a name for herself in the entertainment industry over the past 50 years. Her equally iconic deep, gravelly voice has also made her a prime candidate for voice acting, including lending her talents to one very iconic animated film role. 
Linda Hunt voiced Grandmother Willow in Pocahontas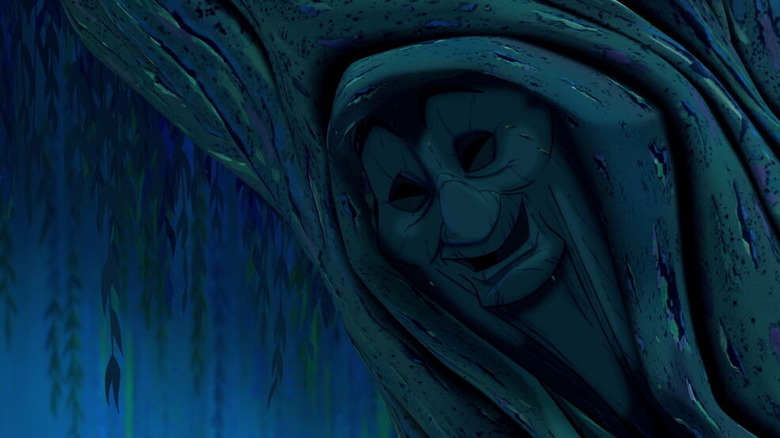 Disney
Linda Hunt has used her voice talents for a wide variety of projects, including narrating the "God of War" video game franchise and three episodes of the "American Experience" series.  More recently, she has voiced Lady Proxima in "Solo: A Star Wars Story." However, there is one voice role many children of the '90s will remember best.
Hunt was cast as the iconic Grandmother Willow in 1995's "Pocahontas," a role she reprised in the film's 1998 direct-to-video sequel, as well as the "Pocahontas: Disney's Animated Storybook" video game. Grandmother Willow is ancient and wise. She acts as a guiding light and voice of reason for Pocahontas, helping the heroine interpret her dreams and discover what her heart truly wants. Pocahontas even brings her forbidden love, colonizer John Smith, to meet Grandmother Willow, hoping her ancestor can provide her with guidance during a very troubling time
While a sentient tree may not seem like an emotional, impactful, character, Linda Hunt's voice acting talents help make Grandmother Willow one of the most memorable parts of the classic Disney film.