The NCIS: LA Scene That You Never Realized Made Television History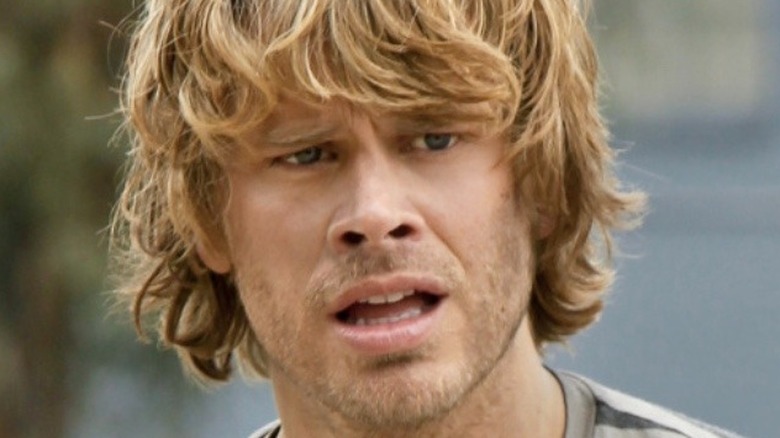 CBS
The long-running crime drama "NCIS: Los Angeles" has eked out a solid identity of its own, despite being a spin-off of the "NCIS" procedural series starring Mark Harmon. That identity has helped it stand on its own two feet even in the recent face of the cancellation of "NCIS: New Orleans." "NCIS: Los Angeles" will return to the small screen for a 13th season later in 2021, and it'll bring back the formula that has allowed it to survive the TV landscape alongside its parent series — including less adherence to the real-life NCIS' daily workings, a more nuanced look at character relationships, and a more intense orientation toward action on a weekly basis.
That higher action quotient actually helped the series make history in its third season, according to a 2016 interview with actor Eric Christian Olsen and Daniela Ruah, who play series stalwart Marty Deeks and Kensi Blye. Here's what Olsen revealed about the record-breaking scene in "NCIS: Los Angeles."
NCIS: Los Angeles apparently created the biggest non-CGI TV explosion in history
When the Geek Generation asked the two actors about about the differences between other "NCIS" shows and "NCIS: Los Angeles," Eric Christian Olsen — with a little help from co-star Daniela Ruah — pointed out, "I think ours is a little higher octane. It's like a 'James Bond' movie every week. Gunfights, car chases, huge explosions. The biggest explosion in the history of television that was not CGI is on our show, at the end of season 3."
The explosion he's talking about happens during the heart-wrenching final episode of that season, entitled "Sans Voir" and separated into two hour-long parts that aired together on May 15, 2012. In the story, the NCIS team once again goes up against the serial killer known as the Chameleon (played by Christopher Lambert), and people die. The big explosion takes place in the second half, after the NCIS agents think an undercover operation has gone wrong and are looking for clues that will lead them to their quarry. 
Executive producer Shane Brennan spoke about the explosion in a 2012 chat with Entertainment Weekly ahead of the Season 3 finale. "I've been doing this for 30 years, and that explosion — in the world of blowing things up — is a triple A+. And that explosion, that hasn't been enhanced with any computer graphics at all, and when you see it on air, we have not touched it," he said. "The audience, because they've gotten so used to seeing it on movies and in television, they often make the assumption that you've added some computer graphics — none. We have done nothing to it."
There's no actual independent confirmation that this is, as Olsen called it, the biggest non-CGI explosion to be shown on television, but it's a good story. We'll accept it.