The Rotten Tomatoes Reviews For Sweet Tooth Are In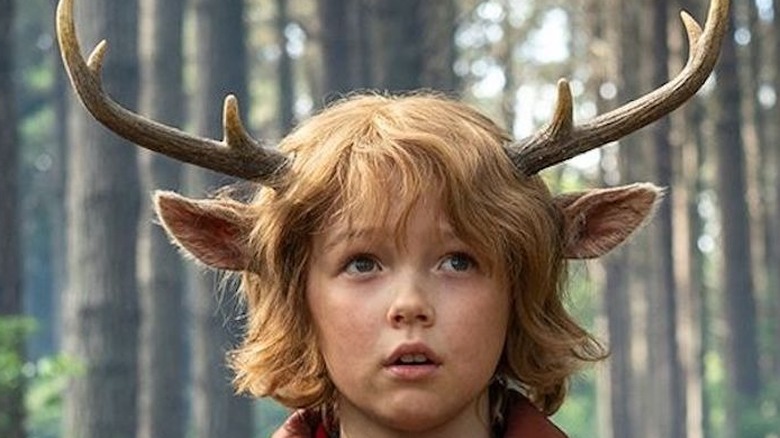 Netflix
The calendar has officially ticked into early June. And that means Netflix's hotly-anticipated new original series "Sweet Tooth" is officially available to binge to your heart's content. If you're already among the die-hard fans of the Vertigo graphic novel series that inspired the show, we'll go ahead and assume you've started your binge, and wish you well on your journey.
If not, we'll offer that the new series based on Jeff Lemire's beloved books is a heart-rending post-apocalyptic adventure about a global pandemic, a world in ruin, and the very special boy who boldly sets off into the chaos to find his place. Troubles arise as said boy (Christian Convery's deer-featured Gus) is a hybrid — part of a new race of beings born with both human and animal features — and some survivors believe them at least partially responsible for the ensuing downfall of humanity. From that setup, "Sweet Tooth" spins an epic tale of survival and spirit fraught with joys and perils beyond belief.
Hopefully, that tease got you good and intrigued, as the Robert Downey Jr.-produced "Sweet Tooth" looks to be one of the best, and most original productions Netflix has delivered in 2021, if not ever. But if you're still in need of a little extra nudge, allow us to point you toward the series' Rotten Tomatoes page, because reviews are starting to trickle in, and if its Tomatometer score is accurate, critics could not be more enamored with "Sweet Tooth."
So far, critics are absolutely fawning over Sweet Tooth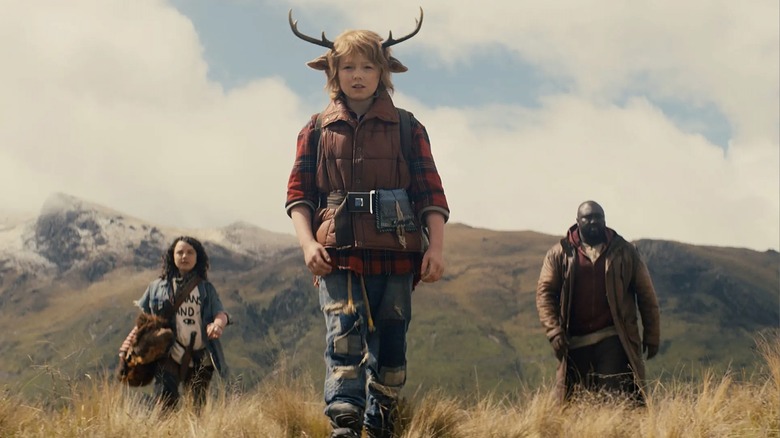 Netflix
We mean that literally by the way, 'cause as of this writing, "Sweet Tooth" is boasting a 97% Fresh critical score on Rotten Tomatoes, with many being blown away by the show's fantastical delights. 
In her glowing review for Bloody Disgusting, Meagan Navarro positively raves about the scope and stark emotional impact of "Sweet Tooth," writing, "This adaptation slowly worms its way into your heart and threatens to rip it out through awe, wonder, and character-driven emotional depth." RogerEbert.com's Brian Tallerico clearly agreed, calling the series a "tender, riveting adventure story" before heaping praise on its cast and crew, "The performances are strong throughout — [Nonso] Anozie is particularly remarkable — but it's the consistently inventive writing and robust filmmaking that makes the project stand out," he added.
Though quick to note some viewers might take issue with occasional thematic incoherencies, in his review for The Hollywood Reporter, Daniel Fienberg still found himself captivated by "Sweet Tooth," noting "it earns the laughter and occasional tears that it wrings from the audience thanks to a real and unquestionable, well, sweetness." He then went on to share his hopes that Netflix will continue the story in future seasons, "I hope 'Sweet Tooth' sticks, because the first season is more effective than I would have imagined and this is a world with many more stories to tell," Fienberg wrote.
As it is, critics far and wide continue to second that opinion. Here's hoping fans agree and make "Sweet Tooth" one of Netflix's biggest hits to date.