The Unexpected Mafia Drama That Everyone's Binging On Netflix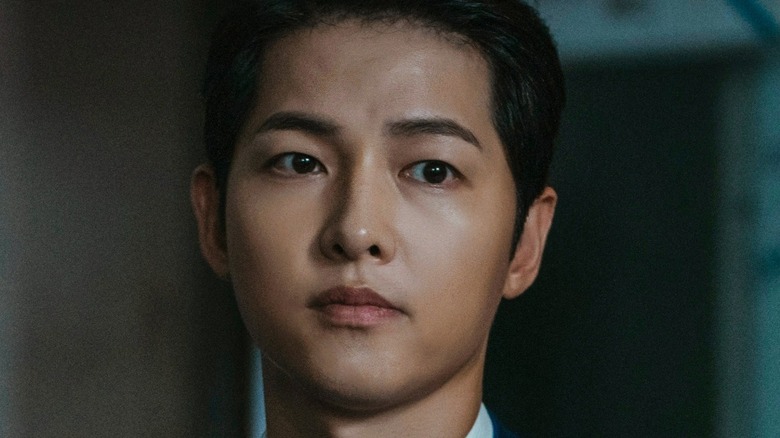 Netflix
Mafia stories are always in demand. Just look at the success of recent mob tales like Netflix's Martin Scorsese movie "The Irishman" or HBO Max's Italian organized crime sensation "Gomorrah" for evidence of this. But those are both rather traditional mafia stories, and the way to keep dependable genres like this fresh is by putting the classic elements together in a new way. One of the most outside-the-box, unexpected mafia shows to come along in quite some time is currently making a splash on Netflix, where everyone's binging it. The show is Korean romantic crime dramedy "Vincenzo," which is unlike any mafia movie or show you've seen before. 
"Vincenzo" tells the story of Park Joo-hyung (Song Joong-ki), who was adopted from Korea as a boy by Don Fabio, head of the Cassano mafia family, who renames him Vincenzo Cassano and grooms him to join the family business. Vincenzo eventually becomes an attorney who serves as Don Fabio's consigliere, just like Don Vito Coreleone's (Marlon Brando) adopted son Tom Hagen (Robert Duvall) in "The Godfather." After Don Fabio dies, his biological son Paolo (Salvatore Alfano), who has always jealously resented Vincenzo, assumes control of the family and tries to kill Vincenzo, which prompts Vincenzo to return to South Korea and attempt to recover a gold stash hidden in the basement of an office building in Seoul he owns. 
Unfortunately, a shady real estate company has illegally taken over the building. So Vincenzo has to start working for a legitimate Korean law firm in order to reclaim the title. Along the way, he starts a relationship with fellow attorney Hong Cha-Young (Jeon Yeo-been), the daughter of the firm's CEO, and tries to avoid continued attempts on his life by his brother.
Vincenzo is a global hit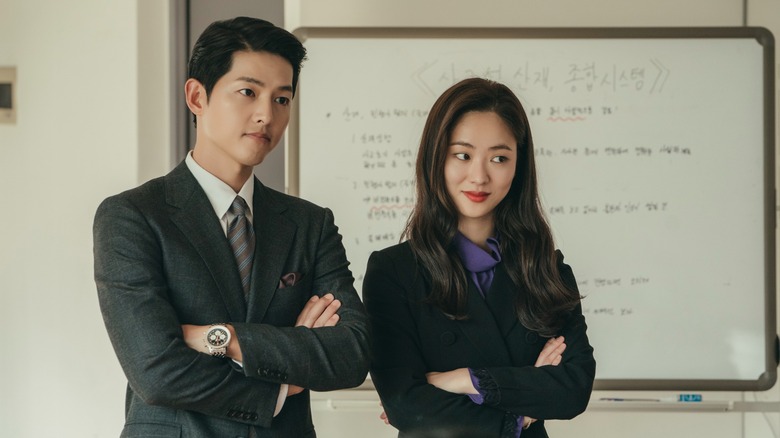 Netflix
"Vincenzo" stars Song Joong-ki, one of South Korea's biggest film and television stars, who was most recently seen internationally in the Netflix original sci-fi movie "Space Sweepers." Song's popularity and the engrossing story helped make the series a big hit on Korean TV, and it's now spreading in popularity all over the world thanks to Netflix, where all 20 episodes of the first season are now streaming. It's been in the streamer daily Top 10 list for over 100 days in many Asian countries, according to streaming data analysis service FlixPatrol.
Per HITC, a second season of "Vincenzo" is unlikely, with star Song saying that there has been no internal discussions of another season. That being said, success has a way of changing plans, and if Netflix really wants "Vincenzo" back, it will find a way of making it happen. The more people binge the show, the more likely it is to get renewed, so if you're a K-drama fan, try to convince your friends to check out this unique and romantic take on a classic genre — and get swept up in the Vincenzo-Cha-Young 'ship fans call "Chacenzo."