The Arrested Development Stars You Never Noticed In MASH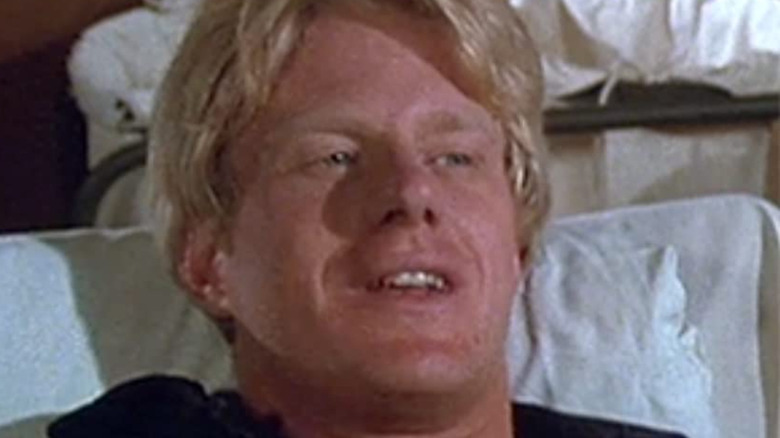 CBS
Though its reputation has been a bit tarnished after a Netflix revival that many agree was very underwhelming (per Rotten Tomatoes), Fox's beloved sitcom "Arrested Development" still ranks as a small-screen all-timer based on the strength of its first three seasons alone. Those seasons are about as close to comic perfection as most shows could ever dream, with series' creator Mitch Hurwitz and the "Arrested Development" team pushing the boundaries of sitcom silliness in service of a gonzo family farce the likes of which network television had never seen before.
Hurwitz and company were, of course, aided mightily by a cast of comedy A-listers almost too good to believe. The likes of Jason Bateman, Jessica Walter, David Cross, Michael Cera, Alia Shawkat, and Will Arnett fronted the bill as the hilariously dysfunctional Bluth family. While most of the "Arrested Development" cast will forever be known for their time on the cult hit, a handful of series regulars also served time in the cast of another legendary sitcom: CBS' long-running anti-war dramedy "M*A*S*H." 
These are the "Arrested Development" stars you may not have noticed during your latest "M*A*S*H" binge.
Jeffrey Tambor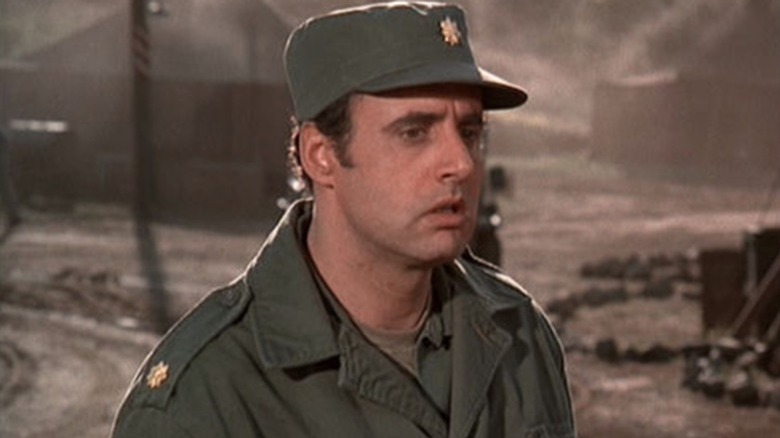 CBS
Before Jeffrey Tambor was embroiled controversy regarding his behavior on and off the sets of "Arrested Development" and "Transparent" (via the Guardian), he was one of Hollywood's premier comedic talents. Prior to serving as the wily head of the Bluth clan, or the transitioning head of Pfeffernan family, Tambor had a long list of credits in films and television series.
By the time Tambor turned up in the 11th and final season of "M*A*S*H," he'd already appeared in acclaimed shows like "Taxi" and "Three's Company." He made the most of his turn on "M*A*S*H" as well, appearing on the series as Major Reddish, an ambitious Army public relations officer who's desperate to convince a captured North Korean pilot under the care of the 4077th team to turn against his country and become a shill for the war Stateside. That narrative doesn't go exactly the way Major Reddish wants, though he more or less gets his way in the end. 
Ed Begley Jr.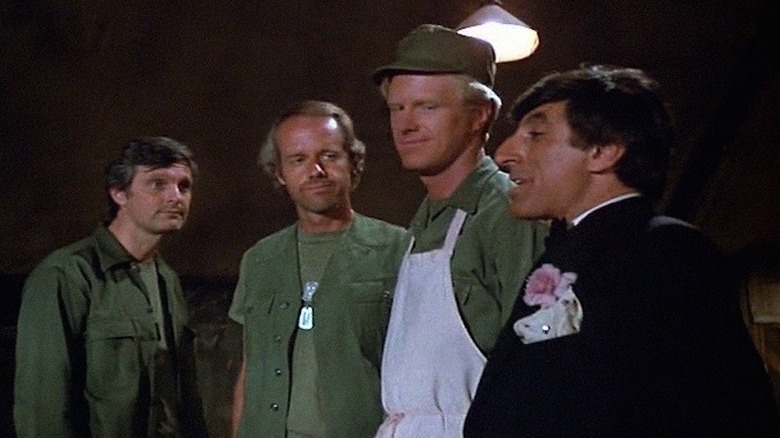 CBS
"Arrested Development" saw no end of famous faces turning up in supporting roles throughout its five seasons. One of the most memorable was Ed Begley Jr.'s follicle-challenged real estate tycoon Stan Sitwell. The wig-wearing character first turned up in the show's second season, and in his six subsequent appearances, Begley Jr. somehow got funnier every time. That's sort of his M.O., as the actor has been getting laughs on screens big and small for decades. 
Begley Jr. got a few laughs on "M*A*S*H" too, doing so during the show's eighth season, in which he appeared as Private Paul Conway, a bungling soldier who's no use in the field but an absolute ace in the kitchen. That dichotomy serves as a biting bit of commentary when it's eventually revealed that Conway, a career chef before being drafted, actually applied to be a cook in the Army, only to be shipped off to the front by military bureaucrats. Once in country, Conway promptly finds himself wounded and briefly spelling Jamie Farr's Klinger as the king of the 4077th's Mess Hall. 
Sadly, the character's "M*A*S*H" tenure — as well as Begley Jr.'s — is short-lived: Conway gets shipped back to the front by the end of the Season 8 episode.
Ron Howard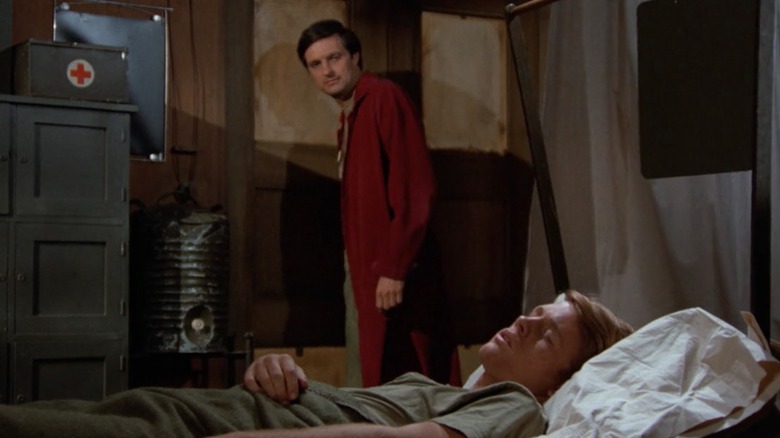 CBS
Ron Howard's face wasn't a regular presence among the "Arrested Development" players, with the famed actor, producer, and director appearing in just a handful of episodes. Howard's voice, however, was a singular presence on the series, with his snarky narration playing as vital a role on the show as any of its key cast members. Howard earned some of the biggest laughs on "Arrested Development" through that narration, but he played a dramatically different role in his one and only "M*A*S*H" appearance.
In the first season of "M*A*S*H," Howard portrays PFC Wendell Peterson (aka Walter Peterson), a young Marine who ends up at the 4077th with a nasty case of appendicitis. While Wendell is under the care of Alan Alda's Hawkeye Pierce, it comes out that he isn't of legal fighting age. The 15-year-old apparently lied about his birth date to enlist for combat. That twist presents Hawkeye with one of his more intriguing moral quandaries: He struggles between letting the patriotic kid continue to fight and reporting him and sending him home to safety. With the deft work of a young Howard, this complicated narrative helps make for arguably one of the finest half-hours "M*A*S*H" ever delivered.