Here's Where You Can Watch 2 Hearts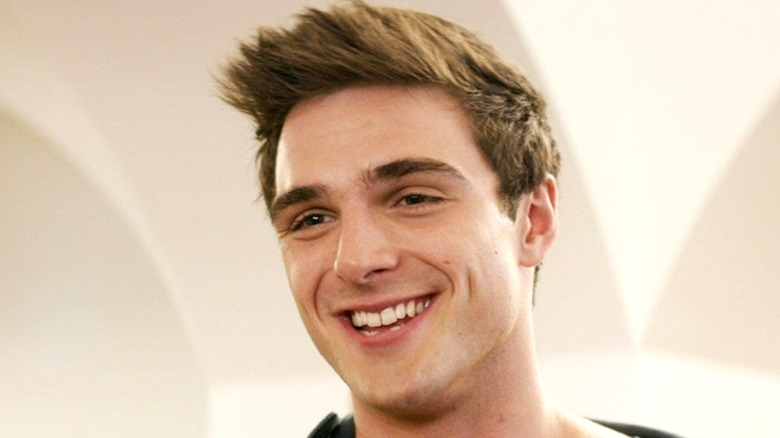 Freestyle Releasing
The romantic drama "2 Hearts," which is based on an inspirational but heartbreaking true story, saw a short theatrical release in October 2020 during the COVID-19 pandemic, and few people saw it. The movie, inspired by the book "All My Tomorrows: A Story of Tragedy, Transplant, and Hope" by Eric Gregory, features two couples who meet and fall in love in two different decades, only to eventually discover they share a meaningful connection. 
Netflix heartthrob Jacob Elordi of "The Kissing Booth" movies stars as Chris, a college freshman who experiences a traumatic health experience just as his life begins to take shape. Most notably, he's falling for an alluring classmate, Sam (Tiera Skovbye), who he literally keeps bumping into everywhere. Meanwhile, successful businessman Jorge (Adan Canto) has outlived his doctors' prognosis of not surviving past the age of 12, reaching 30 when he, too, meets the love of his life, Leslie (Radha Mitchell). The health of both men ultimately takes center stage, affecting both couples in a life-changing event. 
2 Hearts is on many platforms, including Netflix
If you missed it and are in the mood for a romantic tearjerker, "2 Hearts" is now available on Blu-ray and streaming through numerous outlets. The movie is available through Netflix with a subscription, but viewers can also watch it by renting it on Amazon Prime Video, Fandango Now, Redbox, Apple TV, Vudu, and Google Play. 
Critical reviews for the movie weren't kind when it released, and the movie holds a 17% rating on Rotten Tomatoes. The Hollywood Reporter wrote, "The dual love stories are depicted in alternating scenes rivaling each other for banality and predictability." Meanwhile, Variety said, "Jacob Elordi, from the 'Kissing Booth' films and 'Euphoria,' is done no favors by being in this movie. As Chris, he's so show-offy about his 'sincerity' he turns it into a form of smarm."
However, audiences have rated it much higher on Rotten Tomatoes, where it boasts an 87% audience score from verified ratings. Clearly, there's an audience for this film, and plenty of viewing options are available to bump "2 Hearts" to the top of your list. Make sure you have tissues before you confirm your rental.