The Real Reason Gibby Isn't Returning To iCarly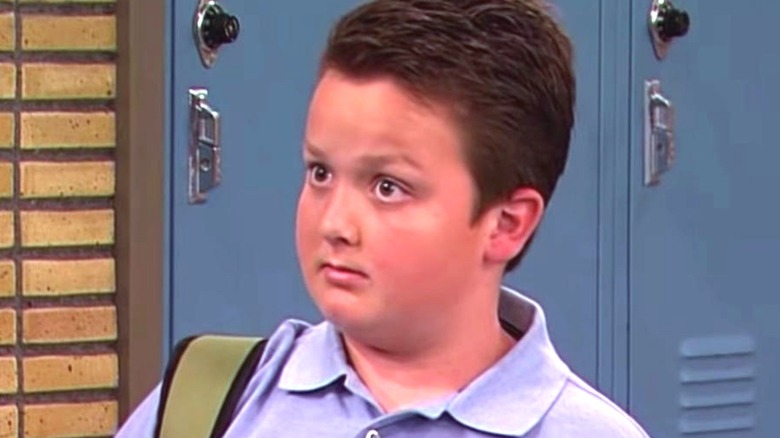 Nickelodeon
Aside from hit cartoons like "SpongeBob SquarePants" and "The Fairly OddParents," Nickelodeon is a major contender in the live-action sitcom game as well. Though it boasts countless titles in its library that are worthy of celebration and are beloved worldwide, "iCarly" is very much in a league of its own. The program hung around the network for 5 years, premiering in 2007 and saying goodbye in 2012, cultivating a massively devoted fanbase along the way. Therefore, it should come as no surprise that the series is up for a revival, which will arrive via the Paramount+ streaming service on June 17, 2021.
To say Nick is pulling out all the stops to make the "iCarly" reunion a success would be an understatement. Front and center once again is Miranda Cosgrove as Carly Shay, with her older brother Spencer brought to life by the incomparable Jerry Trainor. Alongside them is Nathan Kress as the cameraman of the in-universe "iCarly" web series, Freddie Benson, and his hover mom, Marissa (Mary Scheer), is not far behind. Additionally, franchise newcomers Laci Mosley and Jaidyn Triplett will introduce audiences to Harper Raines and Millicent Benson, respectively.
This main cast is undoubtedly impressive, however, "iCarly" fans couldn't help but notice some major absences — the most notable among them is Jennette McCurdy as Carly's best friend, Sam Puckett. Given the actress' well-documented personal struggles over the years, it makes sense why she wouldn't want to come back, but she's not the only mainstay from the original show who's sitting the new project out. Noah Munck, the actor behind "Gibby" Gibson, appears to be doing the same, albeit for less widely-known reasons.
Gibby's exclusion has some potential viewers confused, so just to set the record straight, here's why he isn't returning for the impending "iCarly" continuation.
Noah Munck has a complex relationship with the Gibby character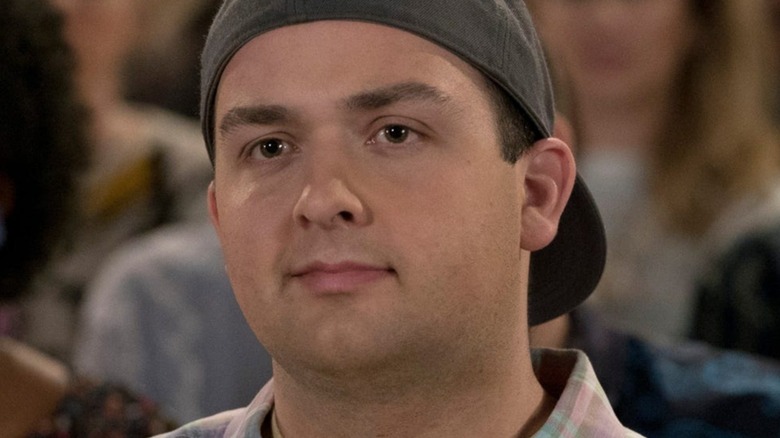 ABC
Gibby made his first "iCarly" appearance in the third episode of Season 1, "iDream of Dance," an installment comprised of largely dance-themed dream sequences. Gibby only appeared in a handful of scenes — first being verbally chastised by his and the "iCarly" crew's teacher, Mrs. Briggs (Mindy Sterling), then later stumbling into Sam's dream, confused and wearing only boxer shorts — but he brought laughs with him every time. Thus, the show's comic relief character was born, and he'd become a semi-regular presence for the remainder of its run.
To this day, Gibby has no shortage of fans, whether it's those who hold plenty of nostalgia for "iCarly" or are giving it a try for the first time, but that's not enough to convince Noah Munck that going back to the part is a good idea. As he revealed on the OYC Podcast in 2017, he has a "weird relationship" with it, noting that he appreciates his time on the program but harbors some degree of hatred toward it as well. He explains that Gibby was the "punching bag" and the "expense of the joke" on "iCarly," a stigma that has spilled over into fan interactions that have soured him on the idea of a return.
"Maybe one day I'll have a better relationship with it, and who knows, I'll come back," Munck said in closing, leaving some hope that he may change his mind in the future. Although, the co-showrunner of the "iCarly" revival, Jay Kogen, has since mentioned on Twitter in late 2020 that he and his team reached out to him to no success. Perhaps someday Noah Munck will give playing Gibby another shot, but for the time being, it's just not on his radar.