The Iconic Role On The Office That Steve Buscemi Almost Played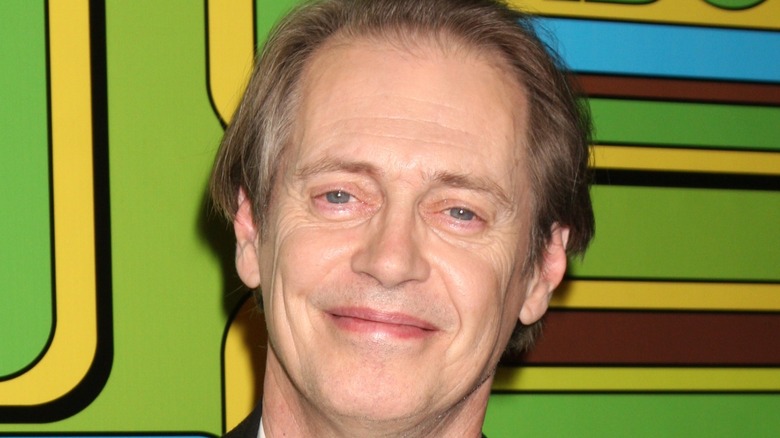 Shutterstock
For longtime fans of "The Office," when you hear the name "Michael Scott," you will automatically think about Steve Carell. By the time he was cast as Michael Scott, Carell's star had already been rising steadily, with roles in comedies including "Bruce Almighty" and "Anchorman: The Legend of Ron Burgundy" putting Carell on our collective radar. But from 2005 to 2011, Carell's performance as the very clueless, frequently off-color, but still totally endearing Dunder Mifflin Scranton boss confirmed he would be permanently and inextricably linked with the character. This only became more true during the decade which has passed since Carell's final episode, the Season 7 tearjerker "Goodbye, Michael," which aired in April 2011, as fans have rewatched the series repeatedly.
But there was a time, however brief, when Carell has some solid competition for the role of Michael Scott during what sounds like an intense casting search that included a character actor you know and love: Steve Buscemi. As revealed in the bestselling book "The Office: The Untold Story of the Greatest Sitcom of the 2000s" (via CheatSheet), Buscemi was one of more than a dozen actors who were considered for the role of Michael Scott. Buscemi was already a recognizable face and bankable name by the time casting for "The Office" would have begun. The '90s were a breakout decade for the actor, with roles in hits including "The Big Lebowski," "Fargo," "Reservoir Dogs," and "Billy Madison," showcasing Buscemi's knack for playing underdogs, oddballs, and criminals. It's easy to see how Buscemi could have been considered famous enough to help launch the American remake of an already popular UK comedy when you factor in his recognizable face and his popularity onscreen... and he was likely a big contender for the role.
Steve Buscemi wasn't the only actor considered for the Michael Scott role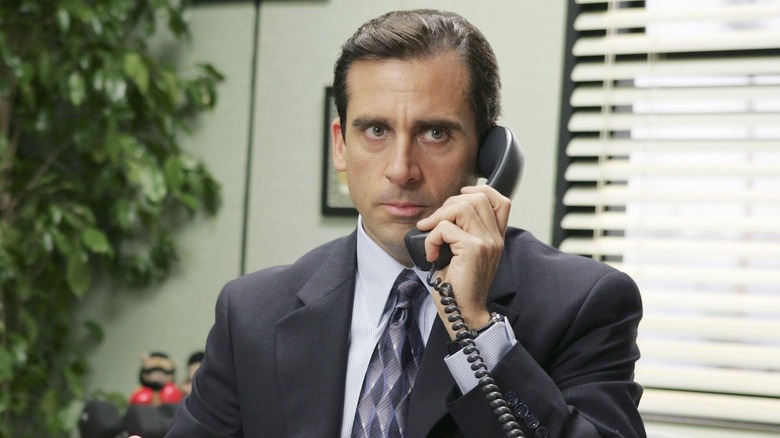 NBC
There were more than a few famous faces competing for the role of Michael Scott while casting for "The Office" was going on as well. As revealed in the oral history, the following actors also auditioned to play Michael Scott: "Anchorman" star David Koechner, "Step Brothers" star John C. Reilly, "Schitt's Creek" patriarch Eugene Levy, "Ghostbusters" alums Rick Moranis and Dan Aykroyd, Matthew Broderick ("Ferris Bueller's Day Off"), huge names like Owen Wilson, Jason Lee, Stanley Tucci, Jon Favreau, William H. Macy, and Carell's former "Daily Show" partner-in-crime Stephen Colbert. 
Even though all of those actors would have done reasonably well in the shoes of Michael Scott, it turns out there was one actor who was given just as much consideration as Carell. According to "The Office" executive producer Ben Silverman (also via CheatSheet), "We were circling Bob Odenkirk. He was available and was a great comedic actor. He had an incredible reputation in the comedy world, and he hadn't yet become famous," but was passed over because he "had an edge to him. His take on Michael was just as funny as Steve's, but it was darker."
In the end, Carell won the part and became a pop culture icon — and a huge star in his own right — thanks to his iconic turn as Michael. As for Odenkirk, Koechner, and Colbert, they may not have locked down the role of Michael Scott, but they were all rewarded with fun guest roles of varying sizes throughout the nine season run of "The Office." And Buscemi? Luckily, he's kept plenty busy since then — and there's no doubt that Carell was the perfect choice for Michael Scott.