Netflix's Resort To Love - What We Know So Far
Netflix
In addition to a bevy of new television shows, Netflix has continued to develop and release new movies at a pretty steady clip. 2021 is actually Netflix's biggest year ever, as the streamer has added one new Original movie to its library each week, plus a slew of other non-Original films and series to watch. Netflix makes everything from action flicks to prestige dramas, and the company has also helped keep the romantic comedy alive after the genre stopped being regularly accessible in theaters. 
Netflix's latest romantic comedy, "Resort to Love," seems to fall squarely into what most people expect from the genre. There's an exotic destination, plenty of abs, and even a little music as well. "Resort to Love" is one of many titles coming to Netflix this year, and many fans of the genre are curious about when the movie will debut, who's in its cast, and what it's all about.
What's the release date for Resort to Love?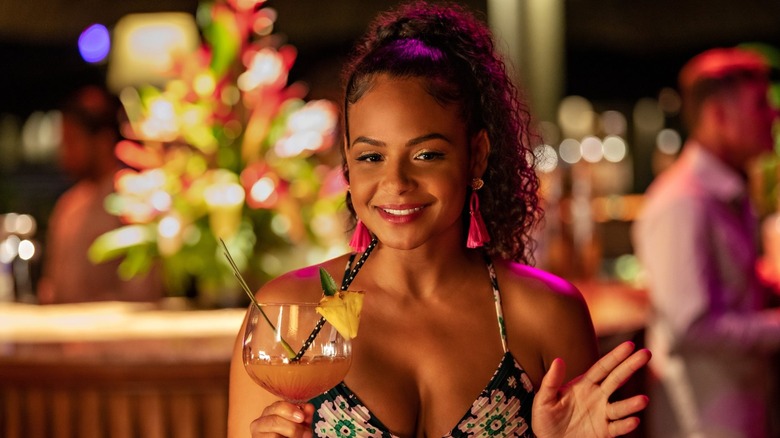 Netflix
"Resort to Love" is set to drop on Netflix on July 29, 2021. The film's Thursday release should make it a prime viewing option for viewers across that weekend, and may propel it into the Netflix Top 10. "Resort to Love" is set to drop just a week after "The Last Letter From Your Lover," a more dramatic romance that stars Shailene Woodley, Felicity Jones, and Joe Alwyn. The romance is set to continue on the streamer after "Resort to Love" hits as well, with "The Kissing Booth 3" coming just a few weeks later on August 11. 
Although each of these movies hit at different pockets within the world of romantic films, they seem to be evidence that Netflix isn't giving up on the genre. The quality of all of these movies is still up in the air, but Netflix seems determined to keep releasing a substantial number of romantic comedies each year. 
Who's in the cast of Resort to Love?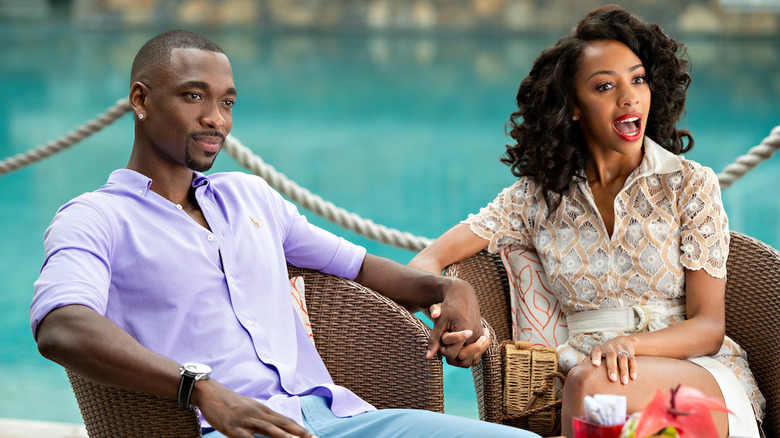 Netflix
Christina Milian stars in "Resort to Love" as the film's central character, Erica, and she's be supported by Jay Pharoah as Erica's ex-fiancé Jason and Sinqua Walls as Jason's brother Caleb. "Resort to Love" also stars Alexander Hodge, Karen Obilom, Jeryl Prescott, and T.J. Power, among others. The film is directed by Steven Tsuchida, best known for his work directing a wide variety of TV series, including "Dear White People," "Cobra Kai," and "Crazy Ex-Girlfriend."
Although Milian has remained a presence in Hollywood in recent years, she's faded from the spotlight somewhat since the height of her popularity. Even so, it's not exactly a surprise to see her anchoring a Netflix romantic comedy, given her star credentials. Pharoah has become something of a TV and film journeyman since he left "Saturday Night Live," but he most recently appeared on the TV series "Loafy" and in the Hulu original film "Bad Hair."
What's the plot of Resort to Love?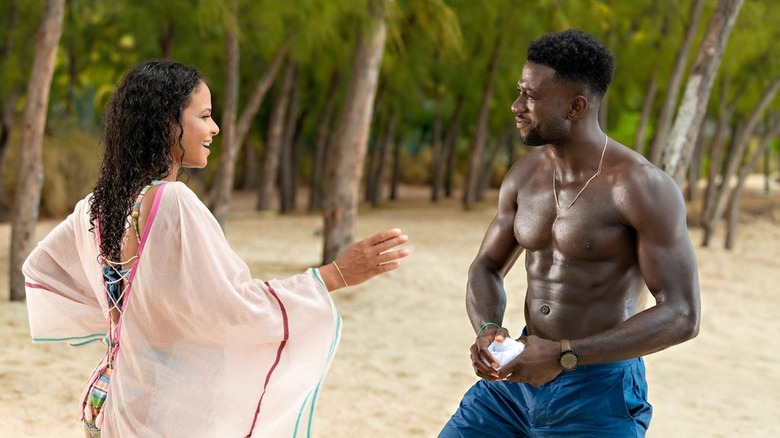 Netflix
In the film, Christina Milian's Erica is a singer who winds up being hired as the entertainment at her ex-fiancé's wedding. Erica decides to take the gig, which is located at a luxurious Mauritius resort, following a career meltdown. She ultimately finds that there are still some sparks between her and her ex, Jason. Erica tries to keep their relationship a secret from his new bride-to-be, even as they rediscover their connection. Meanwhile, Jason's brother Caleb is doing everything in his power to prevent Jason and Erica from getting back together. 
Because "Resort to Love" is a romantic comedy, things are likely to end in some version of a happily ever after. In a story like this, though, it's impossible to say exactly what that happy ending might look like and who will wind up together, but the surprise is part of the fun.