Hidden Romantic Comedy Gems On Netflix You Need To Watch
This content was paid for by Netflix and created by Looper.
Romantic comedies have a long tradition in film, from the screwball comedy hits of the '30s and '40s to the postwar work of Billy Wilder and the New Hollywood attempts to flip the subgenre on its head and do something new with it. If you're a fan of rom-coms, you can watch them every day and never run out, and the rise of streaming means that even more films are added to the subgenre every year — but sometimes it can be hard to know where to look.
Thankfully, whether you're looking for a certain plot device, a certain star, or even a certain vibe given off by a trailer, you never have to go far to find films you might not have seen yet that still manage to deliver the romantic comedy goods. Some are romantic comedies in the classic mold that feel like movie comfort food, while others play with the conventions of the subgenre in delightful ways. If you're looking for a rom-com fix, here's a look at some romantic comedy hidden gems worth checking out on Netflix.
Love Jacked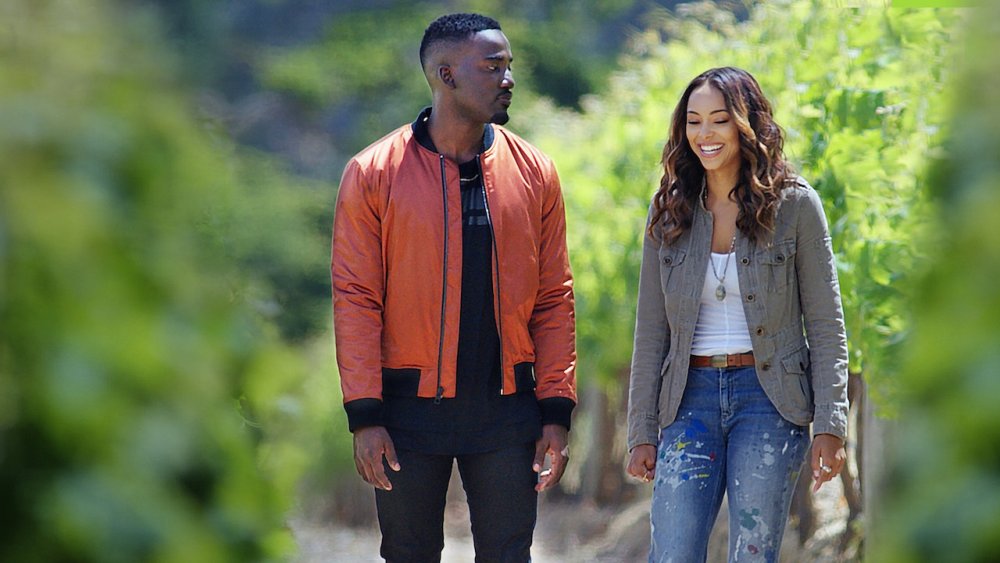 Some romantic comedies get by on simple, straightforward love stories, while others have to get just a bit more complicated with it. Love Jacked is, for better or worse, in the latter category, but once you're willing to give in to its convoluted setup, its cast will win you over with their charms.
The story follows Maya (Amber Stevens West), a restless young artist who takes a trip to Africa to find inspiration and instead finds what she thinks is love. When that relationship falls apart, and she fears telling her overbearing father he was right about her African romance, Maya instead comes up with a plan. She convinces a desperate hustler (Shamier Anderson), who needs to find a place to hide out from his former partner, to pose as her African fiancé for a few days to impress her parents. Of course, what neither of them counts on is that they'll fall in love.
While the sometimes convoluted setup for the romance takes a little while and might not be everyone's cup of tea, Love Jacked still manages to win you over on the strength of the chemistry between West and Anderson. They make the transition from grudging allies to lovers look smooth and easy, and the ensemble that surrounds them — led by the legendary Keith David — only adds to the film's charm.
Just Friends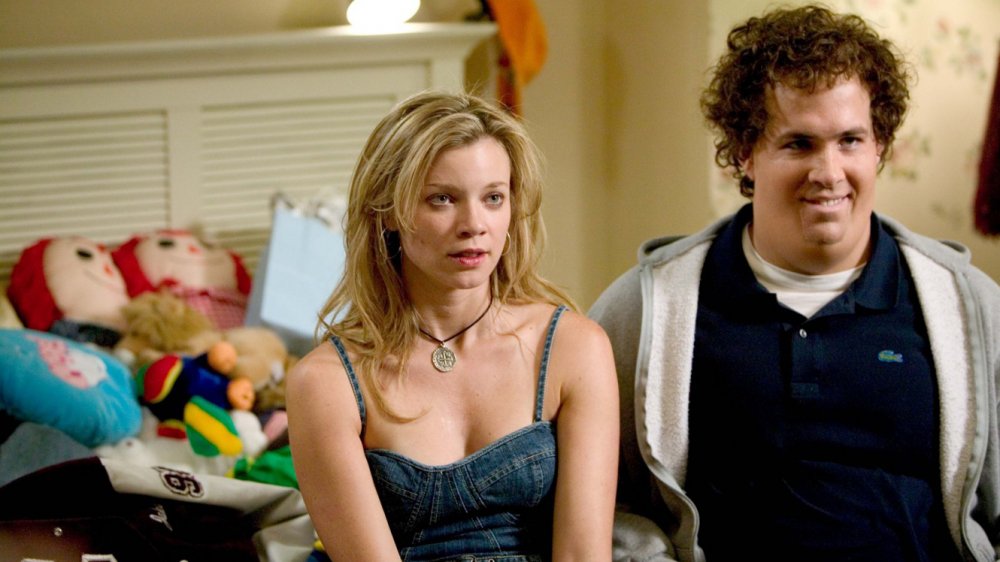 Just Friends has become a cult favorite among romcom fans, as well as fans of a certain era of 2000s comedy filmmaking, in part because it works on two levels. It's a romantic comedy in the traditional sense and a Christmas comedy about a guy who goes back to his hometown and figures out what's really important in his life.
Ryan Reynolds stars as Chris, a successful record producer who's still trying to compensate for his humiliations as an overweight teenager in love with his best friend Jamie (Amy Smart). When an unexpected work detour lands him back in his hometown over the holidays, Chris tries to reconnect with Jamie, only to find that everyone from an old high school acquaintance (Chris Klein) to a chaotic pop star (Anna Faris) is going to end up standing in the way.
Basically, Just Friends is one of those "friend zone" comedies where the guy thinks he's been spurned because of some imaginary barrier, but eventually learns that the real problem is his own attitude. That could be a turnoff, but the Christmas atmosphere and Reynolds' effortless comedic timing help to soften the film, and turn it into the story of a guy who's just having a hard time figuring out what he really wants.
The Perfect Date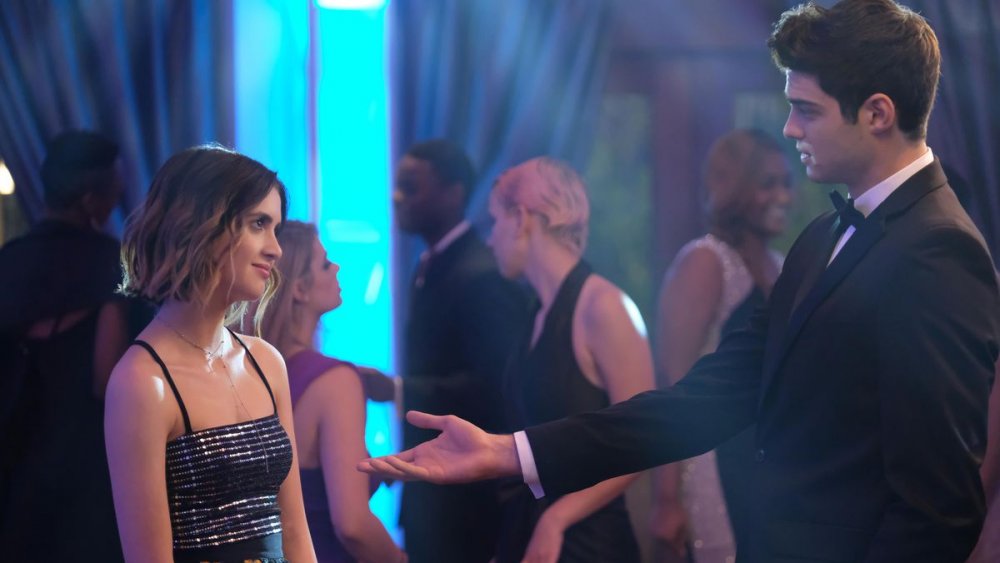 Among romantic comedy fans, Noah Centineo is perhaps best known for his role in the Netflix hit To All The Boys I've Loved Before, but he didn't stop delivering romcom charm there. In 2019 Centineo starred in The Perfect Date, a clever and engaging film about a young man who will do whatever it takes to get to college.
Brooks (Centineo) is a driven young man who wants to attend Yale after high school, but he's having a little trouble putting funds together. To make his dream a reality, Brooks decides to use a custom app and basically hire himself out as a "stand-in" date. Everything seems to go well as Brooks puts on various costumes and plays various roles for the sake of his new business, but everything starts to change when he develops a bond with Celia (Laura Marano), his very first client.
You can probably see where this is going if you're well-versed in romantic comedy rhythms, but that doesn't make The Perfect Date any less charming. Centineo feels born to play this kind of romcom leading man, he and Marano have great chemistry, and the film is able to dig into deep emotional stuff without ever feeling too heavy.
Someone Great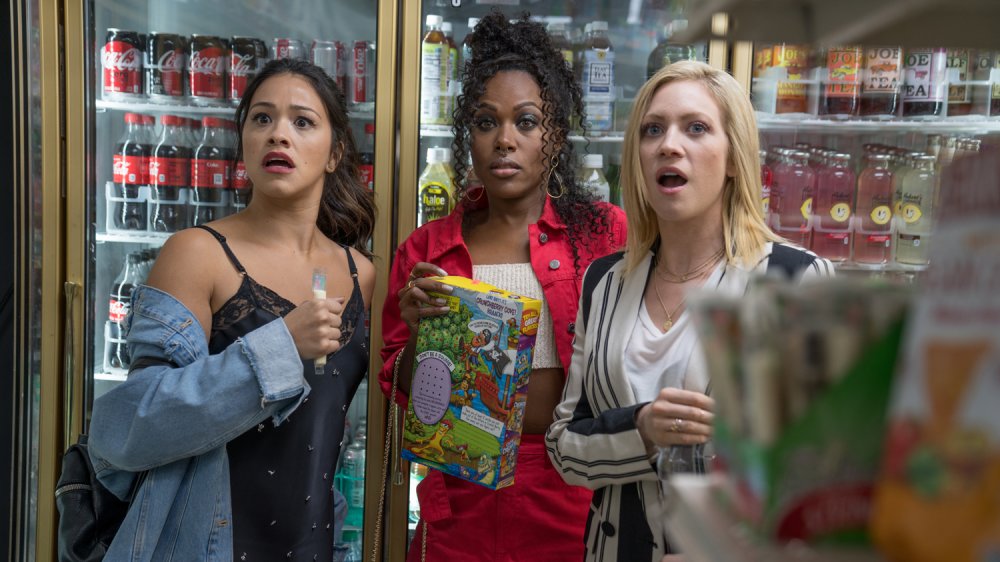 You will not find another romantic comedy released in the 2010s that boasts a better ensemble cast than Someone Great, and you won't find many willing to dig this deep into the emotional realities of lost love. The film follows music journalist Jenny (Gina Rodriguez) in the aftermath of her breakup with Nate (Lakeith Stanfield) and on the verge of a big move from New York to San Francisco. As her years-long relationship fades away before her eyes, Jenny is determined to spend one last great night in the city with her best friends (Brittany Snow and DeWanda Wise) no matter what the cost. But even as the fun begins, she realizes she still has a lot of soul searching to do, and every song on the radio sends her into a memory of what she once had.
In that sense, Someone Great is more of a breakup movie than a falling-in-love movie, but that doesn't mean it's a sad story. Through clever dialogue, a winning ensemble, and a killer soundtrack, the film never stops having fun with its own premise, even as it's examining the fallout of Jenny's love life.
Happy Anniversary
Some romantic comedies are about how a relationship comes together, while others are about how one falls apart. Then there are the films that exist somewhere in between, as two people have to figure out what their future will be while having a few laughs along the way. Happy Anniversary is one of those films, and the two hilarious leads at its center will keep you watching no matter what their romantic fate is.
The film centers on Sam (Ben Schwartz) and Mollie (Noel Wells), a seemingly perfect couple that begins to unravel on the morning of their anniversary. Mollie is unhappy and yearning for the romance of their earliest encounters, while Sam is urging her to be patient and wait and see what their lives have in store. What follows is a day in which the two keep coming apart and coming back together through various funny and sometimes heartbreaking situations, with the flawless quirky chemistry of Schwartz and Wells anchoring the whole thing. In the end, Happy Anniversary is a breezy, fun little story of the importance of patience and work in relationships.
Win It All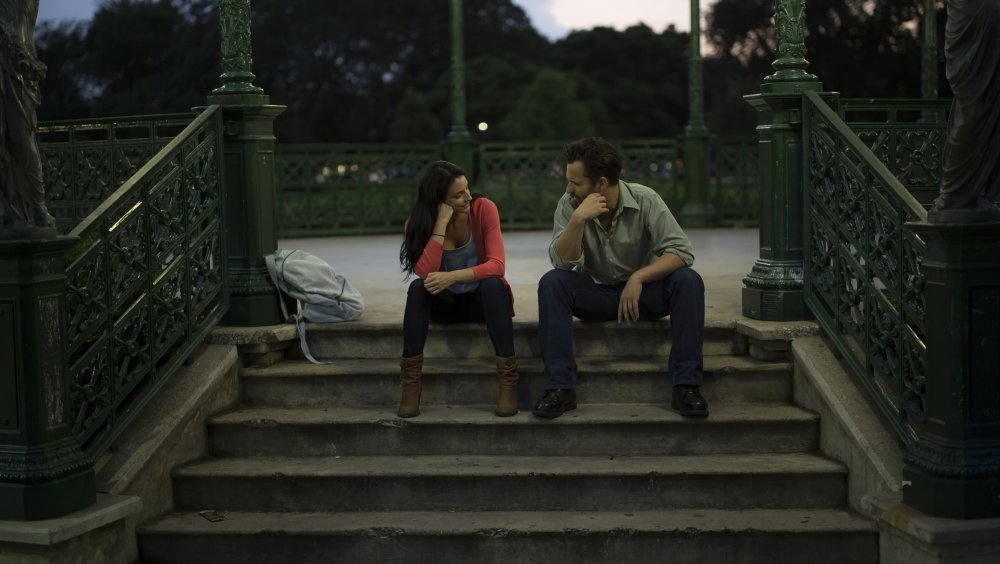 Even if you love romantic comedies that follow the classic formula of the subgenre, there comes a time when you need a little bit of a palate cleanser. Sometimes you want something that still gives you some romance and some comedy, but goes its own way in terms of the overall tone and rhythm of its story. Win It All, co-written by and starring Jake Johnson, is one of those films.
The main thrust of the plot isn't a romance, but a gambling problem, as Johnson's character Eddie struggles with the fallout after he gambles money that doesn't belong to him and ends up in the hole. In the middle of a hot streak, he meets a beautiful woman named Eva (Aislinn Derbez) in a bar, and they form a connection. In Eva, Eddie finds someone worth turning his life around for, but in order to leave the past behind, he first has to lean in hard on his gambling past for what he hopes will be one last major windfall. You end up rooting for Eddie and Eva, and even when the film feels far away from romance, you become invested. It's not a traditional romantic comedy, but fans of the subgenre will still find a lot to love here.
The Incredible Jessica James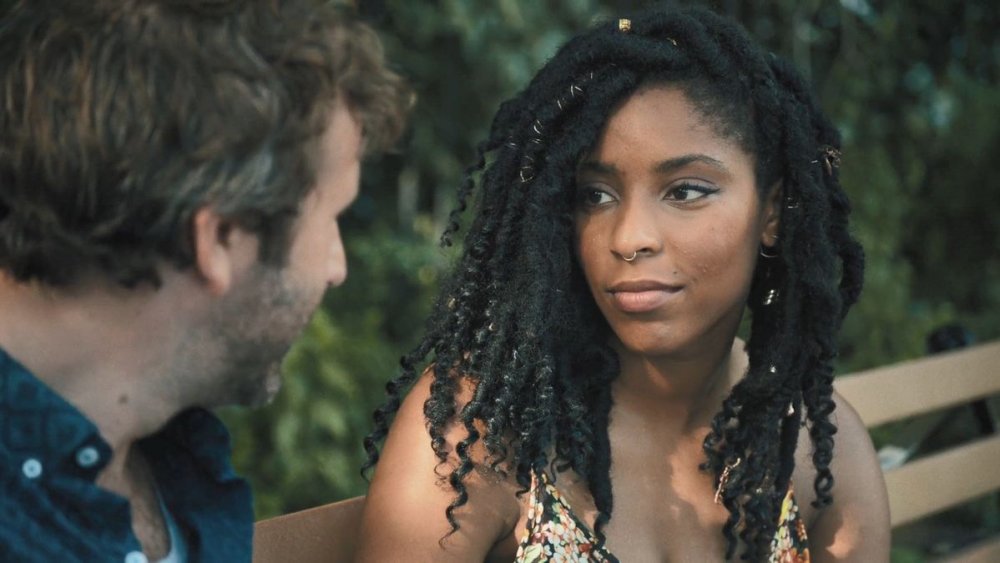 Sometimes all you need to make a romantic comedy into something that hooks viewers instantly is an unforgettable lead, and The Incredible Jessica James has that from the start. The film stars Jessica Williams of The Daily Show and 2 Dope Queens fame in the title role of Jessica, a playwright and children's theater teacher who's both devoted to independence and struggling to get over an ex.
Though Jessica would rather pretend she doesn't need a new romantic interest and dive deep into her work, things change when she's set up with Boone (Chris O'Dowd), and the pair unexpectedly hit it off. What follows is a series of awkward conversations, attempts at brushing off, and diving into work that all fail to hide the fact that Jessica and Boone are into each other. In that respect, The Incredible Jessica James is a classic example of a romcom that makes you scream "Just get together already!" at the screen, while also never sacrificing the independence at the core of its title character. Williams and O'Dowd share a fantastic chemistry, and together they make the film endlessly watchable.
The Breaker Upperers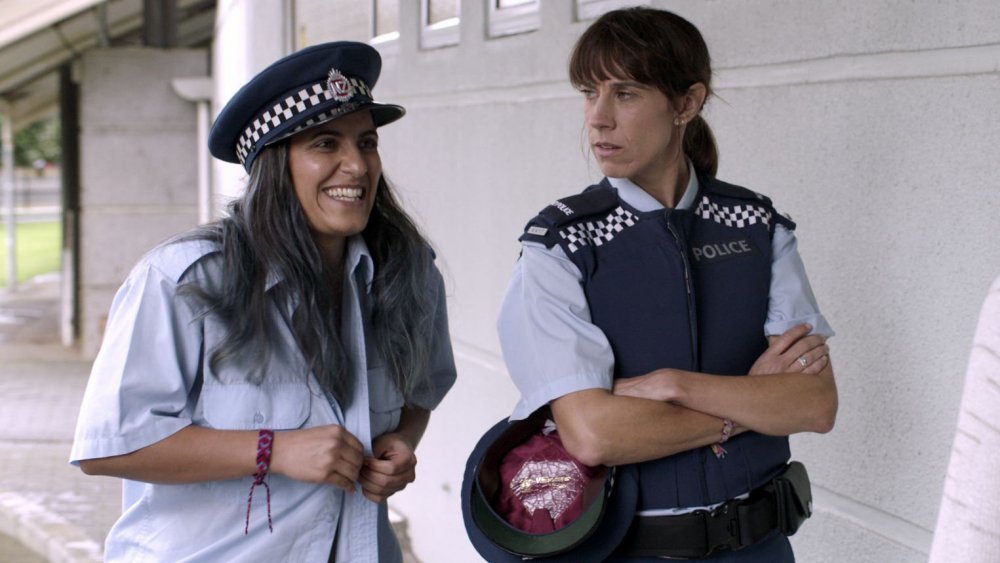 The "two people who are cynical about love have to learn not to be" trope is a tried and true part of the romcom landscape, but it's never been done like The Breaker Upperers does it. Comedic geniuses Jackie van Beek and Madeleine Sami directed, co-wrote, and star in the film as two best friends who were once wronged by the same man. With their bond rooted in romantic turmoil, they decide to start a business in which they stage elaborate break-ups for people who are finding it hard to get out of relationships. Through it all, they have one key rule: Don't get close to the clients.
Of course, that rule was made to be broken, and the film follows what happens as Mel (Sami) starts to get close to a young man who recently hired them, while Jenn (van Beek) looks on in dismay. A comedy of errors involving everything from a party bus to a pair of police costumes to one very weird lap dance soon unfolds, and Mel and Jenn have to decide if their relationship is strong enough to survive it all. The Breaker Upperers is one of those romcoms you can still watch even if you're tired of other romcoms, and it winds up being about the love between two best friends more than anything else.
Set It Up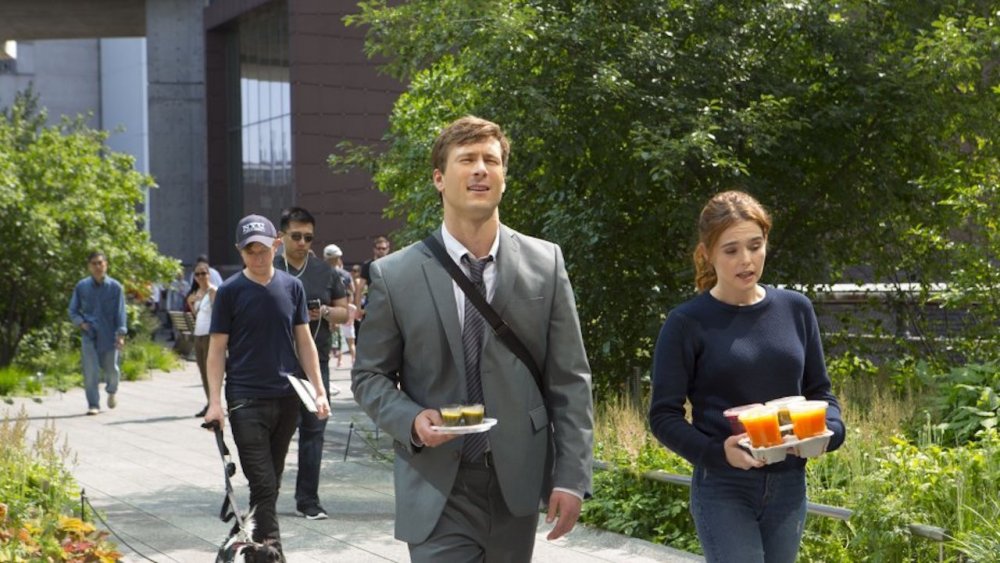 Sometimes you want a romantic comedy that just feels like a classic, comfortable entry in the subgenre, and when you're in the mood for that Set It Up will be there for you. It's not complicated, it's not trying to reinvent the romcom wheel, and it's not ashamed to go right at the tropes we love. It's just a very fun, very charming romantic comedy.
The film follows Harper (Zoey Deutch) and Charlie (Glen Powell), who both work as personal assistants to ultra-demanding professionals in different parts of the same office building. After a chance meeting in which they both complain that they never get time off, they come up with an idea. They will use their intimate knowledge of their bosses — played by Lucy Liu and Taye Diggs — to create the perfect romantic setup, so they can finally have some time off while their employers get to know each other.
Of course, if you've watched any romantic comedies at all, you can see where this is going pretty much from the start, but what's great about the film is it never attempts to trick you out of that payoff. Deutch and Powell are great together, and we want to see them get closer to each other almost immediately. Throw in some great comedic work from both Liu and Diggs, and you've got a perfect piece of movie comfort food.
Tramps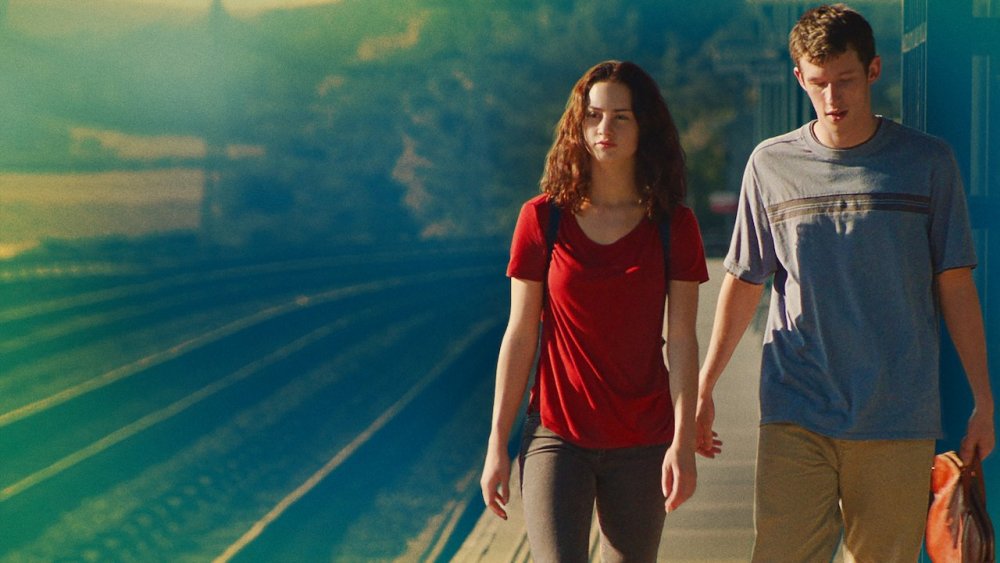 If you're a longtime fan of romantic comedies, you know that the subgenre actually comes in all shapes and sizes. Yes, there is the classic variety of stories about affluent people who don't have a care in the world except for their love life, but that doesn't have to be the only version of the formula. Tramps is a film that proves the versatility of the romantic comedy by following all the expected beats in a very unexpected way.
The film follows Danny (Callum Turner) and Ellie (Grace Van Patten), two down-on-their-luck people who have been asked to be part of a shady briefcase swap that will hopefully benefit them both. When the swap goes wrong, they're left spending the day together with little cash, little time, and a desperate need to set things right. Along the way, they find they have a lot more in common than they may have realized and... well, you can probably guess where things go from there.
While a lot of romantic comedies are about people whose financial lives are either set in stone or not enough of a worry to become part of the plot, Tramps makes the hard times of its main characters a key part of their bond. They're two wanderers in search of some kind of freedom, and it turns out they just might find it in each other. If that's not the heart of the romantic comedy subgenre, we don't know what is.