Why Breana From The Kominsky Method Looks So Familiar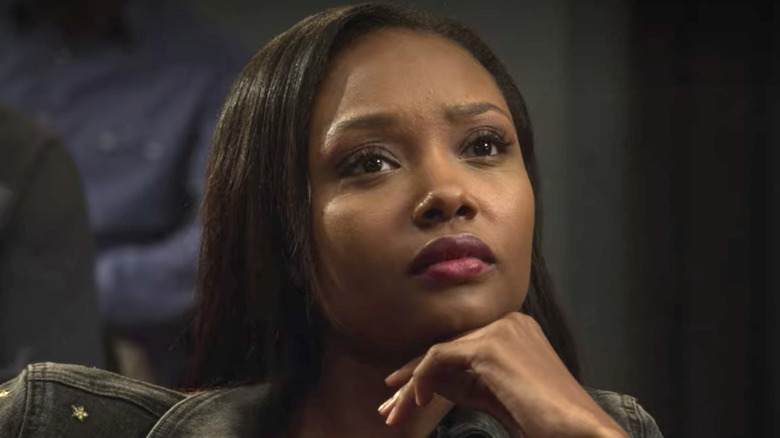 Netflix
Premiering on Netflix on May 28, 2021, the third and final season of "The Kominsky Method" is finally out. The comedy drama series stars Michael Douglas as Sandy Kominsky, an actor who had a small bit of success years earlier and is now a revered acting coach in Hollywood. As Sandy teaches a new generation of actors, his best friend and agent Norman, played by Alan Arkin, deals with the death of his wife, while Sandy has his own health complications. Throughout the show, Sandy, along with his friends and family, go through many different hardships of life, including old age, drug addiction, and the difficulties of dating.
One of Sandy's loyal acting students is Breana, played by Ashleigh LaThrop, a young woman with a strong desire to start working. Breana is usually quite quiet in class, but when she does speak up she always has something clever to say. Throughout the series, Breana grows closer to her classmates and teacher, and it's clear that Sandy's classes are helping in some way. For some "The Kominsky Method" viewers, the young, talented actress playing Breana might look very familiar. Despite being only in her early 20s, LaThrop already has a fantastic resume of roles in many major productions.
If you can't quite place where you've seen LaThrop before, here are the biggest roles of her career so far.
Ashleigh LaThrop played Hannah in the Fifty Shades series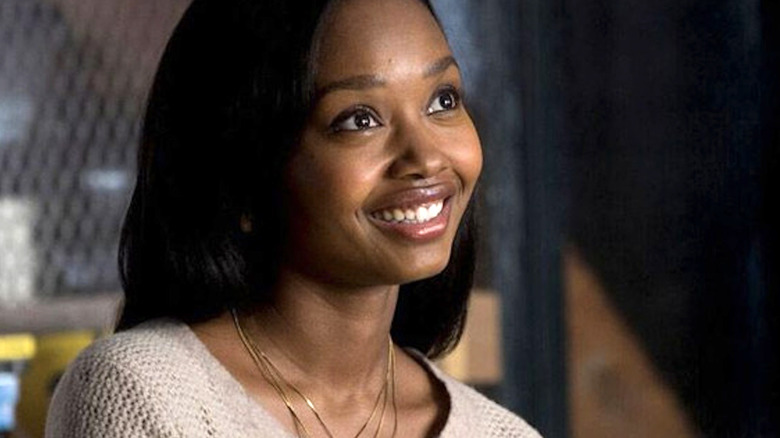 Universal Pictures
In 2017 and 2018, LaThrop starred in the second and third films of the "Fifty Shades" trilogy, "Fifty Shades Darker" and "Fifty Shades Freed." Her character is Hannah, an assistant at Seattle Independent Publishing. She quickly bonds with Ana (Dakota Johnson), another assistant who works there, as they talk about the pains of working for their boss, Jack (Eric Johnson). When Christian Grey (Jamie Dornan) buys the publishing house and fires Jack for hitting on Ana, Ana takes Jack's job, and Hannah becomes her new assistant.
It's an odd situation, as Ana is actually less experienced than Hannah and probably not the person best suited for the job. While the two remain cordial after the promotion, it definitely changes their relationship. Who wouldn't be frustrated in Hannah's situation? At least when Christian hires Sawyer (Brant Daugherty) as a bodyguard for Ana, Hannah gets someone cute to flirt with. Throughout her appearance in both films, Hannah is usually one of the few level-headed characters around, offsetting the craziness of Ana's life.
LaThrop portrayed Natalie in The Handmaid's Tale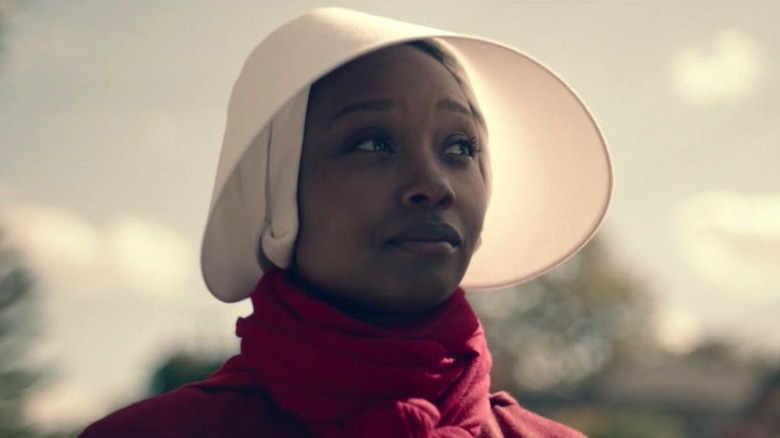 Hulu
In 2019, LaThrop joined Season 3 of "The Handmaid's Tale" as the character Natalie, a Handmaid assigned to Captain Matthew Calhoun (Jonathan Watton). Natalie encounters June (Elisabeth Moss) when they are made shopping partners, and she is a very strict, rule-abiding woman who truly believes in Gilead. When she sees June talking with Frances (Ordena Stephens), a Martha in the household of June's daughter, Hannah (Jordana Blake), Natalie tells Aunt Lydia (Ann Down) about it, leading Frances to be killed. In the aftermath, June attacks and tries to strangle Natalie for what she did.
After Frances's death, the other Handmaids turn on Natalie and bully her, while her relationship with June is increasingly strained. As the situation gets worse for both of them, Natalie has a psychotic break in the supermarket, attacking Janine (Madeline Brewer) and a guard. Natalie manages to get hold of a gun and turns it on Aunt Lydia, but before she can fire, she is shot through the chest and killed.
The 100 featured LaThrop as Priya Desai VII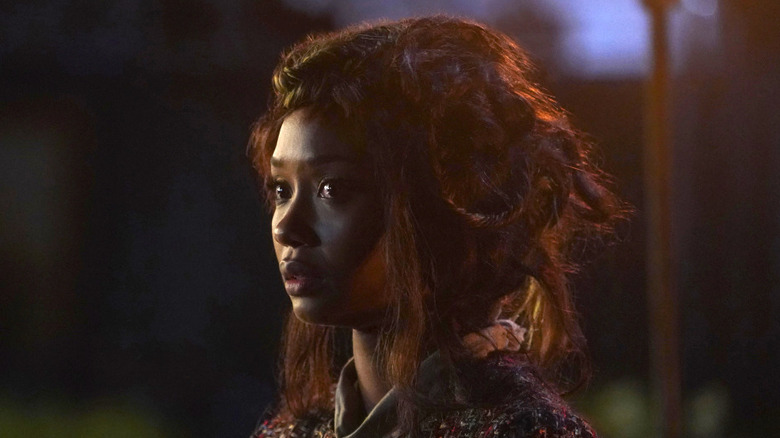 The CW
That same year, LaThrop acted in another dystopian television series, playing Priya Desai VII, also known as Delilah Workman, in the sixth season of "The 100." Throughout her appearance on "The 100," LaThrope essentially plays two totally different characters — the innocent, sweet Delilah, and the haughty, privileged Priya. 
On a new planet, Clarke Griffin (Eliza Taylor) and her friends encounter a city called Sanctum, where the people have a tradition called Naming Day. During this event, anyone in the community who is turning 21 and has Royal Blood, or Nightblood, goes through a ceremony where they take on the name of a Prime, a member of the original founding families of Sanctum. With everything they've already gone through, Clarke and the others are suspicious, and they soon uncover the truth behind the Naming Day ceremony. The Primes each have a Mind Drive that allows them to move their consciousness into a new body, and they do that through the misleading ceremony, basically sacrificing members of Sactum under the guise of some special tradition.
When Delilah, a young woman in the community, turns 21, she is declared a host and taken through the Naming Day ceremony, during which she is renamed Priya Desai VII. The Primes insert a Mind Drive in her, moving the consciousness of Priya, one of the original founders of Sanctum, into her body. Through this process, the Primes kill Delilah. While Clarke can't save Delilah, she successfully reveals the truth to the rest of the community, who then turn on their leaders, stopping the cycle of manipulation and reincarnation.
LaThrop starred in the American Utopia remake as Becky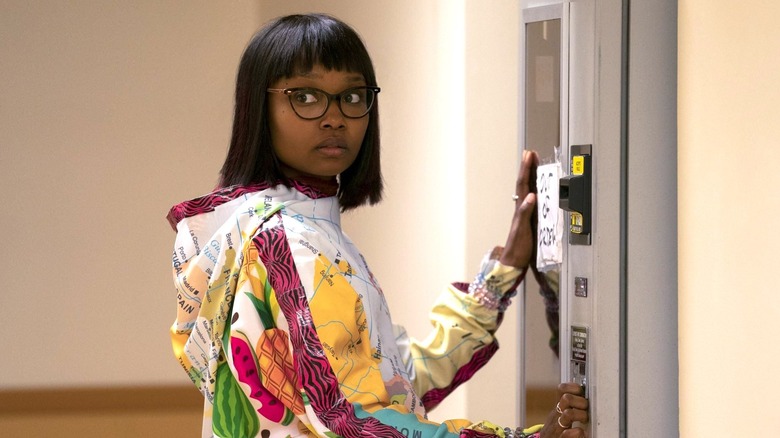 Amazon Studios
In 2020, Amazon released the new series "Utopia," a remake of the 2013 critically acclaimed British series of the same name. Adapted by Gillian Flynn, the show focuses on a group of young adults who try to get hold of an underground graphic novel manuscript called "Utopia," which they believe foretells of future events. This makes the group a target of shadowy forces who also want to get their hands on the book. Also starring John Cusack, Dan Byrd, Desmin Borges, Jessica Rothe, and more, LaThrop plays the character Becky.
Becky is a self-assured young woman who believes that the graphic novel "Dystopia," the precursor to the unpublished "Utopia," has something to do with her father's death of a mysterious illness. When the missing sequel is discovered and put up for sale through an auction, Becky and the other members of a "Dystopia" group chat get together to buy the comic. As the group continues to search for "Utopia," Becky discovers more and more connections between real life events and the graphic novel.
The Amazon series "Utopia" is well-acted, with an increasingly strange and twisting plotline that has new surprises every episode. Unfortunately, the series was cancelled after its first season, consisting of only eight episodes.