The Surprising Billions Scene That Put Paul Giamatti To Sleep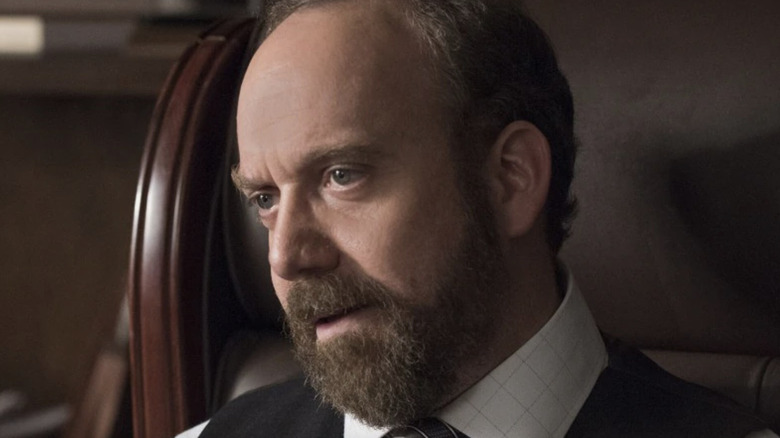 Showtime
Created by Brian Koppelman, David Levien, and Andrew Ross Sorkin, the popular Showtime series "Billions" follows the bitter rivalry between U.S. Attorney Chuck Rhoades (Paul Giamatti) and hedge fund titan Bobby Axelrod (Damian Lewis) as they each plot various ways to bring about the other's professional and personal demise. In addition to Lewis and Giamatti, the series' stacked ensemble cast includes Maggie Siff, David Costabile, Condola Rashad, Daniel K. Isaac, Toby Leonard Moore, Jeffrey DeMunn, Dan Soder, and Asia Kate Dillon.
Full of fast-talking, scheming characters, nearly every episode of "Billions" is brimming with the kind of quick and propulsive style of storytelling that helps make it an addicting series to watch week to week. While the show's brisk pace is part of its overall charm, it also means that the show's actors don't have a lot of downtime during production. Fortunately, one of its leads got to press pause and relax during the filming of one particular scene — though he definitely didn't plan on that happening.
Here's the surprising "Billions" scene that put Paul Giamatti to sleep.
Paul Giamatti didn't expect to doze off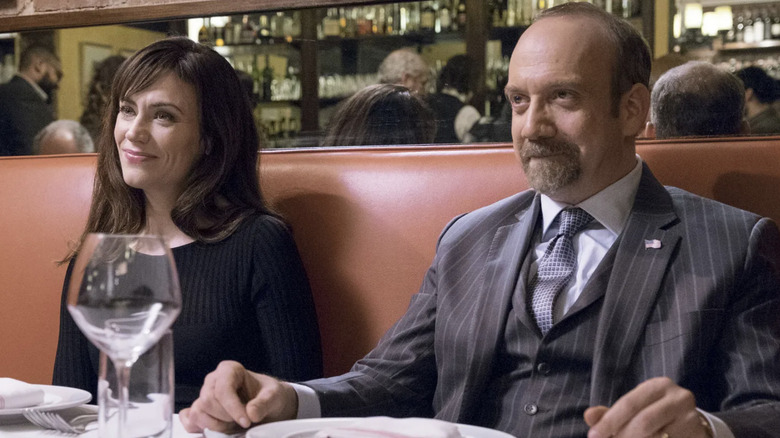 Showtime
Paul Giamatti's Chuck Rhoades is a smart and strategic attorney, full of ambition and willing to do whatever it takes to achieve his goals. He's also a character drawn to BDSM, and the series' pilot episode makes it immediately clear exactly what kind of situations he and his wife Wendy (played by Maggie Siff) have a habit of getting into during their alone time.
In fact, the opening scene of "Billions" finds Chuck tied up on the floor of his bedroom while his wife walks around him, wearing high heels. It doesn't exactly look like the most relaxing position for Giamatti to be in, but it turns out that may not actually have been the case. According to Giamatti himself, he kept falling asleep during takes.
"It was really interesting. They brought in a special guy to tie me up. ... They got me genuinely trussed up. It was one of those things where the more you move, the tighter it gets, one of those things. It was extraordinary because my reaction to it was really surprising. I fell asleep," Giamatti told Stephen Colbert during an appearance on "The Late Show with Stephen Colbert" in January 2016. "I had a warm, washing feeling go over me, and I just dropped off. They had to keep waking me up between takes. They were like, 'Hey, buddy! Hey, hey, hey! We're gonna shoot, buddy.' It was crazy. It was the weirdest reaction, I didn't expect that."
That's pretty surprising, but considering just how ferocious and calculating Giamatti has to be as Rhoades in nearly every scene of "Billions," it's nice to know that he got a little bit of downtime on set — no matter the literal position he was in.