This Is Where The Dark Knight Rises Was Actually Filmed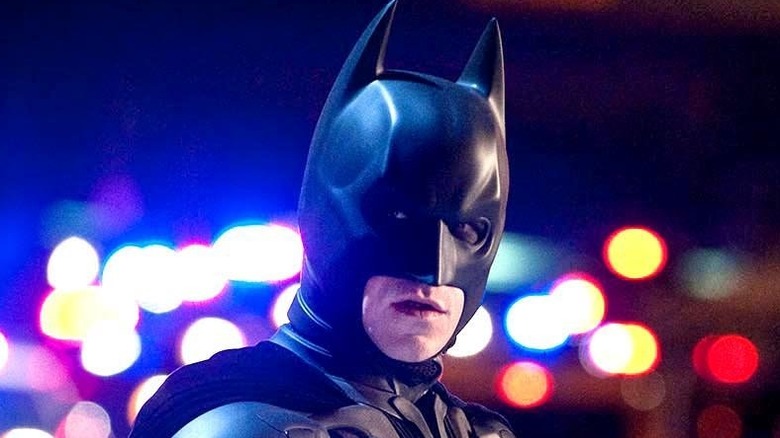 Warner Bros. Pictures/DC Entertianment
Historically speaking, successful movie trilogies are a bit hard to come by in Hollywood. However, one of the few three-peats that most movie lovers agree got things right is Christopher Nolan's "Dark Knight Trilogy," with the director's gritty, grounded take on the Batman saga serving both as a stylistic high-point for superhero cinema, and a savvy reflection of post-9/11 America. The first of those films, "Batman Begins," debuted in 2005, with Christian Bale's Bruce Wayne just starting his transformation into the Caped Crusader, and facing-off against storied villains like Scarecrow (Cillian Murphy), and Ra's Al Ghul (Liam Neeson). That film's beloved sequel "The Dark Knight" arrived three years later, with Bale again donning the cape and cowl for an anarchic showdown against Heath Ledger's Joker.
Perhaps in a bid to put a little distance between the towering legacy of "The Dark Knight" and the tragic passing of Ledger, Nolan and company waited four more years before returning to Gotham. They did so with a vengeance, however, as the trilogy-capping "The Dark Knight Rises" pit Bale's Batman against a ruthless foe (Tom Hardy's Bane) and a truly evil mastermind (Marion Cotillard's Talia Al' Ghul) for a dramatically different take on Dark Knight lore. As some savvy viewers surely noted, however, the Gotham they saw in "The Dark Knight Rises" didn't look entirely like the same city they'd seen in the previous films. That's because it wasn't. Here's where "The Dark Knight Rises" was actually filmed. 
Pittsburgh became the new Gotham for Christopher Nolan's Dark Knight Trilogy-capper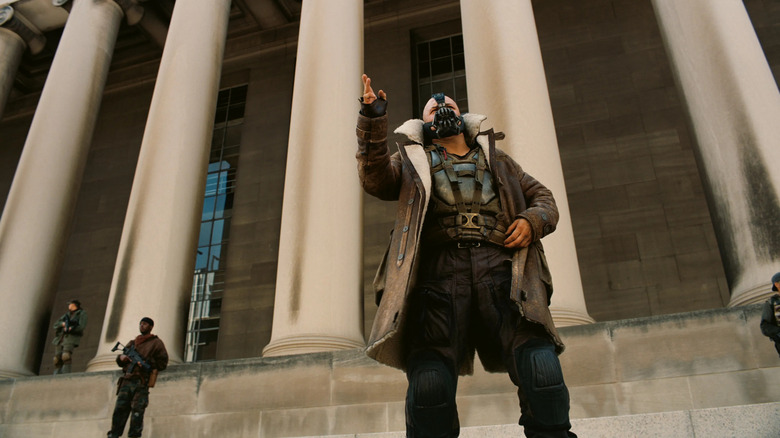 Warner Bros. Pictures/DC Entertianment
You may not know it, but Nolan largely utilized the gritty streets and art decco-tinged skyline of downtown Chicago as his stand-in for Gotham City on both "Batman Begins" and "The Dark Knight" (via Polygon). The same cannot be said for "The Dark Knight Rises," which made production stops in New York, Los Angeles, and the U.K., but features not a single shot of Chicago. Rather, the third film in the "Dark Knight Trilogy" was shot mostly on location in Pittsburgh, Pennsylvania (via Movie-Locations.com).
As for why Nolan made the dramatic change of scenery, his desire to present a Gotham that would never seem too familiar to viewers has been well documented over the years. But purely from a practical standpoint, Pittsburgh's Three Rivers setup (and all the bridges it requires) were likely a big selling point given how prominently those bridges feature in the narrative. Likewise, one can only imagine it's a little easier to shut a bridge down for shooting in Pittsburgh than it is in Chicago, or even New York. (Ironically, however, many of the shots involving bridges were aerial shots of New York.) 
On top of that, easy access to NFL franchise Pittsburgh Steelers' Heinz Field surely played a role as it's ground-zero for one of the biggest, and most memorable action scenes in the entire "Dark Knight Trilogy." As for Pittsburgh itself, it's never looked as bruised, battered, and utterly beautiful as it does in "The Dark Knight Rises," and it's safe to say neither the film, nor the trilogy would feel the same without it.