Here's Where You Can Watch Grown Ups 2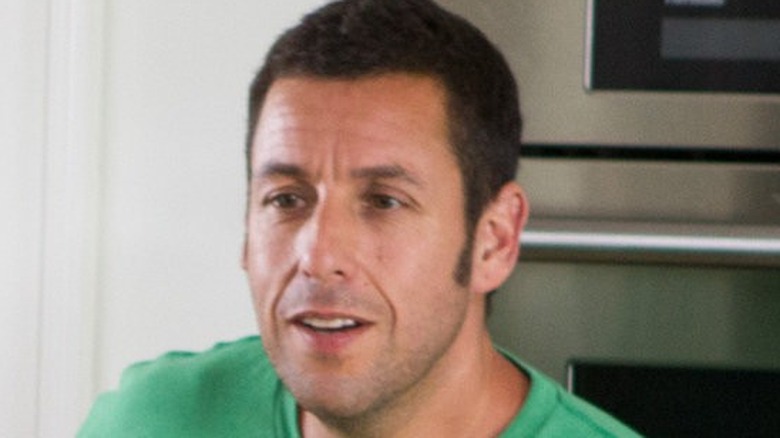 Sony Pictures Releasing
Over the course of his career, Adam Sandler has become a key figure in the film comedy scene, with several of his movies, such as "The Waterboy," "Happy Gilmore," "The Wedding Singer," and "Little Nicky" all garnering a beloved fanbase that has been eager to see Sandler's comedies. In 2010, Sandler added "Grown Ups" to his filmography, performing alongside a cast that included David Spade, Tim Meadows, Rob Schneider, and Chris Rock, all of whom had previously worked with Sandler on the legendary sketch comedy show "Saturday Night Live." In addition, "Grown Ups" also starred Kevin James, Maria Bello, Maya Rudolph, Jamie Chung, and Steve Buscemi, and Sandler co-wrote the film with Fred Wolf.
The success of the movie led Sandler to do something he'd never done up to that point in his career — star in a sequel. The release of "Grown Ups 2" in 2013 marked the first sequel Sandler had ever been in, though it would not be his last. Sandler and Wolf returned to co-write the sequel, joined by another of Sandler's "Saturday Night Live" colleagues, Tim Herlihy, with Dennis Dugan also returning to directorial duties. 
Here's where you can watch "Grown Ups 2."
Grown Ups 2 can be rented on a number of digital platforms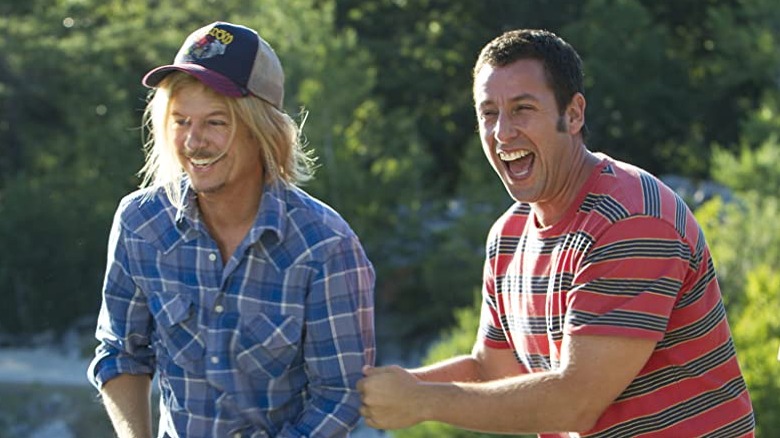 Sony Pictures Releasing
Currently, "Grown Ups 2" is not available on any streaming service in the US. However, it is available to rent on a number of digital platforms. 
The cheapest place to rent the film is Vudu, where it will cost $2.99 for the SD version, $3.99 for the HDX version, and $7.99 for the UHD version. The film is also available to rent on Amazon, Google Play, and YouTube, where the cost of rental is $3.99. In addition, viewers can also get the movie via DirecTV, Redbox, Microsoft, and AMC On Demand, the digital service of AMC Theatres, all of which also offer the film for $3.99.
The film is also available for purchase from many of the same digital platforms, for those who don't want to be constrained by the limitations of a rental. YouTube, Google Play, Vudu, and Amazon all offer viewers the option to purchase the film for $9.99. For a slightly higher price of $12.99, the movie can also be purchased from AMC On Demand, Microsoft, DirecTV, and Redbox. A number of the aforementioned platforms offer "Grown Ups 2" to be purchased in HD at no additional cost.
Alongside Sandler, many of the principal cast members from the first "Grown Ups" return for the sequel, including Kevin James, Chris Rock, David Spade, Salma Hayek, Maya Rudolph, Tim Meadows, Maria Bello, and Steve Buscemi. They're joined by Milo Ventimiglia, Shaquille O'Neal, Steve Austin, Patrick Schwarzenegger, Andy Samberg, Taran Killam, Oliver Hudson, Taylor Lautner, Aly Michalka, and Halston Sage. 
A third entry in the series has yet to be announced, but Sandler's comedy career continues to thrive, with his most recent entry being the 2020 film "Hubie Halloween", which features numerous performers from "Grown Ups 2," as well.