How Much Work Do Corey And Chumlee Actually Perform On Pawn Stars?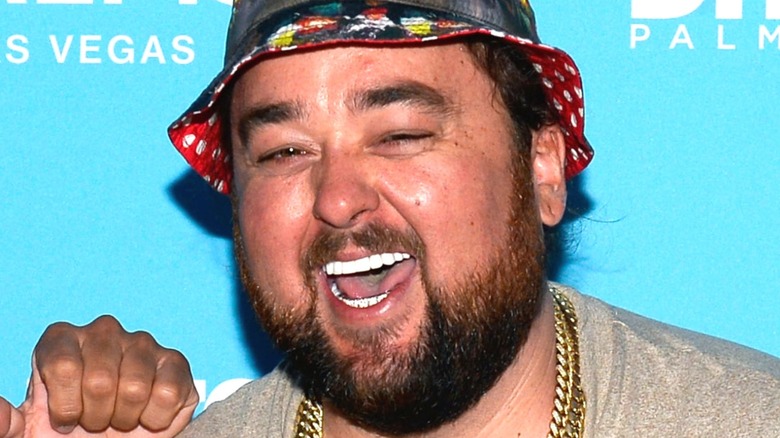 Bryan Steffy / Getty Images
History has undergone a drastic transformation in recent years as the station has begun to move away from strictly history-based programming in favor of a wider variety of shows. Despite this initiative, its flagship title, "Pawn Stars," continues to educate audiences on all kinds of historical artifacts and the importance of the stories behind them. Over the course of its 16 seasons, the series has put everything from vintage GI Joe toys to one-of-a-kind film props on full display, enticing viewers to tune in every week to see which trinkets will walk through the doors of the Gold & Silver Pawn Shop next.
Though the main draws of "Pawn Stars" are the items themselves, just as important are the folks responsible for buying, selling, pawning, or passing on them. At the helm is Rick Harrison — the owner of the Gold & Silver Pawn Shop and the son of Richard Benjamin "The Old Man" Harrison, who helped run the store until he died in 2018. Of course, they're not the only ones on payroll, as Rick's son Corey Harrison and his longtime friend Austin "Chumlee" Russell are also there to help out. Their antics oftentimes incur the wrath of the shop's elders, making up some highly entertaining subplots away from the main business portions of each episode.
"Pawn Stars" does a great job of giving off the appearance of a reality show, but the truth is, what we see on TV is quite unlike the store's real-life operation. For example, Cory and Chumlee's on-screen workload is almost entirely fictitious at this point in their tenure.
Corey and Chumlee have moved on from working at the counter
History
Most installments of "Pawn Stars" focus on either Cory, Chumlee, or both at one point or another as they make their own purchases and sales. However, if you were to step into the Gold & Silver Pawn Shop today, odds are the two fan-favorites wouldn't be waiting behind the counter to do business. According to Screen Rant, both men have their own personal assistants that they typically send to do the heavy lifting, such as dealing with customers and tasks of that nature. They still help maintain the shop behind the scenes, but they've more than moved on from the grunt work.
As a matter of fact, none of the main "Pawn Stars" cast is on the front lines these days. The show has skyrocketed in popularity since its 2009 premiere, causing those on it to reach celebrity status in short order. As a result, it's difficult for them to conduct business at the shop as they did before thanks to the endless stream of fans who come to see them, take pictures, and stop them for autographs. The only days they're present are when they're filming, something that is rarely done so easily, again, thanks to the legions of "Pawn Stars" die-hards who seek to get a glimpse of their favorite television personalities.
While it's a bummer that fans of Corey and Chumlee will have a tough time meeting them during the shop's regular hours, surely both men are glad that "Pawn Stars" has helped them rise in the ranks to leave busywork behind.