The Films That Influenced The Black Widow Solo Movie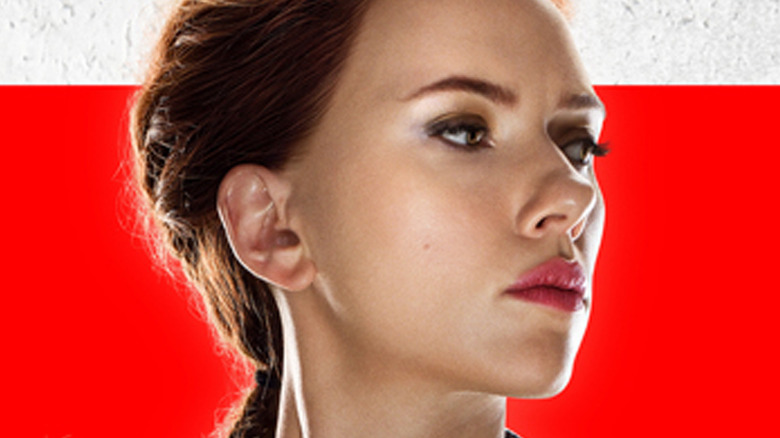 Disney
After multiple delays due to the ongoing pandemic, "Black Widow" is scheduled for a hopefully definitive July 9 release date. Black Widow (portrayed by Scarlett Johansson), of course, has been an Avenger since the first "Avengers" film. That said, she's one of two heroes featured in the movie to have not starred in their own stand-alone feature (while Mark Ruffalo's Hulk hasn't been the subject of his own film, the Edward Norton-starring "The Incredible Hulk" is technically canon). The release of "Black Widow" will change that, leaving only Hawkeye without a big screen adventure.
The latest trailer for "Black Widow," released in April, begins with a compilation of some of the big moments from both her upcoming starring vehicle and the entirety of her tenure as part of the Marvel Cinematic Universe. The trailer also revealed that the film will cover her childhood, chronicling her journey to becoming the well-known superhero. While the film will cover a particular period of Black Widow's life, it's also being positioned as something of a celebration of the character in her entirety.
In a profile about "Black Widow" in the April issue of Total Film magazine (recently shared on Twitter by user CreamOrScream), the team behind the production of "Black Widow" discussed some of the influences on their film — some of which are entirely unrelated to the superhero genre.
Black Widow is a family movie
"Black Widow" is, at least in part, a departure from the style of what could be considered a typical Marvel film. The prior works of its director, Cate Shortland, are not blockbusters but works like romantic coming-of-age drama "Somersault" and psychological horror "Berlin Syndrome." Shortland told Total Film that, while she was surprised by Marvel Studios' decision to employ her on a tentpole blockbuster film, she was ultimately given the chance to "make a movie that [she] was passionate about."
Marvel Cinematic Universe architect Kevin Feige specifically referenced "The Kids Are All Right" as an influence on "Black Widow." "The Kids Are All Right" is a family drama, chronicling the tribulations of a same sex couple raising teenaged children. While that doesn't sound close to anything featured in a Marvel film thus far, "Black Widow" has been demonstrated to include a prominent family element, for which Feige likely looked to "The Kids Are All Right" as an inspiration.
David Harbour, meanwhile, portrays Black Widow's father figure, Alexei Shostakov. He cited Philip Seymour Hoffman's performance in the black comedy "The Savages" as inspiration for the role. That said, Shortland did reference some classic blockbusters as inspiration too, including "Logan" and "Aliens."
Fans will have a chance to witness the superhero family drama of "Black Widow" when it's released simultaneously in theaters and for a premium on Disney+ on July 9.