Chris Evans Shares Brutal Behind-The-Scenes Pictures From The Gray Man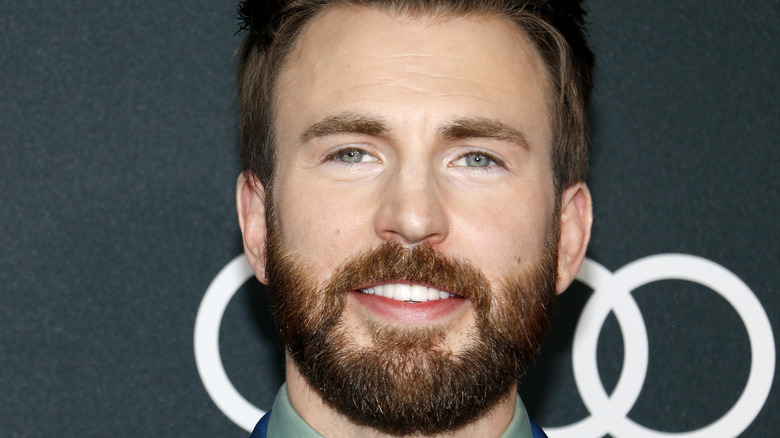 Shutterstock
As if the elevator scene in "Captain America: The Winter Soldier" wasn't evident enough, you probably wouldn't want to find yourself on Chris Evans's bad side. Even before his time as Steve Rogers in the Marvel Cinematic Universe, he had plenty of action experience in films like "Street Kings," "The Losers," and "Scott Pilgrim vs. the World." His time in the MCU may be over (or perhaps not), but it's clear Evans won't step away from the action genre any time soon. He's teamed up with his "Avengers: Endgame" directors, the Russo brothers, for an upcoming Netflix film that has a ton of hype building up around it. 
"The Gray Man" follows a CIA operative who gets framed and subsequently goes on the run while one of his former colleagues, played by Evans, chases after him. It sounds like something up the Russo brothers' alley, and the directors have brought on an incredibly talented cast with Ryan Gosling, Ana de Armas, Alfre Woodard, Billy Bob Thornton, Jessica Henwick, and Regé-Jean Page part of the proceedings.
Netflix hasn't confirmed a release date yet, but anyone looking forward to the movie can at least take solace in the knowledge that the crew's currently filming the action-thriller. Hopefully, it won't take too long to become available for everyone to see at home. Judging from posts on Instagram, Evans probably can't wait for it to finish as well, seeing as how the movie's put him through the wringer.
Chris Evans shows off some bruises from filming The Gray Man on Instagram
One thing that's readily visible from Chris Evans's latest Instagram post is that he does some of his own stunts. His latest photo shows several different bruises he's gained throughout filming "The Gray Man." They look pretty gnarly, but Evans takes it all in stride as he writes alongside the picture, "It's like watching the leaves turn in autumn, but condensed into one painful afternoon. (Got into a little tussle with the Gray Man)."
It makes sense for Evans to see some ramifications to filming such an intense movie. After all, his character will likely have to go toe-to-toe with one of his former colleagues, played by Ryan Gosling, who's no stranger to epic fight sequences either, as evidenced in "The Nice Guys" and "Blade Runner 2049." Naturally, people were quick to chime in to offer their sympathies for the actor's injuries. In jest, many offered their medical services with comments pouring in like, "I bet there will [be] so many nurses as volunteers" and "Boy I swear I will fly to wherever you are and I will ice your damn arms for you."
The bruises even caught the attention of Evans's "Snowpiercer" co-star, Octavia Spencer, who wrote, "Omg can't wait." It sounds like she's just as excited as everyone else to see the Russo brothers' follow-up to "Cherry." One thing is clear from all of this: With over 1.2 million likes on a photo of some bruised-up arms, people love Evans and will use any excuse to thirst over him.