The Real Inspiration For Taylor Mason In Billions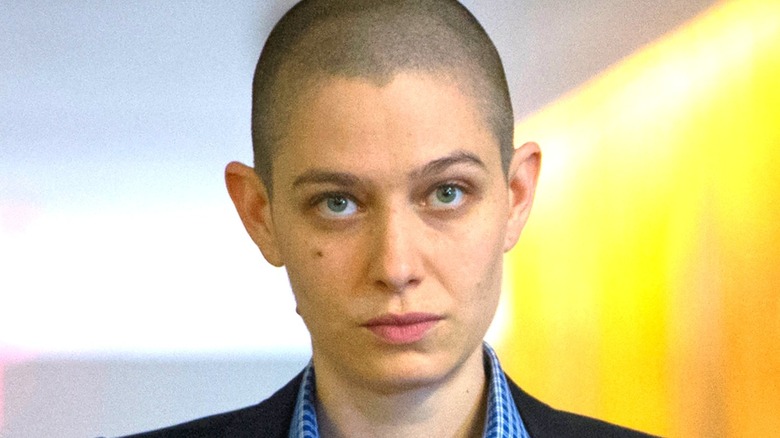 Showtime
Few series have experienced as much growth and improvement in recent years as Showtime's "Billions." After starting out as a calculated and somewhat generic stab at prestige-collecting Peak TV, the finance-world thriller deepened its universe, its characters, and its stakes with each passing season and ultimately became one of the smartest, most gripping, and all-around best dramas on air. The sharpening of "Billions'" political and psychological claws is arguably best exemplified by the character of Taylor Mason (Asia Kate Dillon), the brilliant Axe Capital financial analyst who becomes Bobby Axelrod's (Damian Lewis) protegé and later founds their own hedge fund, Taylor Mason Capital. A Season 2 introduction, Taylor immediately stood out for being wholly unique in personality and perspective compared to the soulless playboy machismo that ran rampant at Axe Capital, and the character grew into an even more interesting and central player after being upgraded to series regular in Season 3. They would most likely have become a fan favorite either way, but the impact of Taylor on "Billions" and the TV landscape at large was made even greater by their status as the first non-binary character on an American show.
Taylor and the performance of Dillon (who identifies as non-binary) in the role have been widely hailed as a seismic shift for queer representation on television. Their presence has been as momentous for the gender-nonconforming community as for "Billions" itself — so thank goodness for the circumstances that helped bring the character into being.
Showrunner Brian Koppelman got the idea for Taylor from his children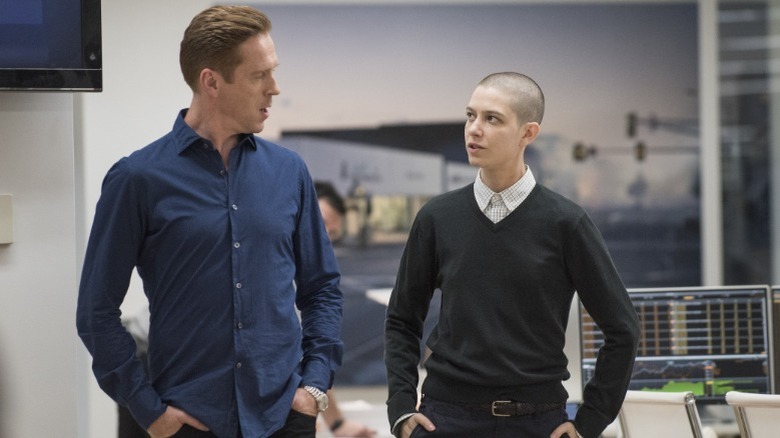 Showtime
Taylor Mason fit so well into the world of "Billions" and became such an indispensable part of its ecosystem that it's strange to even conceive of the character as a late addition. But, according to The Cut, co-creator and co-showrunner Brian Koppelman can point to a very specific moment in which the idea for Taylor began to form in his head: after his teenage kids talked about giving their preferred pronouns. "My kids both had friends at different schools who identified as gender non-binary, and they each told me about it," Koppelman elaborated in an interview with ThinkProgress. "So we started to ask those questions and learn." Koppelman went on to explain that his son got used to asking and giving preferred pronouns while writing a piece about a youth homeless shelter, and his daughter's 10th grade teacher encouraged students to express their gender identities as they saw fit. Thus, the idea to include a non-binary character in Season 2 of "Billions" was born.
The original casting call — which described Taylor Mason as "female, non-binary" — was open to any and all actors regardless of gender. In the process of auditioning for it, Asia Kate Dillon had to reckon with that official description, which actually helped them understand their own identity better, as they told ABC News. "Here was someone who identified as non-binary, is a trans person but hadn't changed their body," the actor said of Taylor. "That's not part of their journey. And it felt so true — for me."
Non-binary TV representation is taking steps towards improvement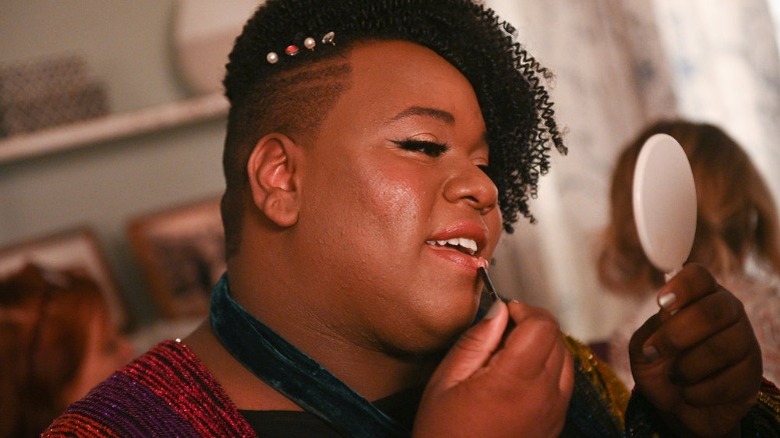 NBC
The importance of Taylor Mason as a point of mainstream visibility for non-binary people is redoubled by the fact that they're played by an actor whose identity matches the character's. That hasn't always been a given in the history of LGBTQ+ representation in media — it's been so historically normalized for cisgender actors to play trans characters that stars like Halle Berry and Scarlett Johansson have just recently landed in hot water for accepting roles as trans men. This is, of course, a result of the industry's reluctance to hire trans and non-binary actors, in tandem with the shortage of such characters in mainstream Hollywood productions. Because of that double-layered exclusion pattern, the years since Taylor's introduction have seen many non-binary TV characters played by cis actors, such as Crowley on "Good Omens" and Klaus on "The Umbrella Academy." At the same time, openly non-binary actors such as Brigette Lundy-Paine from "Atypical" and Nico Tortorella from "The Walking Dead: World Beyond" haven't always had the chance to play characters on a broader gender spectrum.
Still, things are looking up, as evidenced by the ever-multiplying instances of non-binary TV characters played by non-binary actors. Examples include Adira Tal of "Star Trek: Discovery," played by Blu de Barrio; Mo from "Zoey's Extraordinary Playlist," played by Alex Newell; and the short-lived Fox procedural "Deputy," on which Bex Taylor-Klaus portrayed Dep. Brianna Bishop — the first character to identify as non-binary in the history of network TV (via Fox 5).