Glee's Heather Morris Reveals What Working With Lea Michele Was Really Like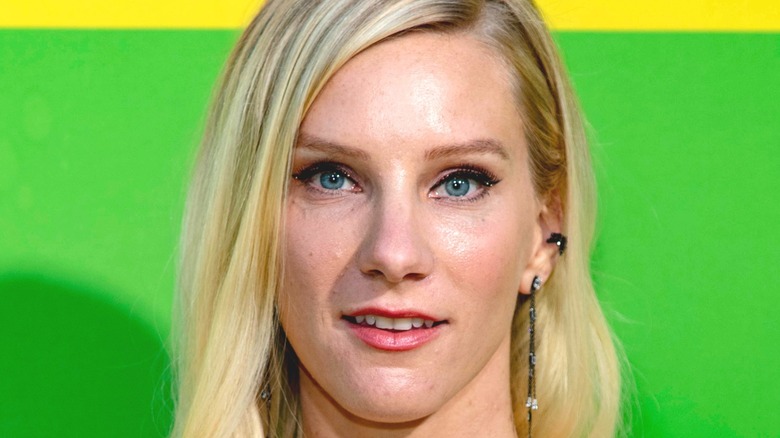 Shutterstock
Throughout its six-season run, Fox's landmark musical comedy-drama "Glee" found a way to connect entertaining song and dance numbers to compelling story arcs, all while pointedly examining difficult social questions. Nearly everything from the show's celebrated debut in 2009 to its dramatic ending in 2015 gave fans what they asked for, and the show amassed a tidy collection of accolades along the way, via IMDb.
However, over the last couple of years, the on-set behavior of one of the show's biggest stars, Lea Michele, has come under scrutiny. Michele's conduct was described as challenging in late co-star Naya Rivera's 2016 autobiography, "Sorry Not Sorry: Dreams, Mistakes, and Growing Up," in which she revealed the truth about their strained relationship. After Rivera revealed her struggles with her co-star, several celebrities revealed that they couldn't stand Michele, including many of her "Glee" castmates.
One of Michele's co-stars who spoke out was Heather Morris, who first acknowledged that she had recognized her problematic behavior in a 2020 tweet. In a recent interview, however, Morris elaborated on how Michele impacted the set of "Glee" and discussed the effect her presence had on the rest of the crew. Here is what Heather Morris had to say about working with Lea Michele.
Morris alleged that Michele helped create a culture of silence on Glee
Toward the end of a recent interview on the podcast "Everything Iconic with Danny Pellegrino," right around the 40-minute mark, Danny Pellegrino asked Heather Morris if she had any other insight to share about Lea Michele. Specifically, he asked her to elaborate on her tweet from last year, in which she said, "With that said, was she unpleasant to work with? Very much so."
In response, Morris remembered getting pushback due to the perceived cryptic nature of her text, but said, "It's true, and I don't know if maybe we were victims of bullying, and that's the typical victim thing to do, is to blame yourself, which is what people were saying. But it also is very true, and the only person who was honest about it was Naya."
Morris went on to explain that the entire situation created an atmosphere of silence and deference to the "bigger names, who were very disrespectful and mistreated a lot of people." She took responsibility for how she and her castmates did not speak to Fox executives, who could have potentially resolved those issues. However, she noted that these days, people "are living in a culture where it is acceptable to go do things like that, whereas I think many people were very scared."