The Sneaky Way The Cast Of Friends Hid Scripts All Over The Set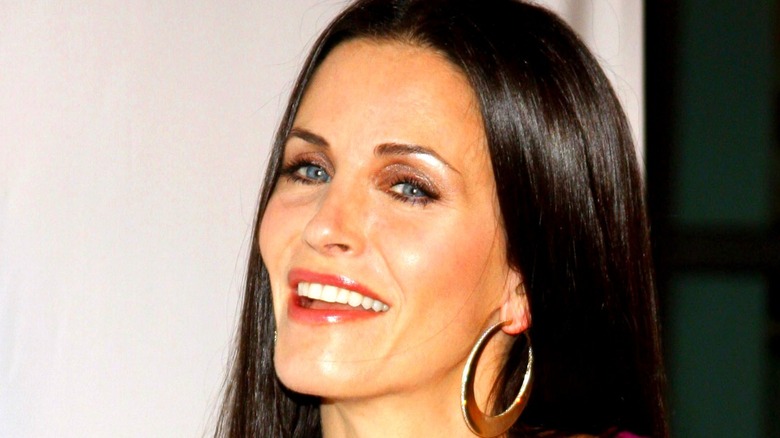 Shutterstock
During "Friends: The Reunion," the stars of the hit sitcom reminisce about the show that made them famous. Courteney Cox, David Schwimmer, Lisa Kudrow, Matt LeBlanc, Jennifer Aniston, and Matthew Perry laughed with one another as they discussed some of the most significant moments of the 10-season "Friends" timeline while revealing some things that went on behind the scenes. Some of the bigger reveals include a mutual crush Aniston and Schwimmer had on each other in the early seasons, the delay LeBlanc's shoulder injury caused "The One Where No One's Ready," and how the cast absolutely hated working with Marcel, the monkey. 
Another of the smaller tidbits from the "Friends: The Reunion" special revealed the fact that Cox often struggled with remembering her character's lines, and she would hide scripts on set to help her cope, while also writing them down on props so she could quickly glance at them.
Courteney Cox hid scripts all over the Friends set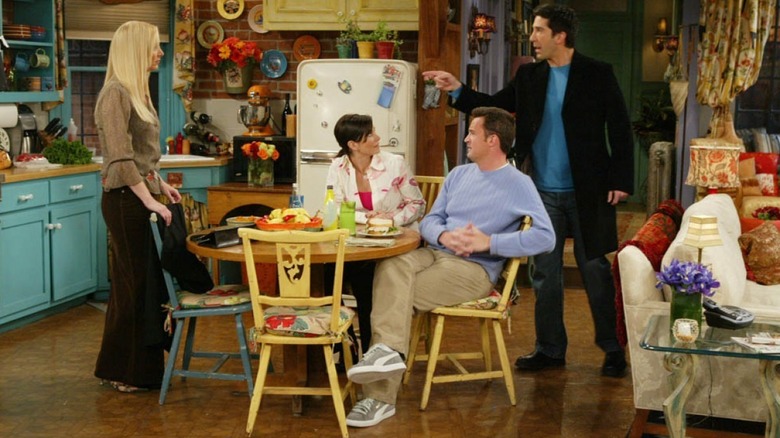 NBC
When it came to memorizing lines, no one in the "Friends" cast struggled more than Courteney Cox and "Friends: The Reunion" revealed that Cox hid her script in Monica and Rachel's kitchen sink. Lisa Kudrow said she noticed the script in the sink all the time but had no idea what it was doing there. She didn't find out until much later that it was a tool for her forgetful co-star. Cox joked that she had "memory issues" and admitted to having her lines hidden in the apple bowl, which often moved around the apartment's kitchen.
Matt LeBlanc also called out Cox for writing her lines directly onto the kitchen table, something that confused him when he first saw it. He recalled Cox telling him to mind his business when he asked about it and then decided to mess with her in true Joey fashion by erasing all of them before they filmed one night. "She got so mad at me," LeBlanc said. At the end of the day, Cox's trick worked and viewers were never privy to her sneaky tactics.