The Marvelous Mrs. Maisel Season 4 Set Photos Take You Behind The Scenes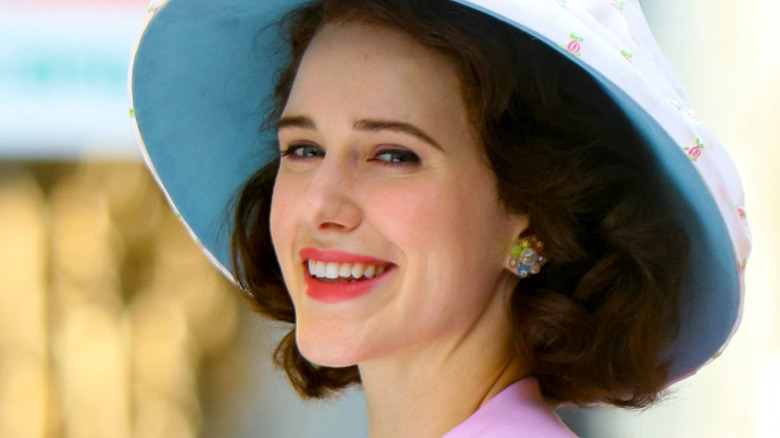 Amazon Studios
For fans of "The Marvelous Mrs. Maisel," the wait for new episodes has been too long. Season 3 of the award-winning comedy series premiered on Amazon in December 2019, following Midge (Rachel Brosnahan) as she embarks on her first major tour as the opening act for Shy Baldwin (LeRoy McClain). As she navigates this new, expanding world of comics, Midge can't seem to stay away from Joel (Michael Zegen) despite a divorce, while her parents find new avenues for money and happiness after Abe (Tony Shalhoub) leaves his job. At the same time, Midge's manager, Susie (Alex Borstein), takes on Sophie Lennon (Jane Lynch) as a new client, helping her transition her career into drama acting. 
Shortly after "the series' most watched opening weekend ever," as reported in a statement by Jennifer Salke, Head of Amazon Studios, the streaming network renewed the show for a fourth season, planning for production to start in early 2020 (via TVLine). Fans were ecstatic, but everything came to a halt a few months later when COVID-19 hit and productions shut down. This didn't mean that "The Marvelous Mrs. Maisel" Season 4 wasn't coming, but it was going to take a little while longer. Thankfully, in January 2021, after what Deadline reported as a "lengthy pre-production" making all the sets and costumes for new episodes, the Amazon series officially started production on its fourth season. 
Considering how long fans have waited already, they can survive a little longer, right? Fortunately, new photos from the set of "The Marvelous Mrs. Maisel" Season 4 give fans a sneak peek at the progress of new episodes, along with some of the beautiful costumes to appear. 
Rachel Brosnahan films new scenes as Midge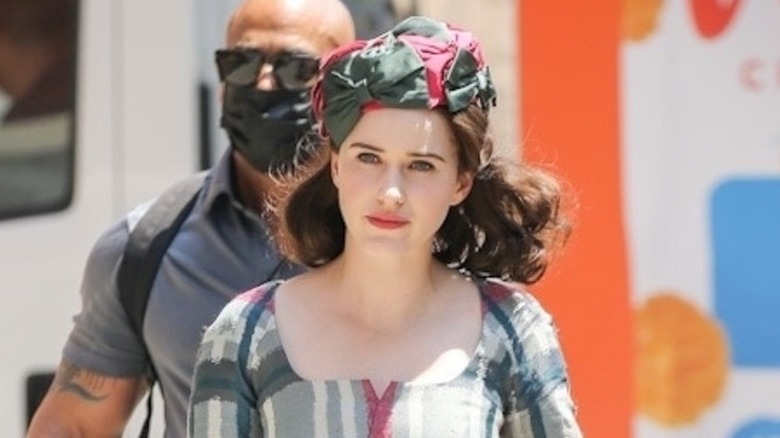 Fernando Ramales/BACKGRID
In new set images for "The Marvelous Mrs. Maisel" Season 4, Brosnahan looks focused and happy as she travels across set and chats with fellow cast members and staff. While it's safe to say that Midge definitely isn't wearing slip-on sneakers as Brosnahan is in the photos, the rest of the actress's outfit is on par with her character's style. With a pink, gray, and orange dress, and a bow-topped hat that could only work in the 1960s, Midge looks ready to go, whether it's to a friend's house, a business dinner, or even an upcoming performance. In one image, Brosnahan stands beside another actress in full costume wearing a bright blue dress, as the two talk and get ready to film a scene.
As for what plotline might be happening in this scene, it's unclear. At the end of Season 3, Midge is cut from her tour with Shy, while Susie attempts to comfort her friend. But unbeknownst to Midge, Susie gambled all of her money away and is attempting to recoup the funds through insurance fraud. With no tour and little money, there's no way Midge can get her old apartment back, and the future of her comic career is uncertain. Oh yeah, and Midge and Joel got remarried one crazy night in Las Vegas, so there's that to deal with too. It's anyone's guess what will happen to Midge and the rest of the characters next, so fans will just have to tune in when "The Marvelous Mrs. Maisel" returns with Season 4.