The Untold Truth Of Marvel's Franklin Richards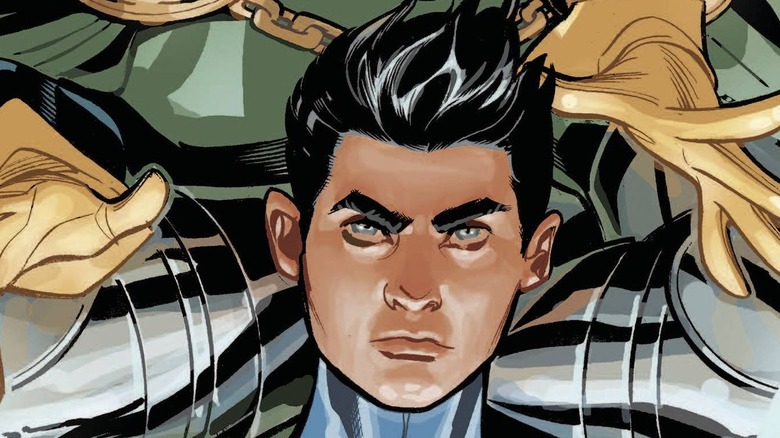 Though the Fantastic Four have received several movies over the years (and are likely to re-surface in the MCU soon), the world at large has yet to meet one of the team's most interesting members: Franklin Benjamin Richards. 
Introduced in 1968 in "Fantastic Four Annual #6," Franklin is the son of the FF's founding couple, Reed Richards and Susan Storm. He was born with some of the most powerful abilities in the Marvel Universe, including the ability to warp, create, and alter reality as he sees fit. 
In Marvel Comics, with such power inevitably comes complex and cosmic story beats, creating an often convoluted history that sometimes overshadows his marvelous character traits. Over the years, just about every aspect of his character has changed, often multiple times, as he explores his reality-warping powers, and though he has yet to go full "House of M" Wanda Maximoff on the Marvel Universe, it has made his life a complex tapestry that even long-time readers would need a roadmap to unravel.
Cosmic Rays nearly killed him at birth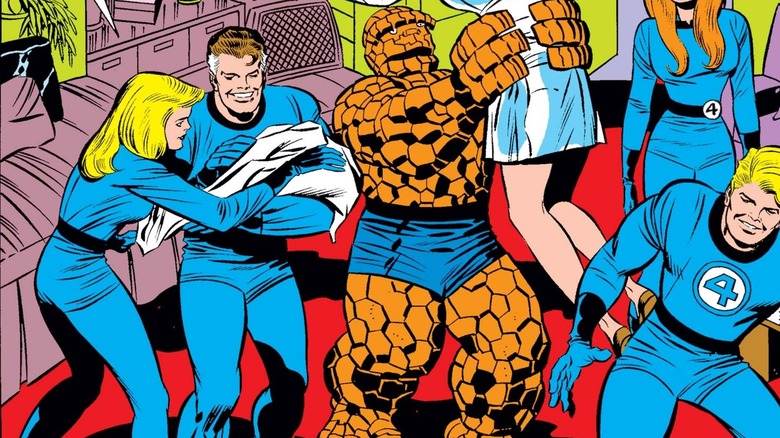 Reed Richards, Susan and Johnny Storm, and Benjamin Grimm became the Fantastic Four when a foolish space-flight exposed the quartet to "cosmic rays" that changed their biology forever, giving each member a unique set of super powers. When Reed and Sue decided to have a child, however, their altered biology would ultimately create a slew of unforeseen complications during childbirth, putting both the child and Susan's life at risk. 
Told in 1968's "Fantastic Four Annual #6," a desperate Reed Richards races to find a solution, to find some way to save his beloved wife and their unborn son. He discovers that a strange energy is damaging their cells and that the only object that can negate the energy is an item called the Cosmic Control Rod. This rod is an incredibly powerful device, and it makes perfect sense that it could save Sue from this science fiction illness. 
Unfortunately for everybody involved, the rod is possessed by one of the Fantastic Four's most powerful foes, Annihilus, and he lives in one of the most dangerous dimensions the FF has ever explored — the anti-matter Negative Zone, a place where a mere misplaced touch can bring instant annihilation. Of course, Reed, Benjamin, and Johnny go there anyway and manage to get the Cosmic Control Rod away from Annihilus, just long enough to collect an energy sample from the device that saves Sue and Franklin's life. 
He is Marvel Comics' firstborn son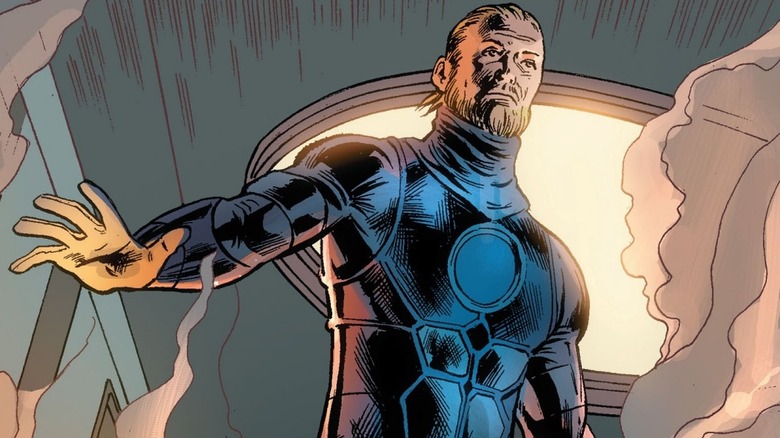 The Fantastic Four are considered Marvel's First Family, and with good reason. They were literally the first characters created by Stan Lee and Jack Kirby, as a part of Marvel's Silver Age renaissance. They were also the first example of the pair's new formulas for superheroes that focused just as much on their inner faults, foibles, and personal drama as it did on super-heroics. 
Despite the fact that they were made as a response to DC Comics' "Justice League of America," the Fantastic Four weren't just another superhero team. They were literally a family — and like many families, they bickered and quarreled amongst each other. 
Franklin Richards has an importance every bit as notable as his parents. Though there are other superheroes and villains who have had children (like Magneto's twins, Quicksilver and the Scarlet Witch), they were typically introduced to audiences as adults. Franklin, on the other hand, was the first child in the Marvel Universe to be born "on-screen" in the present day. He is the First Family's Firstborn Son. 
He isn't actually a mutant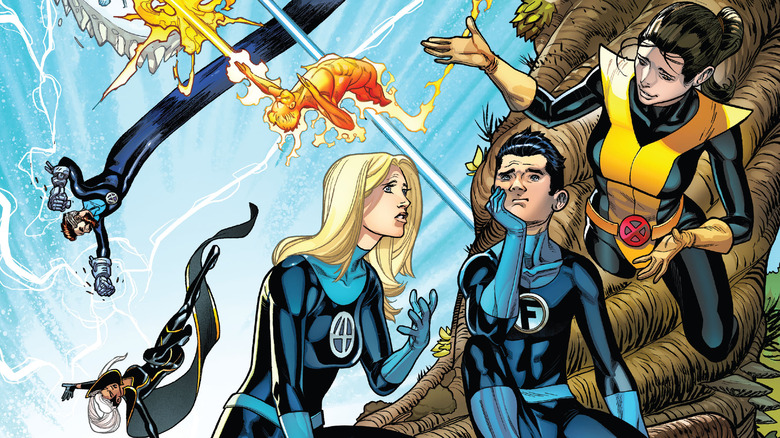 When two superheroes have a son, people expect that child to develop powers — but they don't usually expect them to be manifested in a toddler. 
After suffering a defeat in 1973's "Fantastic Four" #130 at the hands of the Frightful Four (the FF's evil counterpart), the team receives some startling assistance from Franklin, as he simply wills Ben to wake up sooner than their enemies expected, allowing the Thing to free the FF and save the day. 
Franklin had suffered no accidents like his parents, and was simply born with his abilities. Because of this, the superhero community believed he was a mutant like the members of the X-Men, even though his powers appeared long before adolescence, when mutant abilities traditionally develop. 
This fact may have been a sign, as Franklin would eventually discover that he is not, in fact, a mutant. Mutants aren't just people who are born with powers; they have a specific gene in their cells called the "X-Gene," and it is this genetic difference that makes them a mutant. 
Though Franklin appeared to have had this genetic marker for most of his life, Charles Xavier discovered in 2020's "Fantastic Four" #26 that this was something that Franklin willed into existence and he was not, in fact, a mutant. Instead, Franklin was a mutated human who gained his abilities by inheriting the genetic changes wrought by his parents' exposure to cosmic rays.
WandaVision's big bad was Franklin's nanny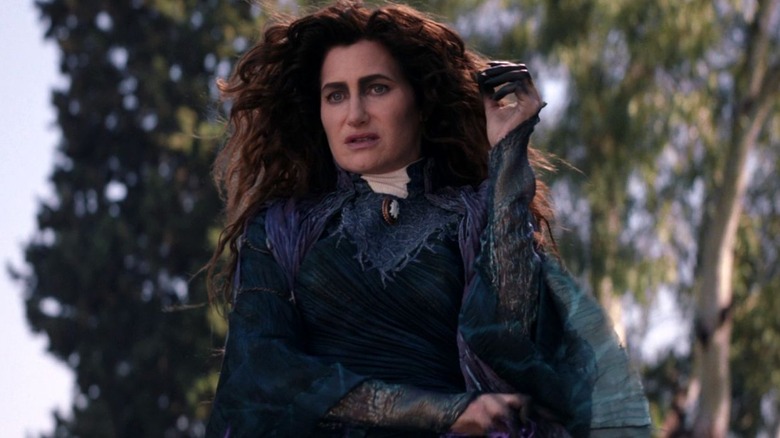 Fans of Disney+'s "WandaVision" were shocked to discover that the show's villain had been "Agatha All Along," but they might be even more shocked to know that in the comics, the villainous sorceress was the nanny and governess of one Franklin Richards. Though Agatha Harkness might seem like a strange choice, she was actually instrumental in keeping Franklin safe and helping the child cope with his emerging reality-warping powers. 
Introduced in 1970's "Fantastic Four" #94, Harkness is at least several centuries old, and after spending much of that time attempting to gain and wield power, she eventually "retired" to become a governess for those who needed it most. When Reed and Sue asked her to watch over Franklin, she knew an offer from the Fantastic Four would prove too interesting to refuse. 
Harkness essentially joined the Fantastic Four, even moving into the Baxter Building. She used her mystic abilities to help the team defeat their foes, to warn them of coming threats, to save them when they were ill or in danger, to protect Franklin, and to help him control his powers. 
His baby sister is smarter than he is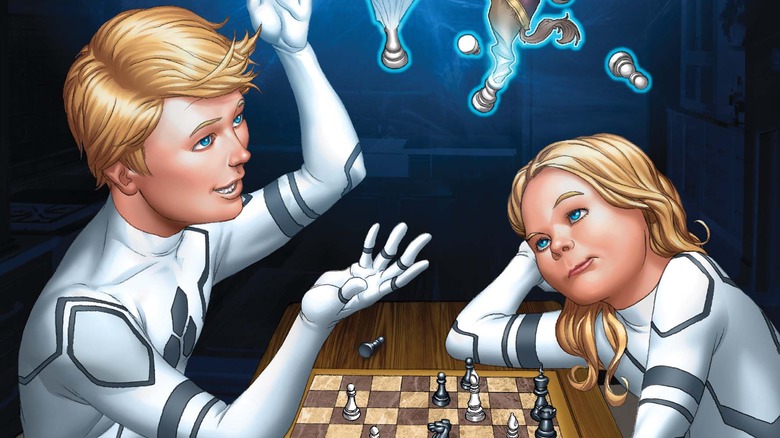 Though he may be Marvel's firstborn son, Franklin Richards is not an only child. His baby sister Valeria has been smarter than him since she was three. 
To say that Valeria's story is complicated would be a massive understatement — though, the fact that she has three different first appearances should give readers and idea why this is. 
Conceived in the Negative Zone in "Fantastic Four" #254, Valeria's birth was even more complicated than that of Franklin, but unlike her older brother, she didn't survive her delivery in "Fantastic Four" #267. Her miscarriage was a tragedy, but when Franklin tried to bring her back to life with his cosmic powers, it took the combined scientific and mystic might of Doctor Doom (the FF's main archenemy) to stabilize her and allow her to finally, truly be born in 2002's "Fantastic Four" #54. 
As an infant, Valeria seemed as normal as any other child. But like her brother, she developed powers as a toddler after she turned three. While Franklin could rewrite the very fabric of reality, Valeria was gifted with a nearly unmatched intellect, becoming a literal child genius. Though she initially chose to keep her powers a secret in "Fantastic Four" #558 because she was afraid it would hurt her family's dynamic, she eventually revealed her intellect to her family in "Fantastic Four" #562, and subsequently began working alongside her father in his laboratory. 
His favorite superhero used to be Spider-Man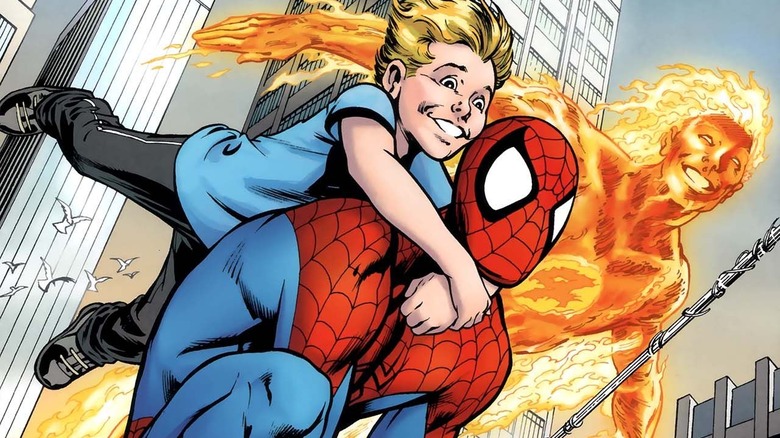 Spider-Man has always had a unique and special relationship with the Fantastic Four. In fact, the very first issue of his solo comic book series in 1963, "The Amazing Spider-Man #1," involved Spider-Man trying to join the team, something he has done multiple times in the decades since. Between this and Spider-Man's frequent team-ups with his good friend Johnny Storm (aka the Human Torch), it's not surprising that Spider-Man and Franklin have grown close over the years as well, firmly cementing the Web-Head as his favorite superhero for the early years of the boy's life. 
A story called "Uncles" told across "Fantastic Four" #587 and 588 perfectly highlights the pair's bond. After Johnny, Franklin's uncle, dies saving the world from Annihilus in #587, Spider-Man swings by the Baxter Building to see how Franklin is coping with the loss, telling Franklin about how he lost his own Uncle Ben when he was a kid.
It might seem hard to imagine who else could possibly become Franklin's favorite superhero. But in "Future Foundation" #5, he reveals that it is in fact his mom. Susan is easily the most powerful member of the founding four, and she has long served as the team's foundation and moral backbone, keeping them going when all seems lost. Franklin's mom is incredible, and he knows it. 
He likes watching Superman cartoons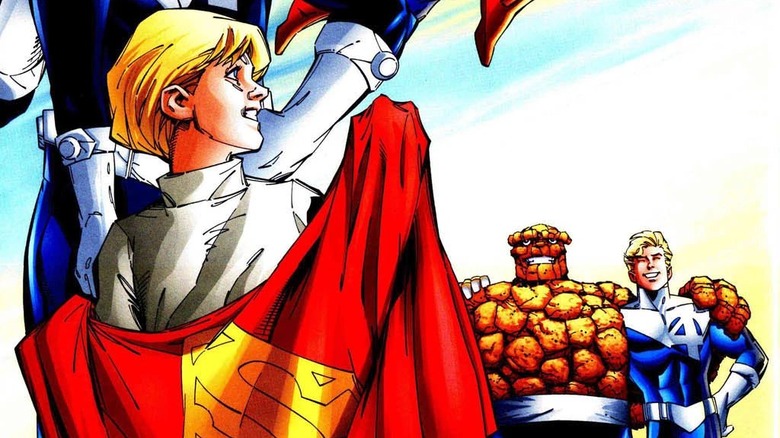 In the mid-nineties and early 2000s, Marvel and DC Comics decided to finally publish crossovers between their two universes of superheroes. These efforts resulted in stories like "JLA/Avengers" in 2003 and "DC vs Marvel" in 1996, but perhaps the most affective crossover was between Superman and the Fantastic Four. Published as a single, oversized, 10" by 14" "Treasury Sized" magazine, the comic was created by Dan Jurgens — famous for extended runs writing and drawing both Superman and the Fantastic Four. 
Simply titled "Superman Fantastic Four" #1, the comic starts with the Fantastic Four hanging out at home as Franklin watches what is clearly meant to be "Superman: The Animated Series," hoping that he might one day meet the Man of Steel himself. Though the story establishes that Superman is a fictional character in the Marvel Universe, it also makes clear that he really does exist on some alternate world, and when Superman suddenly appears through a portal, Franklin's dream comes true. 
The story itself is rather complicated. Superman becomes a herald of Galactus, and the FF have to fight a Superman villain named Hank Henshaw, who is essentially DC Comic's version of an evil Fantastic Four. Franklin sits most of the story out, but enters again at the very end to say goodbye to Superman, who gives the young boy his cape as a goodbye gift. 
His age is in a constant state of flux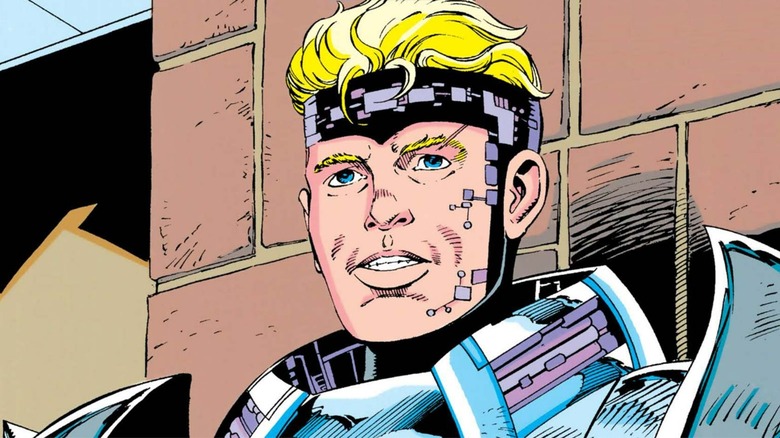 As a medium, superhero comics are famous for moving far slower than reality. For every decade the real-world spends publishing comic books, a year might finally have passed within the fictional universe the superheroes inhabit. As such, Franklin's age has been in constant dispute, something that comics like "Fantastic Four" #574 poke fun at. 
He was a new-born infant in 1968's "Fantastic Four Annual" #6, a toddler five years later in 1973's "Fantastic Four" #130, an eight to twelve-year-old in 1999's "Fantastic Four" #24, and was roughly the same age a decade later in 2009's "Fantastic Four" #574. It is only in 2020, with books like "X-Men + Fantastic Four 4X" that Franklin finally began his teenage years, decades after his publishing debut. 
As if this wasn't enough, Franklin's age is even further complicated by time-traveling shenanigans and his own reality-warping powers. In one storyline that began with 1993's "Fantastic Four" #376, Franklin was whisked away into the future to be trained and raised by his grandfather, Nathaniel Richards, and returned as an older teenager who now had full control of his vast abilities and had adopted the code-name "Psi-Lord." 
This was eventually completely undone and Franklin was reverted to his normal age as a child, but the idea of an adult Franklin Richards who has fully mastered his reality-warping powers and uses them to visit his family in the past is one that has never really gone away. 
He is the most powerful human in the Marvel Universe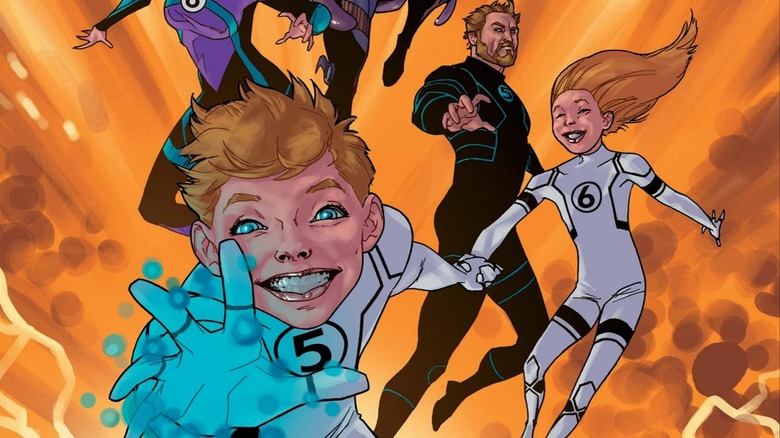 Though this may already be apparent, Franklin Richards' ability to warp and shape reality makes him the most powerful human in all of Marvel Comics, and one of the most powerful beings within it entirely. 
He can do literally anything, and have virtually any power that he wishes. As a child, his only limit was that he seemed to be able to temporarily burn out his powers if he overused them, but this weakness seems to have completely disappeared by the time he'd grown into an adult. 
In comics like "Fantastic Four" #604, Franklin Richards has proven able to fight Celestials, some of the most powerful beings the Marvel Universe has ever seen, and was even able to defeat the all-mighty Galactus, a being who was able to survive the destruction and rebirth of the multiverse, as revealed in "Fantastic Four" #262 and "Super-Villain Classics" #1. 
He once turned Galactus into his herald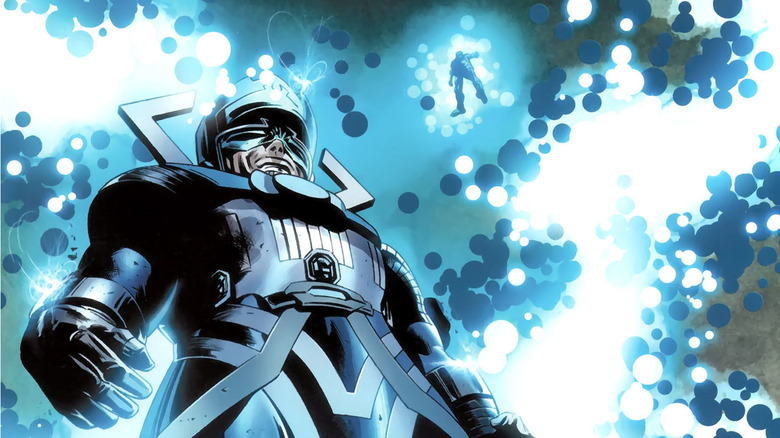 When a group of Mad Celestials sought to destroy the universe on a whim in "Fantastic Four" #603, the team did everything they could to stop them, going so far as to act like mad scientists and build a doomsday weapon called the "Hub." Reed and Sue even summoned Galactus in the hopes that he could defeat the Celestials — but after a brief fight, he too was obliterated and cast down. 
When all seemed lost, however, adult versions of Franklin and his sister Valeria arrived from the future to save all life as we know it. Looking for help, Franklin used his likely-limitless power to simply resurrect the fallen Galactus and make the cosmic being his herald as Galactus had done to others (such as the Silver Surfer) many times before. Together, the pair defeated the celestials in "Fantastic Four" #604, saving all life in the universe before returning whence they came.
He will one day observe the heat-death of the Marvel Multiverse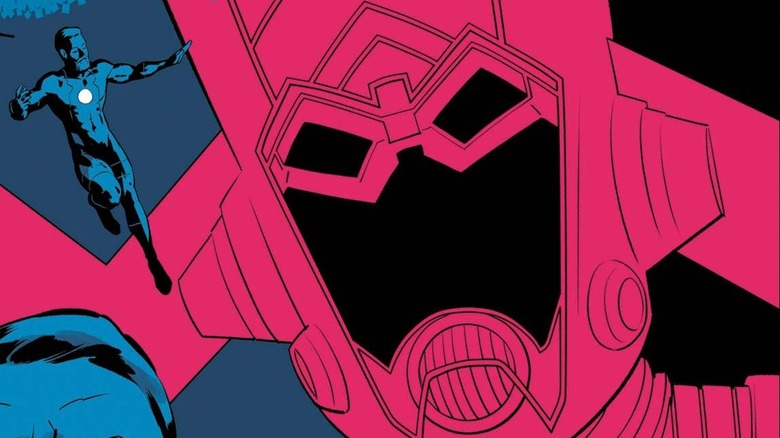 After the future, adult version of Franklin Richards and his new herald, Galactus, saved the universe from the Mad Celestials in "Fantastic Four" #604, they developed a strong bond forged upon their shared power and circumstance. 
They were equals, both fueled by the power cosmic, who were also immortal. Once he met Franklin, Galactus knew that he wouldn't need to face the heat death of this universe alone, for Franklin would still be there with him to see it through. 
This prospect is actually fulfilled in 2019 in the "History of the Marvel Universe" series, written by Mark Waid and illustrated by Javier Rodriguez. The series serves as a new review of the Marvel Comics canon, and it uses the conversations between Franklin Richards and Galactus at the end of time as the framing device to tell its story. Essentially, the two friends are reminiscing about the universe as it slowly ends in front of them, and this remembrance is the vehicle through which Waid chooses to retell the many events of the Marvel Universe. 
He married Phoenix and their child became a supervillain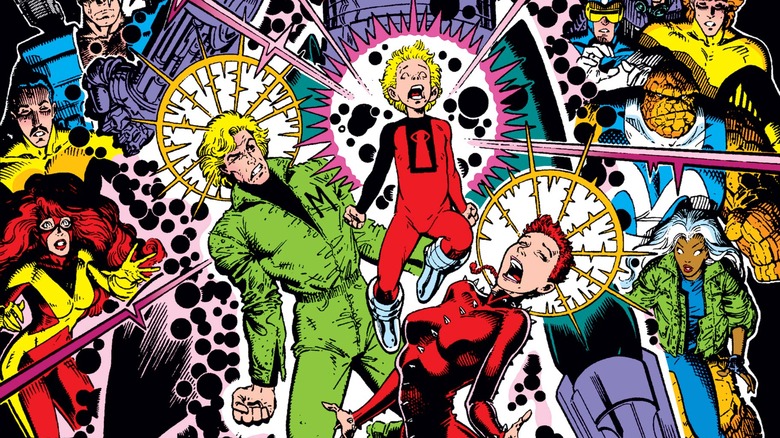 The X-Men have a number of legendary stories, and "Days of Future Past" is one of their most famous. Told across "Uncanny X-Men" #141 and 142, the story explores an alternate future where mutants have been all but eradicated by the metallic monstrosities known as Sentinels. Though the main Marvel Universe manages to avoid this fate by the end of the story, the alternate future soon became a fan-favorite, and would be revisited numerous times over the years. 
One such visit would create a new villain called "Hyperstorm," who was the child of the alternate reality's versions of Franklin Richards and Rachel Summers (the second Phoenix). His name was Jonathan Reed Richards, and between Franklin's reality-warping powers and a possible connection to the cosmic Phoenix Force, Hyperstorm became one of the most powerful villains of all time, conquering every world he could find in his reality before turning his eyes to the original Fantastic Four. 
Hyperstorm toyed with Marvel's First Family, and even managed to defeat a teenage version of Franklin Richards known as "Psi-Lord," who had finally gained control of his reality-warping abilities. To defeat the villain, Reed Richards was ultimately forced to help resurrect Galactus in "Fantastic Four" #414, so the villain could feed on Hyperstorm's cosmic energy and defeat him once and for all. 
He's only mostly omnipotent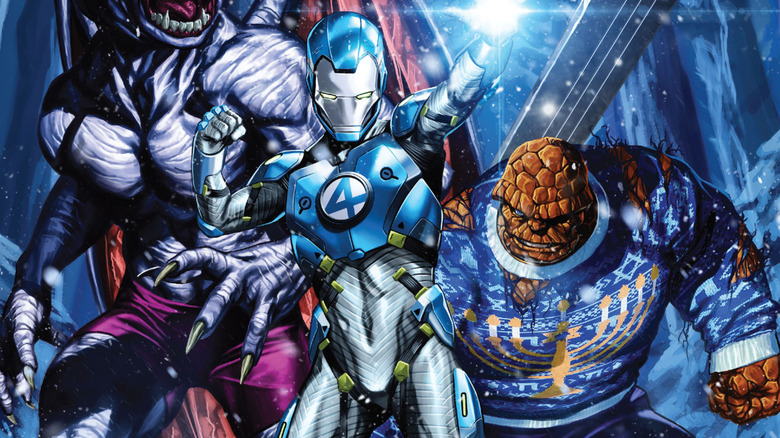 Despite the fact that Franklin Richards can literally rewrite reality on a whim, he still falls short of pure omnipotence. His great power, though limitless in scope, is limited in capacity — and grand uses of his powers often empty Franklin's tank for a time until he can fully recover. 
This first happens in 2002's "Fantastic Four" #49, when Franklin drains his powers completely in order to resurrect Galactus yet again so that he can stop another uber-powerful villain named Abraxas. He remained powerless until his future self traveled back in time and unlocked his potential once again in "Fantastic Four" #574. 
Franklin Richards began losing his powers again after he exhausted them restoring the multiverse following Marvel's "Secret Wars" event in 2015. With Franklin's powers gradually diminishing and no way of knowing when or if they would return, Reed decided to give his son a gift in "Fantastic Four" #27 until his powers resurfaced: his very own suit of Iron Man armor. Originally worn by his father during Marvel's "Empyre" event, Franklin donned the armor so he could continue fighting side-by-side with his family until his limited omnipotence returned.