The Political Mockumentary Hidden Gem You Can Stream On Hulu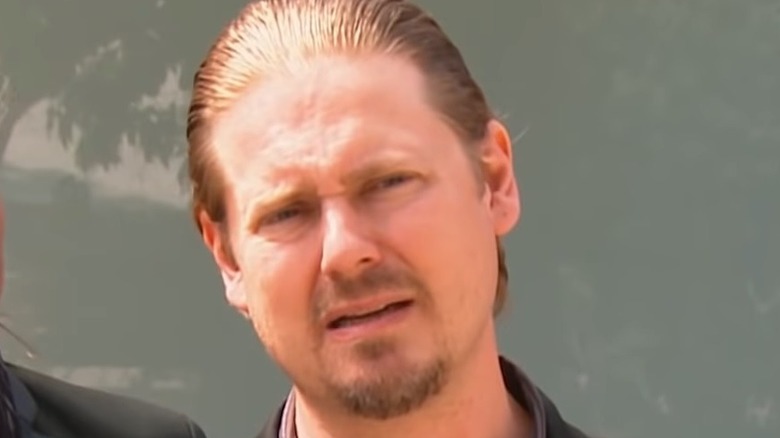 Magnolia Pictures
Although the state of politics in the US is often no laughing matter, sometimes a comedic approach is necessary to really get to the heart of an issue.
"Mister America" comes from the minds of Tim Heidecker and Gregg Turkington, the creators of the web series "On Cinema," as well as director Eric Nortanicola. The film is both a continuation of storylines that began on their satirical series, as well as a standalone look at the intersection of political gravitas and toxic masculinity.
The mockumentary follows Heidecker's fictional version of himself as he launches an ill-advised and highly improbable campaign to be district attorney of San Bernardino County in California. While Heidecker believes he's a shoo-in for the job, he has many hurdles to leap. Among them are the fact that he's not a lawyer, has no political experience, and is specifically running to get revenge on current DA Vincent Rosetti (Don Pecchia). Will he manage to break through the political fray despite his lack of experience and skill, or will the voters of San Bernardino County see through his grandstanding?
Released in 2019 and currently available on Hulu, "Mister America" has a narrative that is contained to its own fictional story but also provides some obvious commentary on certain phenomena of modern American politics. And although the movie doesn't outright address the Donald Trump sized elephant in the room, its creators did have the former president in mind while spinning this particular tale.
Why the team behind Mister America are the perfect people to tell this story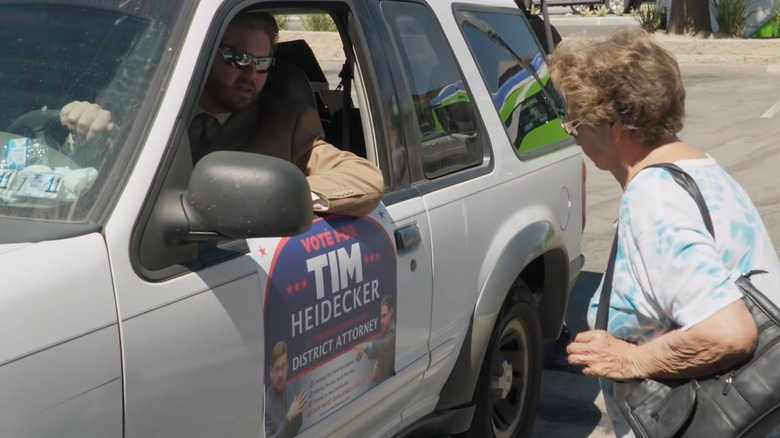 Magnolia Pictures
Anyone who remembers the 2016 US presidential election will likely notice some similarities between Heidecker's DA campaign and that of former President Trump. That isn't lost on the creators of "Mister America."
During an interview with Polygon, Heidecker addressed the ways in which "Mister America" tries a specific comedic approach to a well-worn subject. "A lot of times we don't exactly know what we're going to do until we do it, but someone told us, after a screening, that it was comforting to watch this Trumpian character lose and fail," Heidecker revealed. He went on to say of the film, "It's less satire about corrupt politics and more of an argument for a 'normal' political process. To show that people like my character should not be taken seriously as a candidate."
In many ways, Heidecker and Turkington are the perfect people to take on such a Herculean task. Even before "Mister America" took a more direct approach to politics, their characters in "On Cinema" were addressing many of the underlying issues at play when it comes to figures like Trump.
Turkington spoke about this connection to Vice, saying, "I think we were ahead of the curve on some of these issues, but it's nothing that you can feel proud about." He also revealed, "Tim has been pretty obsessed with Trump from way back when there was a zero-percent chance that the guy would get a single vote for president ..."
"Mister America" is currently available to stream on Hulu.