The Trailer For Chris Pratt's New Movie The Tomorrow War Has Arrived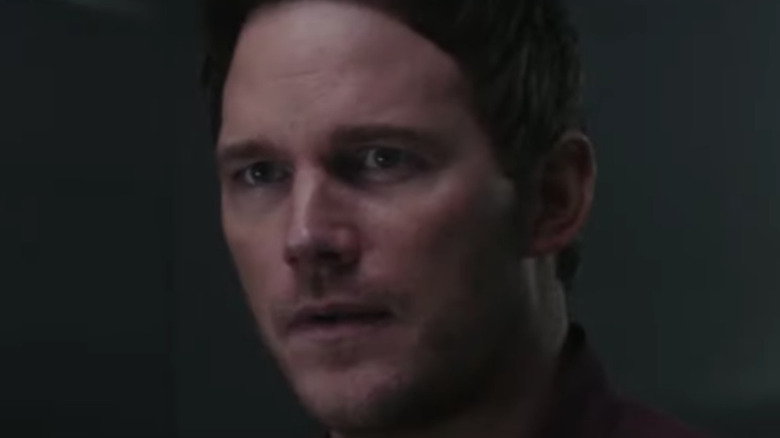 Amazon Studios
If Chris Pratt wasn't busy enough preparing for his roles in which he saves the world from dinosaurs in "Jurassic World: Dominion" and saves the galaxy in "Guardians of the Galaxy 3," he's added another job for himself: saving humanity from a future alien invasion in "The Tomorrow War." The film, to which fans have reacted both positively and not so positively, just released its trailer and reactions in the YouTube comments range from "This actually looks really good" (YouTuber butter doge 2) to "Why do I feel like i saw this movie 30 times already??" (YouTuber Space Cowboy).
"The Tomorrow War," which will be released by Amazon Studios, centers around Dan Forester (Pratt) getting drafted by time travelers from the future to fight in an intergalactic war against aliens who threaten the existence of humanity. Though Pratt refused to reveal much about the movie, other than "Yvonne Strahovski is awesome in it, and so is J.K. Simmons" in an interview with Mens Journal, the trailer gives viewers a little more insight as to what to expect, including Dan being implanted with a device that allows him to jump to and from the future, the fact that 70% of draftees in the war will die, and that he has less than 11 months to save the world.
The Tomorrow War cast a surprising amount of comedy veterans
Though "The Tomorrow War" is undoubtedly a sci-fi action flick, it shouldn't be a surprise if the movie is filled with a fair amount of quips from its stars, as many of the cast hail from the world of comedy. At this point, most Chris Pratt fans know the star went from playing the goofy and lovable Andy Dwyer for seven seasons on "Parks and Recreation" to becoming one of the most bankable Hollywood actors (via Entertainment Weekly). But the film's director, Chris McKay, also worked as a writer, director, and producer on hit Adult Swim comedy shows including "Moral Orel" and "Robot Chicken" and often worked with "The Lego Movie" directors Phil Lord and Chris Miller. Mary Lynn Rajskub, who plays Norah in the film, worked as a standup comic for years and, before landing her most memorable role as Chloe on "24," she had a recurring role on "The Larry Sanders Show" and guest starred on "It's Always Sunny in Philadelphia."
Betty Gilpin, who is most notable for her role as Debbie Eagan on the Netflix comedy series "Glow," stars as Dan's wife, Emmy. Yvonne Strahovski starred as CIA Agent Sarah Walker on the action-comedy series "Chuck," and Oscar winner J.K. Simmons has appeared on comedies ranging from "BoJack Horseman" to "Brooklyn Nine-Nine" and "Parks and Recreation." And of course Sam Richardson, who can be seen in the trailer telling Dan "it was nice knowing ya" when faced with the prospect of humanity ending, played Richard Splett in "Veep" and, in addition to appearing in various comedy films over the years, co-created the critically beloved, but cancelled comedy series "Detroiters."