Fans Have A Lot To Say About The First Look At Chris Pratt's New Action Flick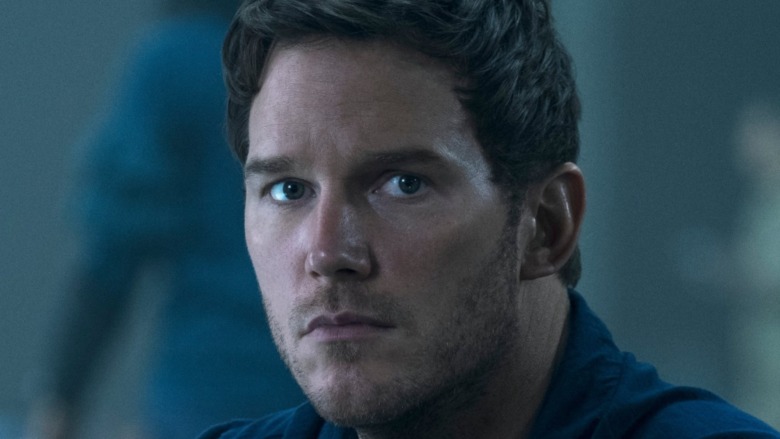 Amazon Studios
Over the course of his career, Chris Pratt has famously transformed from an endearing character actor into a leading man. When the first "Guardians of the Galaxy" film was initially released, Pratt debuted a newly-jacked body as the film's central character Star-Lord. Since then, Pratt has left his days as the goofy Andy of "Parks and Recreation" behind him and has continued to work firmly within the realm of blockbuster films.
Pratt is currently slated to star in three upcoming releases. "Jurassic World: Dominion" will be the third in a series of "Jurassic World" films that are both sequels to the original "Jurassic Park" films and a trilogy in their own right. Pratt starred in the first two films and will reprise his role in the third. Of course, "Guardians of the Galaxy 3" is also set to feature Pratt in its lead role given his importance to the franchise, and likewise the franchise's importance in making him an A-list actor. Finally, Chris Pratt will star in "The Tomorrow War," an original science fiction story in which Pratt will lead a team of soldiers fighting an alien invasion in their future.
On April 27, Entertainment Weekly shared some of the first official photos from "The Tomorrow War." In response, fan reactions online have been decidedly mixed. While some found the initial set of photos bland or uninteresting, others are excitedly anticipating Pratt's central role as well as those of his co-stars.
Begun, the tomorrow war has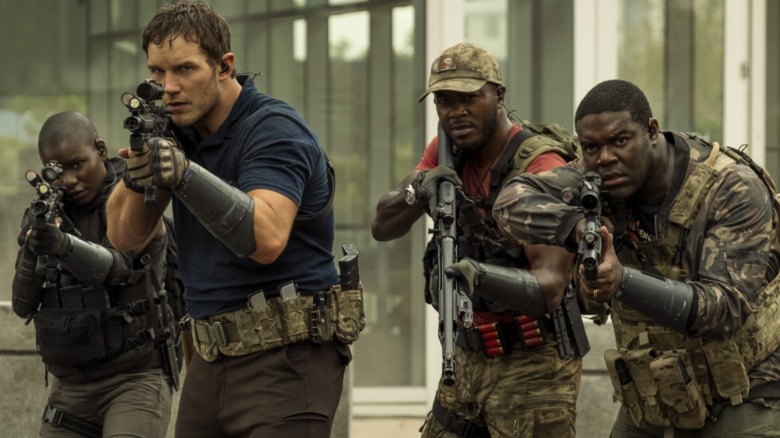 Amazon Studios
In response to the first photos of "The Tomorrow War" appearing on Twitter, a Chris Pratt fan account, @dwyermacklin replied, "THIS LOOKS AWESOME!!!" Another Twitter user, @Monal_tweets, was similarly excited for Pratt's starring role, sharing that they think he "look so cool now."
On Reddit, however, sentiment toward the film has been predominately negative. User TurtleTucker found the initial images to look "as generic as an action movie comes." Reddit user DoggieDocHere, meanwhile, described Pratt as "bland, wooden, [and] un-charismatic."
Some of the supporting cast of "The Tomorrow War" has drawn a fair share of attention too. Reddit user TheDadThatGrills noted that Richard Splett, the name of the character portrayed by Sam Richardson on "Veep," would be an unlikely choice for a futuristic supersoldier. Richardson appears in "The Tomorrow War" as a character credited only as Charlie (via IMDb). Twitter user @StarkJeweIs laid out their take on the film plainly: "I see JK Simmons, I watch."
Finally, Mike Mitchell, who hosts cult favorite podcast DoughBoys on which he semi-regularly references his role in "The Tomorrow War," became the unlikely subject of numerous responses to the first images of the film. Twitter user @Really_Allan, in response to Mitchell's central position in one of the new photos, noted that "Mike Mitchell [is] front and center on that poster, just as he should be." User @lord_volta simply cheered on Mitchell's involvement with a gif of the actor and "Let's go Spoonman!" referencing his nickname on the Doughboys podcast. On Reddit, meanwhile, the comment with the second-most upvotes asked "Where's my Mitchy Two-Spoons?" referencing another nickname of Mitchell's on his podcast
According to Observer's Brandon Katz, fans can expect a trailer for "The Tomorrow War" on April 28.