Emily Blunt's Latest A Quiet Place Remarks Have Fans Freaking Out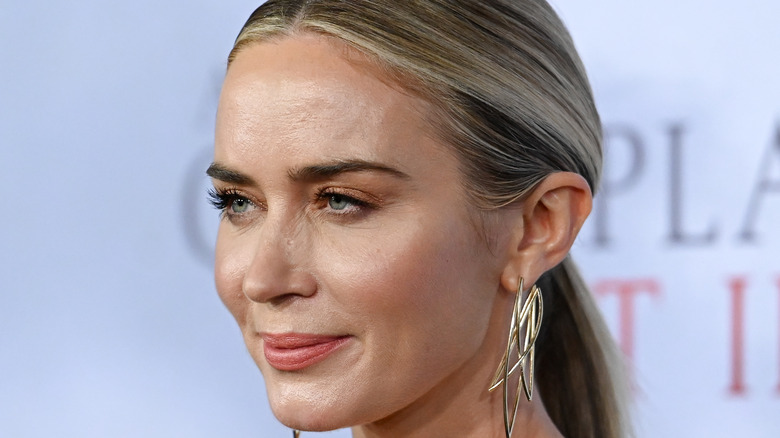 Mike Coppola/Getty Images
After a world premiere in New York City in March 2020, just before the country went into lockdown for COVID-19, the sequel to "A Quiet Place" is finally getting its wide release in theaters. The reviews are already in, ahead of the release date, and critics are saying a lot of good things about "A Quiet Place Part II," John Krasinski's followup to his 2018 hit, which was one of the best horror movies of that year. After co-writing the first film with Bryan Woods and Scott Beck, Krasinksi took over the writing reins himself for the sequel.
Both films star Krasinski's wife Emily Blunt as Evelyn Abbott, a mother fighting to keep her children safe from creatures with hypersensitive hearing that hunt down anything that makes noise. With the film's release date approaching, Blunt has been doing tons of press lately in promotion. But, since the film was technically supposed to come out over a year ago, she had done some press in early 2020 as well. Collider just published one of those earlier press interviews, during which Blunt made some remarks that fans of "A Quiet Place" will be very happy to hear. Here's what she had to say.
More "A Quiet Place" films could be coming
In the video interview with Collider, interviewer Steve Weintraub brought his discussion with John Krasinski up with Emily Blunt, saying that Krasinski admitted to already thinking about a third film. In response, Blunt says, "He has a whole arc of ideas that could work. I think he just wanted to see how people responded to this one before he fully engaged his brain on the third one. But he has a couple of great ideas." Blunt also revealed the advice she gave to Krasinski when the sequel was in development. Namely, she told him to think of it "not as a sequel," but as "just a continuation" — the idea of it being "chapter two" inspired the film's name "A Quiet Place Part II."
On this topic, Blunt continued, "There was such an investment in this family, such mileage for expansion on this kind of extraordinary world that this is the continuation ... I think there's room [for more]." Fans of "A Quiet Place" are surely making a lot of noise with that news.