Why A Quiet Place's Script Made Emily Blunt Cry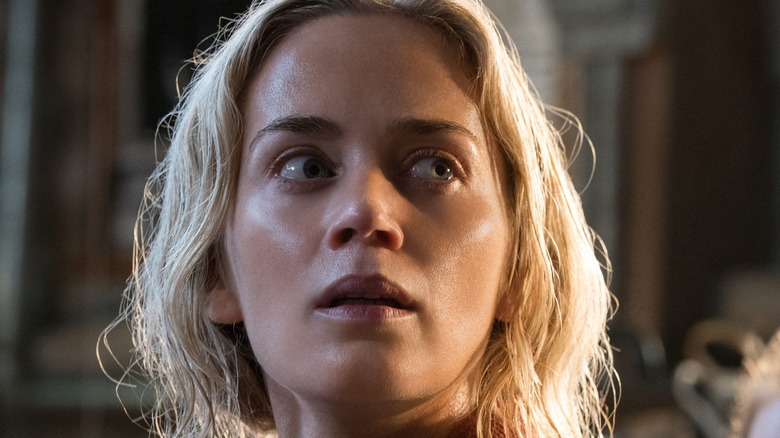 Paramount Pictures
From 2005 to 2013, the American incarnation of "The Office" so utterly permeated the popular zeitgeist that even if you'd never seen a single episode, you knew the concept and the main players. "The Office" is a rare example where so many of the cast's careers continued an upward trajectory the show ended. Rainn Wilson (who played Dwight Schrute), Mindy Kaling (who portrayed Kelly Kapoor and worked as writer on the series), Ed Helms (Andy Bernard), Ellie Kemper (Erin Hannon), Craig Robinson (Darryl Philbin), and, of course, Steve Carell (Michael Scott) are all people we continue to see on TV and in film. 
Another former "Office" star worth mentioning is John Krasinski, who played Jim Halpert. Not only is Krasinski now the face of Jack Ryan in the latest Tom Clancy series on Amazon, but he's also found success as a filmmaker with "A Quiet Place" and its upcoming sequel "A Quiet Place Part II." Recently, "A Quiet Place" star — and Krasinski's wife – Emily Blunt chatted with Howard Stern about her husband's transition to filmmaking, and why the script for "A Quiet Place" brought her to tears.
John Krasinski is more than just Jim Halpert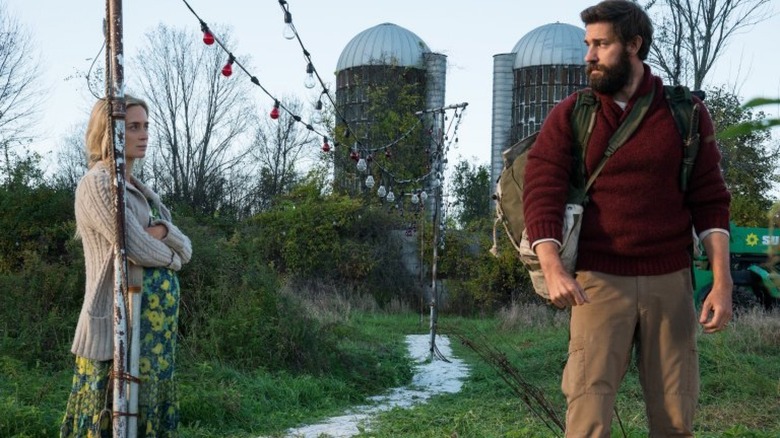 Paramount Pictures
During a recent appearance on SiriusXM's "The Howard Stern Show," Emily Blunt said that she was blown away by the script for "A Quiet Place," which John Krasinski wrote, and reading it made her emotional: "I read it on a plane. And I turned around and I really had a cry because it was astonishing. And I said 'Is there any way you would want me to do this movie with you?'"
Not only was she emotional because the story was so captivating and it was something her husband had written, but Blunt was also teary-eyed because witnessing her husband's talents blossom was a powerful experience. "I've always known he is supremely talented, and actually, to speak very plainly with you, I was just waiting for the rest of the world to sort of find out he was more than just Jim from 'The Office,'" she said. "And for a long time, I know he wanted to [prove that]. That is a hard tail to shake when you're beloved as Jim Halpert, and people are like, 'That's what you are.' It's a business of compartmentalizing people, it is a business of pigeonholing."
Clearly, "A Quiet Place" worked out for both Krasinski and Blunt (despite the fact that Howard Stern was convinced they'd be divorced the second he'd heard they'd be working together). "A Quiet Place" made a staggering $340 million off a $17 million budget. It also doesn't hurt that the film won Blunt a Screen Actors Guild Award for Outstanding Performance by a Female Actor in a Supporting Role, and won in the Best Writing and Best Horror Film categories at the Saturn Awards. Not too shabby for Krasinski's first attempt at horror filmmaking.
"A Quiet Place Part II" debuts in theaters on May 28.