This Is Where You Can Watch 21 Bridges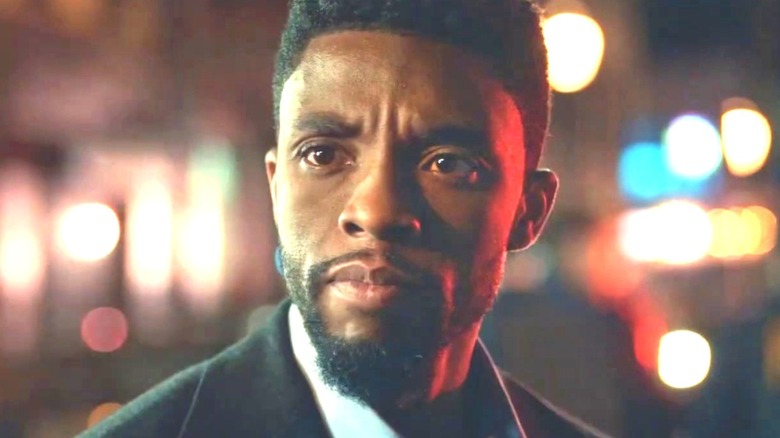 STXfilms
When Chadwick Boseman died in 2020 at the age of 43, the actor left behind a film legacy that solidified his status as one Hollywood's best actors. And while he will always first and foremost be remembered for "Black Panther," one of his other final films, 2019's "21 Bridges," deserves plenty of accolades, too. If you missed the taut cop thriller when it first premiered, it's well worth a watch for Boseman's performance.
In "21 Bridges," Boseman plays NYPD officer Andre Davis, whose career is intrinsically linked to him witnessing the murder of his cop father at a young age. As an adult, Davis is known among his colleagues as someone who will go out of his way to kill anyone who kills cops, but he maintains his actions are in self-defense. Still, when two criminals end up gunning down a cop when their drug heist goes wrong, Davis is the one called in to take care of them. And even though he rejects the reputation he has cultivated among his fellow officers, Davis comes up with a plan to lockdown Manhattan by closing off all of the bridges and trapping the criminals on the island (hence the title).
Reviews for the film were mixed — it has a 53% Rotten Tomatoes score among critics — but filmgoers praised the action-packed thriller and its cast. In addition to Boseman, the movie also stars Sienna Miller, J.K. Simmons, Stephan James, and Taylor Kitsch. All in all, it's a solid film that's made all the more important for including one of Boseman's final performances. Luckily, it's also easy to stream "21 Bridges," as long as you're willing to spring for a premium channel subscription.
Is 21 Bridges streaming on Netflix?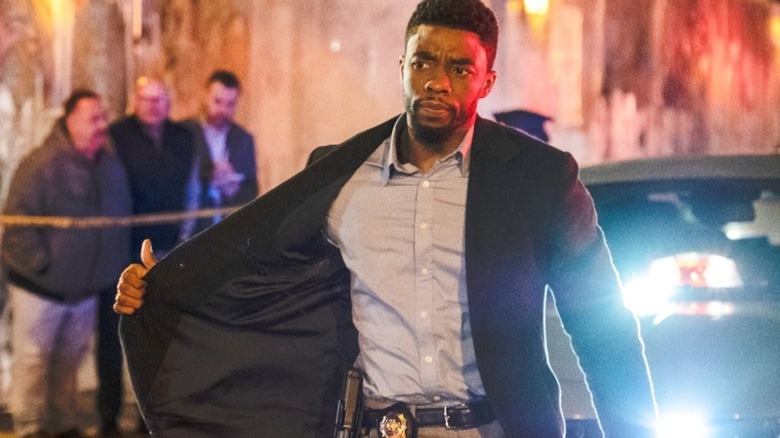 STXfilms
Currently, "21 Bridges" isn't streaming on Netflix, Hulu, or Prime Video. However, the movie is available via the Showtime app. That means if you subscribe to Showtime through a cable or satellite provider, or directly through the app, the movie is just a few clicks away.
Additionally, if you have a subscription to Showtime through Hulu, Apple TV+, or another streaming service, the movie will be available to you on those platforms as well. If you're not interested in subscribing to the premium channel to watch just one movie, you can purchase it for $12.99 on iTunes. (Although, it should be noted, there are usually 7-day free Showtime trials available via Prime Video, Hulu, and the premium channel's app, which would give you plenty of time to watch Chadwick Boseman's terrific performance without committing to a full month of service.)
While "21 Bridges" is currently exclusive to Showtime, the various streamers add new films every month, so it's worth noting the movie may pop up elsewhere in the future. But for now, Showtime is your best option for watching this intense Boseman film online.