Army Of The Dead's Omari Hardwick Can't Get Enough Of His Chainsaw - Exclusive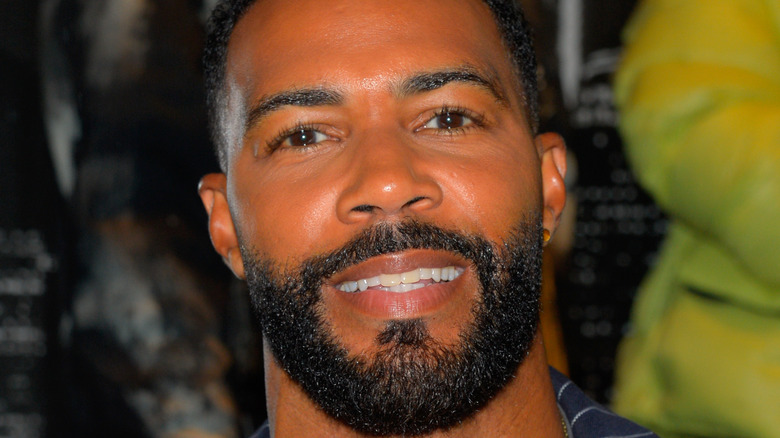 Shutterstock
There are cool weapons in movies and then there are weapons that are so badass that they become legendary the second they appear on screen — and "Army of the Dead" star Omari Hardwick has become one of the lucky few in cinematic history to be outfitted with one of those badass, legendary weapons. Fans of director Zack Snyder's new zombie heist thriller got a peek at Hardwick's super-sized chainsaw — which looks to be a combination of a traditional chainsaw and buzz saw — in the film's final trailer. But now that the film has been released, viewers are finally getting the chance to experience Hardwick's WZD — a weapon of zombie destruction — in its full gory glory.
In "Army of the Dead," exclusively streaming on Netflix, Hardwick stars as Vanderohe, a fellow zombie war veteran of Scott Ward (Dave Bautista) who is recruited by his old friend to take on a dangerous mission. There's $200 million sitting in a vault beneath a casino on the Las Vegas strip, but Sin City has been overrun by zombies and the government has walled off the former gambling mecca from the outside world. Raising the stakes in the mission: Scott, Vanderohe and their fellow mercenaries have 32 hours to complete the mission or face certain death. 
Part of Hardwick's preparation for "Army of the Dead" involved weapons training with Navy SEALs. And while Hardwick has trained with elite members of the military before for such films as "Miracle at St. Anna" and "The Guardian," he told Looper in an exclusive interview that his drills and weapons to prep for "Army of the Dead" were quite a bit different.
Omari Hardwick says his chainsaw is like another cast member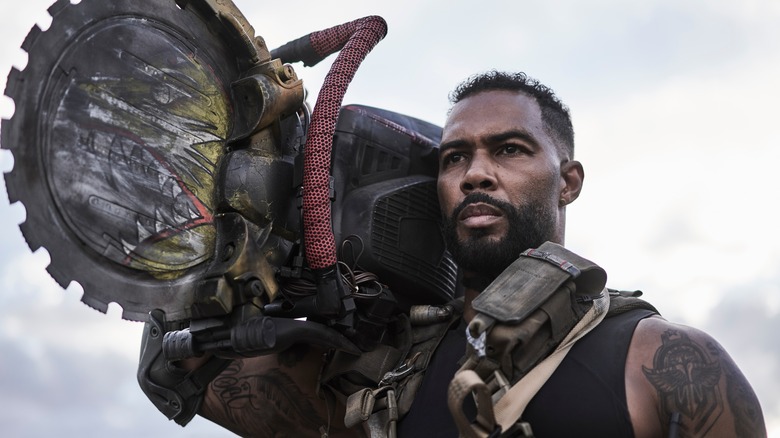 Netflix
"It [was] not new to me in terms of military training, but definitely in terms of [doing it in] 105-degree weather with [some] badass weaponry of choice for my badass character — being this freaking chainsaw, this ferocious chainsaw that's got a freaking monster painted on it," Omari Hardwick told Looper. "That was a new thing for me. But we did prior, go through some gun training with these incredible ex-Navy SEALs who just really, really dialed us in."
Given the size of his chainsaw and other weapons and gear, Hardwick's character shouldered the biggest load among his fellow "Army of the Dead" mercenaries. But Hardwick isn't complaining — he was just busy having fun. "I got a gas pack on, I got a backpack, I got the gun, and then, of course, I got the chainsaw," Hardwick recalled. "So, I was carrying the most weight, and not the physical weight that Dave Bautista carries around in being 250-plus pounds. But I was carrying the most."
But naturally his chainsaw commanded the most attention. In fact, Hardwick said, it was so immense that he got some ribbing from his fellow actors as he tried to maneuver the weapon around the set. "Often my chainsaw had my castmates like, "Come on, O, you bumping me again, bro! Like, move the damn chainsaw," Hardwick said, smiling. "So, I definitely was in everybody's way. And I think we have to say that Zack put the chainsaw on the call sheet, brother. It was definitely a cast member."
"Army of the Dead" is streaming on Netflix.