Who Is The Star In The Tampax Commercials?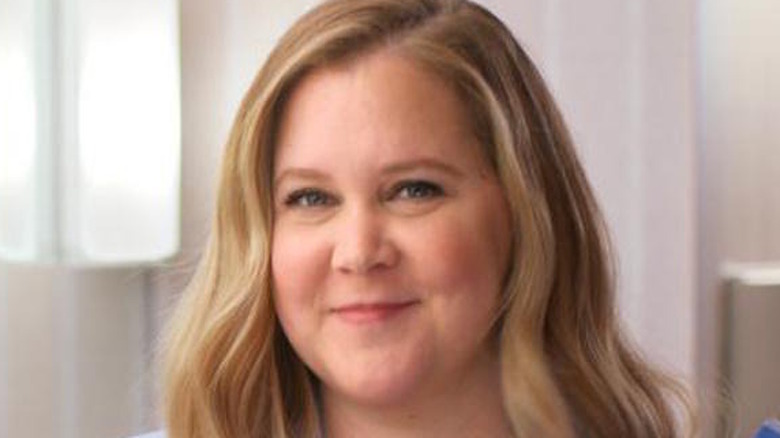 Tampax
It's always a great feeling when you watch a commercial that humanizes a celebrity spokesperson. Whether it's Kate McKinnon and Dan Levy showing off their love for Tostitos chips or Rashida Jones helping you get through a bad day, there's a common theme: Celebrities are just like us. Tampax is taking this idea to the next level with their latest "Time to Tampax: Someone Just Got Her Period" commercial.
The commercial takes an all-too-familiar feeling for women and uses it to their advantage by placing a hilarious comedian in the scene and offering assistance. This comedian hears another woman in the bathroom, agonizing over her period. Luckily for her, the star has her covered, and offers her several boxes of Tampax that are available in different sizes. Although this interaction might never happen in real life, it's always a friendly reminder that celebrities have everyday problems just like the rest of us.
So who is the star in the Tampax commercials?
Amy Schumer is there when you need her the most
You've seen her in movies and comedy specials, but likely never in a bathroom. The hilarious celebrity in this commercial is none other than Amy Schumer, one of the highest-paid female stand-up comedians, according to USA Today. Like most of her features, she fits perfectly for this role. Not only does her relatable demeanor conquer the awkward encounter, but her notorious blatant behavior cancels out any uncomfortableness found in this commercial. Of course, this isn't the first time Amy Schumer has used her charm to land some big roles.
Schumer credits her breakthrough into the comedic scene to Comedy Central, which helped tape her first special and then included her on "Last Comic Standing." From there, she continued to act in bit roles on TV for a few more years, including appearances on "30 Rock," "Curb Your Enthusiasm," and "Louie." She eventually landed her own show, entitled "Inside Amy Schumer," on which she served as the writer, executive producer, and lead performer. This success led to the opportunity for her to make her film debut as a leading lady in "Trainwreck."
All of this has resulted in a barrage of attention and awards for the first-time mother. In 2015, Time Magazine named Schumer in their annual 100 Most Fascinating People list. The same year Barbara Walters put her on a 10 Most Fascinating People list, according to Billboard. To add to her achievements, Schumer has been nominated for numerous awards and has won 16 of them, mainly for "Inside Amy Schumer" and "Trainwreck," according to IMDb.